Once Air Force One lands on Monday, a sitting U.S. President will be in Tupelo for the first time since Franklin Delano Roosevelt left by train in 1934. During his first term, the 32nd President was in town to promote the Tennessee Valley Authority, affordable public housing, and other popular New Deal policies that directly improved lives in Northeast Mississippi and other rural areas during the Great Depression.
"President Roosevelt's visit here is no accident," Democratic Congressman John Rankin, who served from 1920 to 1952, told the Tupelo Journal at the time. "He came because Tupelo and the surrounding country have led the way in carrying out his power program."
The T.V.A., a public utility, brought power to Tupelo on Feb., 7, 1934. When Roosevelt visited on Sunday, Nov. 18, 1934, he was enthusiastically welcomed by an electorate much different than modern Mississippi.
In the 1932 presidential election, Roosevelt won 140,168 votes (95.98 percent) in the Magnolia State. In 1936, his share of votes climbed to 97.06. The closest another candidate has come to dominate a presidential election in Mississippi was Richard Nixon with 78.20 percent of the vote in 1972 and Ronald Reagan with 61.86 percent in 1984. In 2016, Donald Trump won 700,714 votes (57.86 percent).
At least 75,000 crowded Tupelo to catch a glimpse of FDR. The Secret Service had scouted the area five days earlier. After breakfast on his train with Mississippi congressmen, senators, the Secretary of the Interior and the director of the TVA, Roosevelt rode along Spring, Main and Green Streets.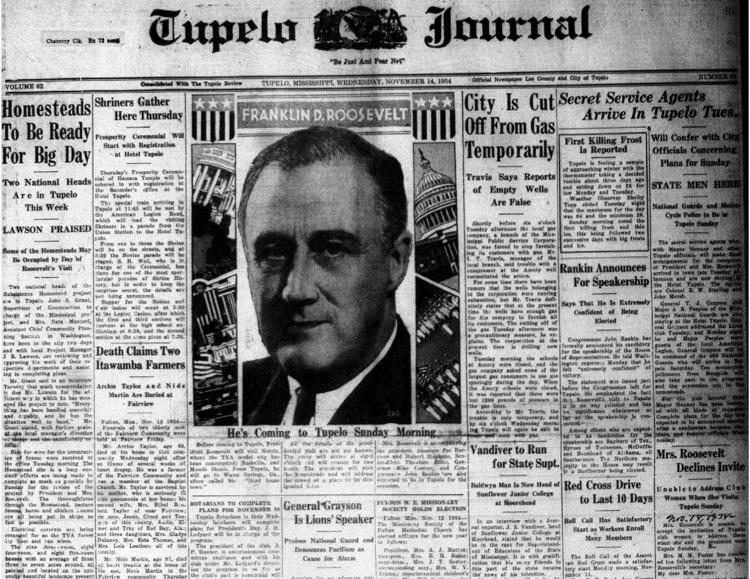 A giant portrait of FDR hung outside Reed's as crowds "strained against sidewalk ropes, leaned from windows and shielded their eyes on roof tops," to get a glimpse of the Presidential party, according to the Tupelo Journal.
After touring the streets, Roosevelt visited the Tupelo Homesteads, 25 houses his Division of Subsistence Housing had recently built in Lee County. Along with his wife Eleanor, FDR visited the home of James Barron, a salesman for a local bottling company.
"Mrs. Barron, and two children were waiting on the front porch to greet her. After inspecting the home, she returned to the front porch and the two rosy-cheeked children of Mr. and Mrs. Barron; Jimmy, 11, and Mary, 9; attracted her attention," the Tupelo Journal wrote on Wednesday Nov. 21, 1934. "Shaking hands with them, she asked a number of questions about her school work."
After leaving the homesteads, FDR gave a speech at Robins field in which he continued to promote his New Deal policies.
"What you are doing here is going to be copied in every state of the union before we get through," Roosevelt told the crowd.
The newspaper clippings from November 1934 contain ads for the Lyric Theatre, Reed's and Tupelo Hardware. Eighty-three-year-old Eupora resident Jim Walton of Eupora told the Tupelo Journal that he had seen every president in person since James Buchanan, who served from 1857 to 1861.
"I was at the inauguration of Abraham Lincoln in '61," Walton said.
The Journal also reported that local boy Jet Conoway carved a walking cane out of Tupelo Gum and gave it to the president. Jim Gravlee of Nettleton was the conductor on the train that took Roosevelt out of town.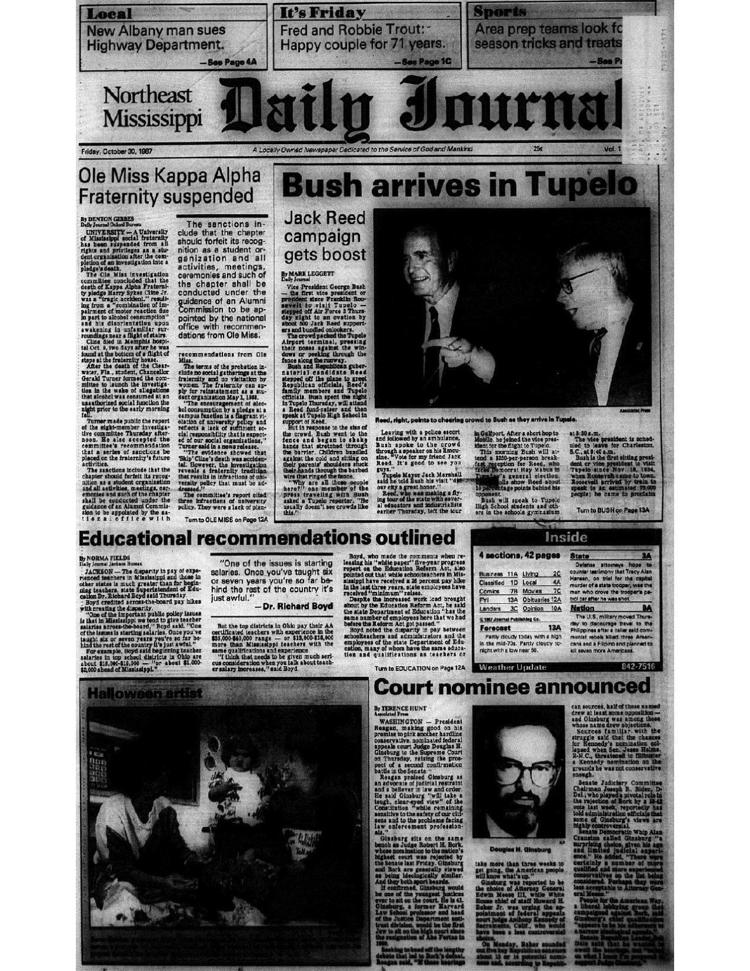 After FDR, three presidents have been in Tupelo either before or after their time in office. In 1960 at the airport, the Tupelo High School band welcomed Harry Truman, who started his eight years as president following Roosevelt's death in 1945. Truman, who was campaigning for John Kennedy and Lyndon Johnson against Richard Nixon, told a crowd of 8,000 at the Tupelo Fairgrounds to "support the Democratic party for the safety and independence of your country."
During his victorious 1976 presidential campaign, former Georgia governor Jimmy Carter stopped at the Ramada Inn in Tupelo from 7:30 to 8:30 a.m. for coffee with the candidate.
And in 1987, then-Vice President George H.W. Bush spoke at Tupelo High in support of Jack Reed's campaign for governor. Advisors had told Reed to hold a rally with Bush in Jackson, which had a higher total population and more potential swing voters.
"He offered to come to anywhere in the state to campaign for him, and dad chose Tupelo sort of against some advice from his campaign," Jack Reed Jr. said. "You knew he would choose Tupelo. It was a great experience for the high school and the city."
It is unclear how many people will converge in Tupelo on Monday. It should top the high school gymnasium that saw Bush speak and could be equal to the 8,000 who saw Truman. For the sake of the city, it will have to be less than the 75,000 who came to see FDR.