Houston Lower Elementary School encouraging early literacy through Family Reading Night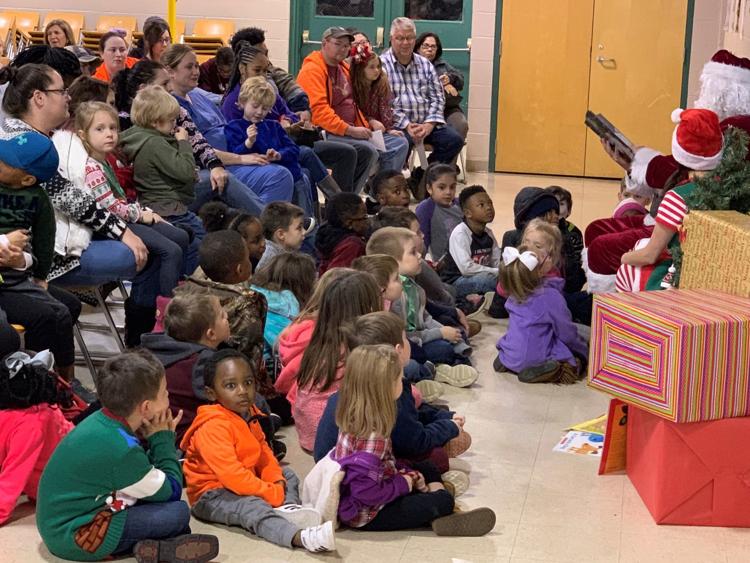 HOUSTON – The Houston Lower Elementary School offered parents and students alike a fun reading experience through their Family Reading Night.
The program is a monthly program held in the gymnasium at the lower. Parents can bring their kids and there is always someone there who will read to them. The event also coincides with the PTO meeting every month, and parents are urged to attend those as well.
The event was started in 2018, and according to one of the program's coordinators, Tina Tabb, it has seen a steady increase in attendance since then. The average number of attendees varies by month, however.
"Our participation has increased since starting last year," said Tabb. "In August of this year, we had about 20 families and December had approximately 46 families."
December's program saw the children and parents being read "The Night Before Christmas" by none other than Santa Claus himself. It was a full event, and they had to bring more chairs out at a steady pace.
The program is funded using Title I money.
"Title I funds are used to support Family Reading Nights to promote parental involvement and family engagement," said Tabb. "Emily Peel (HLES Librarian) and I collaborate on ideas and activities for Family Reading Nights and with the help of the school our vision is accomplished."
At the moment, Family Reading Nights are only for families and students who attend Houston Lower Elementary.
The program's purpose is to promote early literacy and encourage children to not only read, but to read as a family.
"Our goal is to bring awareness to the importance of early childhood reading, build relationships that foster a love for reading with our families, promote continued support at home and empower our parents so they can help their child be more successful in school," she said.
The program uses various techniques including fun, reading-based activities and giving away free books to try and achieve this goal.
According to Tabb, early literacy is extremely important, and it builds the foundation for the child's entire education.
"Early literacy is important because early exposure can help children learn to make real life connections to text, help them use their imagination and creativity, help build curiosity which leads to deeper thinking, can increase their ability to ask questions that can build on communication skills, help acquire problem solving skills, help to learn that letter sounds are connected with print and so much more," she said. "Starting at birth, students who are read to consistently, have been exposed to over a million words before starting kindergarten! Having an early start creates greater chances of success in school and prevents loss of learning later."
There are ways that the community can help achieve the goals of the program as well. Book donations, volunteering to read to the students and donating resources are the main ways that help can be provided. Local restaurants and businesses can also offer incentives for families to attend.
The program is still relatively new, but there is no limit to the potential of what can be achieved.
"In the future, my hope is that through our reading nights, we can build on parent workshops that allow families to work right beside our teachers with literacy activities and create ideas that will help their child at home," she said. "These efforts can lead to bridging gaps and helping to clarify any misconceptions families may have with literacy. Reading is the best gift we can give our children! Because we truly believe this, we will do what we can to help and will continue supporting our parents and students in this area."
The next Family Reading Night is scheduled for February, but an exact date has yet to be set.