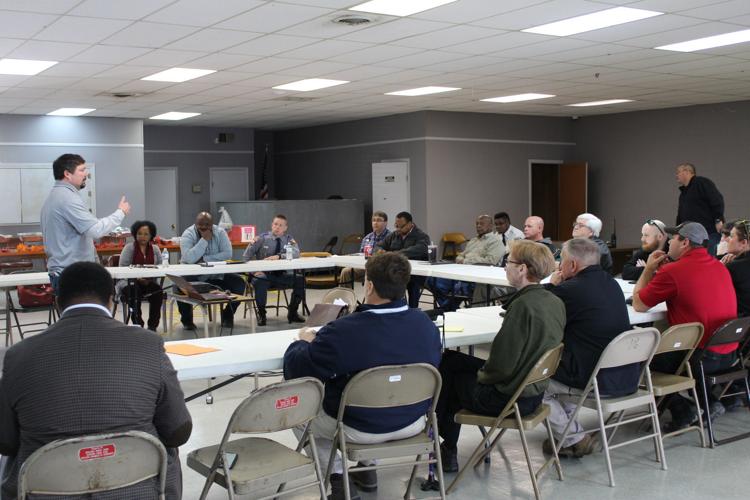 OKOLONA – Representatives of various departments in Okolona gathered at the city auditorium on Friday, Nov. 15 to discuss something that no one wants to, but that has to be addressed… school shootings.
Representatives of the Okolona School District was joined by several key departments from the city including EMS, fire, police, Chickasaw County Sheriff's Department, public works and electric. Also present were Mayor Sherman Carouthers, Mississippi Highway Patrol and Chickasaw County EMA Director Linda Griffin.
The instructor was J. Cooper Dixon, owner of Dixon Safety Consulting, a company that helps schools prepare for the unthinkable, and have a plan in place should such an event happen.
Dixon spoke about the underlying problem with the current ways of thinking on mass shootings. He said that a shooter's goal is to kill as many people as possible in as little time as possible. He said that the current plans tend to play right into helping them accomplish this.
Dixon also said that it is not a matter of knowing the plan, it is a matter of training an individual to execute the plan. According to him, the human body, regardless of age or gender, reacts to situations in one of three ways, "fight, flight or run."
Much of what was discussed can not be published as it is confidential to keep the plan known only to those who must implement it, and to prevent the potential shooter from finding out.
"I love working with children and law enforcement and there is a big need, as you see, nation-wide with the things that are going on on campuses," said Dixon when asked why he does this. "There is a big need for safety on our campuses, but unfortunately most of the time it is not a priority until after something has happened. So being proactive is very important, and keeping children safe is very near and dear to me."
The school district representatives also discussed ways in which their individual schools could potentially deal with such a disaster.
Superintendent Chad Spence was present, and he believed that the planning session was much needed.
"For me it is very important that our staff know what to do in an emergency of that magnitude," said Spence. "Safety is our number one priority and this gives us the opportunity to discuss what could happen if we actually have a shooter in our school district. I am excited that we train our people here and I pray that it never happens, but it is important that we all know the procedures and what to do in case of an emergency.
Dixon has also worked with the Houston School District recently and helped them develop a plan for their district.