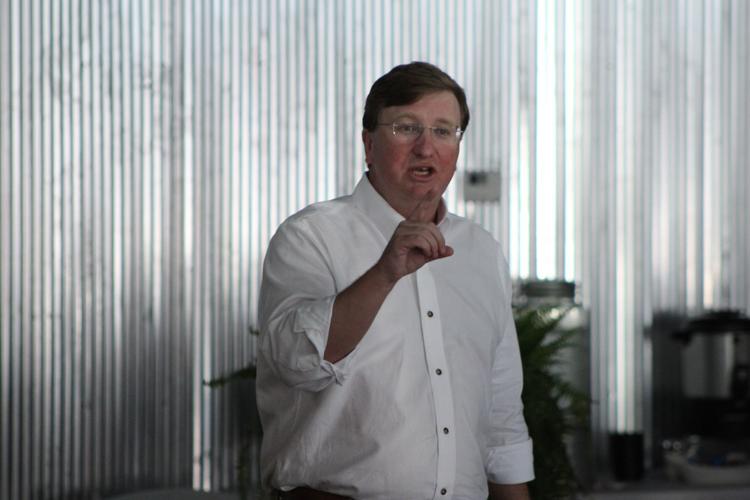 HOUSTON – Republican gubernatorial candidate Tate Reeves stopped in Houston on Wednesday, Oct. 2, on his campaign trail.
Reeves spoke at Pinson Place, to members of the Chickasaw County Republican Party as well as members of the community.
He covered a wide array of topics including more polarizing subjects such as abortion and religious liberties. However, the most prevalent message was what he referred to as the need for conservative leaders in our state.
He said that there are gubernatorial elections going on this year in Mississippi, Kentucky and Louisiana. He said that the Democratic Party would love to win all three elections to "hang around [President Trump's] neck in the 2020 election."
He also discussed the different appointments that the Governor is responsible for and how that affects everyone. He mentioned the judiciary system as well as the United States Senate. He posed a question to the crowd.
"Does anyone in this crowd think that if my opponent wins, that he will appoint conservative Republicans to the United States Senate if he gets the opportunity?"
His question was met with a resounding "no" from the audience.
He spoke about legislation he helped pass while serving as Lieutenant Governor, which he said, included protecting religious freedoms, protection of the unborn, and insuring Mississippi's fiscal responsibility.
He spoke about what he referred to as the implications of the upcoming election.
"My friends, this election has consequences," he said. "It has real consequences as it relates to who may serve Mississippi in the United States Senate, it has real consequences in who might serve on the state judiciary and it has consequences if you have a chancery judge or a circuit judge who retires, or God forbid, passes away while in office.
"Guess who gets to appoint the successor? The next governor will make that appointment. We as a state have to decide do we want a conservative Republican making those appointments, or do we want a liberal Democrat?"
He closed by talking about statewide elected Republicans.
"For the last eight years, Mississippi has had seven out of eight statewide elected Republicans," he said.
He went on to make a prediction.
"I'm predicting that on November 5 at about 9 p.m. we will know and be able to confirm that now we have eight out of eight state-wide elected Republicans."