Winter weather storm moving into North Mississippi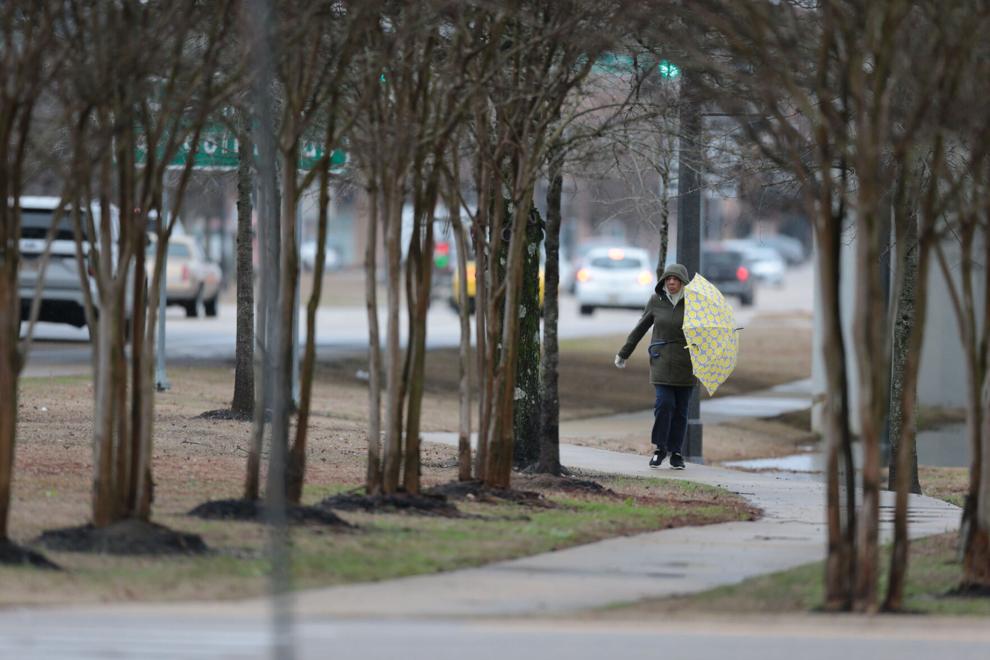 Schools across North Mississippi on Tuesday canceled evening activities as they prepare for a winter storm entering the area.
The National Weather Service issued a winter weather advisory for North Mississippi on Tuesday afternoon that is in effect until noon Wednesday for the Tupelo area and into Thursday for other areas of North Mississippi.
Temperatures were expected to dip below freezing Tuesday night with the forecast calling for freezing temperatures Thursday and Friday nights, too. Between now and then, much rain is expected, which could cause ice-related issues later in the week.
Northeast Mississippi Community College canceled classes for Wednesday, while other school districts said they were watching weather and would make any necessary decision as weather conditions dictated.
The weather system hitting Mississippi has left a lot of delays, damage and even one death in its wake as it moved west across the United States.
On Tuesday, it caused the cancellation of more than 1,700 flights nationwide, bringing traffic to a standstill on an interstate through Arkansas and knocking out power to thousands of Texans.
As the ice storm advanced eastward on Tuesday, watches and warnings stretched from the western heel of Texas all the way to West Virginia. Several rounds of mixed precipitation — including freezing rain and sleet — were in store for many areas through Wednesday, meaning some regions could be hit multiple times, the federal Weather Prediction Center warned.
Numerous auto collisions were reported in Austin, Texas, with at least one fatality according to the Austin Fire Department. In Travis County, Texas, which includes Austin, police and sheriff's deputies have been responding to new crashes about every three minutes since 8 a.m., according to the Austin-Travis County Traffic Report Page.
More than 900 flights to or from major U.S. airport hub Dallas-Fort Worth International Airport and more than 250 to or from Dallas Love Field were canceled or delayed Tuesday, according to the tracking service FlightAware. At Dallas-Fort Worth, more than 50% of Tuesday's scheduled flights had been canceled by Tuesday afternoon.
Dallas-based Southwest Airlines canceled more than 560 flights Tuesday and delayed more than 350 more, FlightAware reported.
About 7,000 power outages in Texas were reported as of late Tuesday morning, Republican Gov. Greg Abbott said following a briefing in Austin on the worsening conditions. He emphasized the outages were due to factors such as ice on power lines or downed trees, and not the performance of the Texas power grid that buckled for days during a deadly winter storm in 2021.
Fleets of emergency vehicles were fanned out among 1,600 roads impacted by the freeze.
One Texas state trooper was hospitalized with serious injuries after being struck by a driver who lost control of their vehicle, said Steve McCraw, director of the Texas Department of Public Safety.
"The roadways are very hazardous right now. We cannot overemphasize that," Abbott said.
In Arkansas, Gov. Sarah Huckabee Sanders declared a state of emergency Tuesday because of the ice storm. In her declaration, Sanders cited the "likelihood of numerous downed power lines" and said road conditions have created a backlog of deliveries by commercial drivers.
One of the main thoroughfares through Arkansas — Interstate 40 — was ice-coated and "extremely hazardous" in the Forrest City area on Tuesday, according to the city's fire department. Pictures posted on social media showed the crumpled cab of a semi-trailer.
The department responded to two bad wrecks and about 15 other crashes Tuesday morning, Division Chief Jeremy Sharp said by telephone. In many of the crashes, the drivers pick up speed on the highway but run into trouble when they reach a bridge, he said.
"They hit the ice and they start wrecking," he said.
"When I-40 shuts down like that, that can be hours of waiting," said John Gadberry, who lives in Colt, Arkansas, not far from the highway. "I-40 is usually one of the first things that freezes over due to its slight elevation."
By late Tuesday morning, I-40 was cleared and traffic had resumed, the Arkansas Department of Transportation announced. The interstate connects Little Rock, Arkansas, to Memphis, Tennessee.
The storm began Monday as part of an expected "several rounds" of wintry precipitation through Wednesday across Texas, Oklahoma, Arkansas and Tennessee, according to National Weather Service meteorologist Marc Chenard.
"Generally light to moderate freezing rain resulting in some pretty significant ice amounts," Chenard said.
"We're expecting ice accumulations potentially a quarter inch or higher as far south as Austin, Texas, up to Dallas over to Little Rock, Arkansas, towards Memphis, Tennessee, and even getting close to Nashville, Tennessee," according to Chenard.
The flight disruptions follow Southwest's meltdown in December that began with a winter storm but continued after most other airlines had recovered. Southwest canceled about 16,700 flights over the last 10 days of the year, and the U.S. Transportation Department is investigating.
The weather service has issued a winter storm warning for a large swath of Texas and parts of southeastern Oklahoma and an ice storm warning across the midsection of Arkansas into western Tennessee.
A winter weather advisory is in place in much of the remainder of Arkansas and Tennessee and into much of Kentucky, West Virginia and southern parts of Indiana and Ohio.
Schools and colleges in Texas, Oklahoma and Arkansas planned to close or go to virtual learning Tuesday.