'Laying down dreams to walk on:' Former players travel hundreds of miles to reminisce with Coach Buster Davis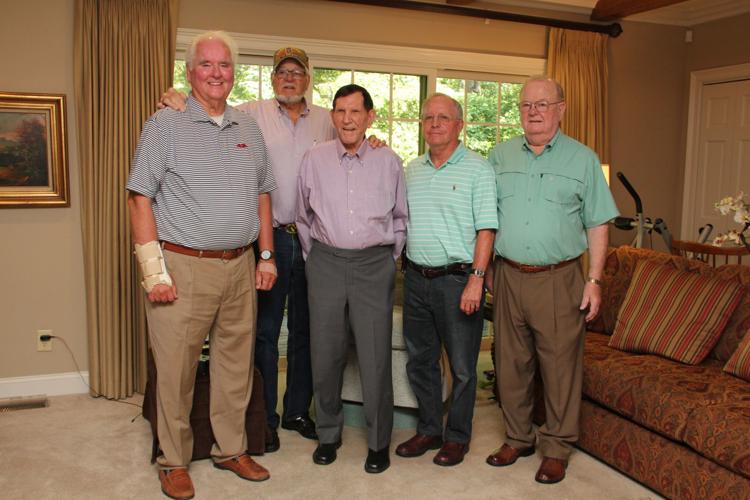 It's been more than 50 years since Buster Davis stood courtside at Belmont High School, coaching the four gentlemen lounging in the living room of his Fulton home, last week.
James Wiggington, who made an 11-hour trek from Brookeville, Illinois, for this visit, said he was there to solve a mystery.
"The reason I came was to find out what Coach does to keep his memory so keen," Wiggington said. "He can remember every game that was lost and whose fault it was."
Davis and the former teammates got a chuckle out of that.
Wiggington stands tall, which no doubt suited him well playing center and forward for Davis in the early 1960s. He admits he could dish out a bit of attitude as a young man but said his former coach wouldn't take anything off of him.
"He left a lasting impression on me, not just as a coach, but as a human being," Wiggington said. "I have a lot of respect for him not only for the way he coached us, but also for the way he treated us."
It was those life lessons the former Vietnam vet and purple heart recipient would not soon forget.
Davis led the Belmont Cardinals from 1960-62. The former team members were especially proud when they won games and bragging rights over teams such as Tupelo, Ocean Springs and Starkville.
Glenn Harrison played point guard for the team all three years.
"Coach always told us we were going first class, and we did," Harrison said. "He fed us well before every game."
He and the others recalled the night Coach ordered the entire team filet mignon. They joked it was the first time they had ever eaten anything wrapped in bacon.
Harrison went on to coach the Belmont Cardinals after playing under Davis's leadership. He has a combined 38-year total both playing and coaching for the Cardinals. He credits his time under Davis as giving him a foundation on which to build a successful coaching career.
"He taught us so much. I was very fortunate to be under his leadership," he said.
Jerry Fancher was in the 11th grade when Davis approached him after football season and asked if he'd considered playing basketball. He had never played and didn't know much about the game.
"The first day Coach watched me, he said 'Come over here, and I'll show you how to shoot,'" he said.
Teaching him the finer techniques of shooting the ball was just one of many memories Fancher has of his former mentor and coach. He recalled Davis was the same every day and an all around great guy, a man who led their team to countless successes. He admires Davis's own personal success as well.
"I always said Bud and Buster Davis could parachute out of an airplane on to a concrete pasture and be eating grass by dark," Fancher chided.
Tales of bitter losses and hard fought wins spilled out into the Davis' living room during the visit, but one stood above the rest. It was the summation of what all four of the former players recalled about their former coach and friend.
Jerry McAnally talked about the lasting impact a post-game photo had on his life. It was his junior year and in his words, he was number 10 on the depth chart when it came to playing in a game.
"I was a sub and we had just won the Tupelo tournament which was a big deal," Fancher said. "The Daily Journal photographer approached Coach after the game and asked to take a picture of him and the five starters. Coach told him he'd take the picture with all ten players or none at all."
All 10 players were in the photograph. McAnally has never forgotten the gesture.
"The team as a whole was important to him. That let me know why he was so successful," he said. "Here I was number 10, and he treated me as if I was number one."
Davis said mutual respect between him and his players was key to the team's success.
"I earned their respect early on," he said. "I used to tell them 'Now boys you can talk all you want, but when I come in the room, stop talking.' I was teaching them respect and, in turn, I showed them respect. It was different back then. It's that kind of respect that's missing today."
After his days coaching at Belmont, Davis moved on to lead a team in Alcorn County. He recalled they had won 12 of their last 15 games, but their next opponent was a tough, experienced team and worthy of concern. He pondered how he would lead his team to a win when he opened a book on his desk to find the words of poet W.B. Yeats scribbled on a piece of paper tucked between the pages. It was the last few lines of "The Cloths of Heaven" that resonated with him.
Davis recited the words as best as he could remember them:
"I lay down my dreams for you to walk on, tread softly because you walk on my dreams," he said. "I told the boys to put everything to that point behind them, to lay all their dreams down."
The young Kossuth players defeated their worthy opponent and won the Grand Slam.
Davis' coaching style followed him to Itawamba Junior College (now ICC) where the team would win several titles. The Mississippi Association of Community and Junior Colleges (MACJC) North half titles in 1969, 1970, 1973 and 1975 are at the top of the list. The team was the state runner-up in 1975.
"When I was coaching, I always told the players life doesn't guarantee you anything," Davis said. "It's up to you."