MEMPHIS • I saw Elvis at Graceland.
No, not the Elvis, but a screening of Baz Luhrmann's brilliant new film of the same name.
I'd been invited, along with other members of the media and longtime fans, to see the movie during a special early screening at the Guest House at Graceland on June 11, prior to interviewing Luhrmann the following week.
The Guest House at Graceland is a resort hotel fit for a king — or in this case, the King — complete with a ballroom and a 464-seat theater where the movie was screened. Located on Elvis Presley Boulevard, it's just a short walk away from the Graceland mansion.
Stars of the film, Elvis's family members and even his high school girlfriend, Dixie Locke, were in attendance.
My closest brush with Elvis royalty came while washing my hands in the restroom before the movie started. I exchanged pleasantries with a gentleman I'd assumed was simply an Elvis fan, but discovered the next day that he was James Burton, lead guitar player in Elvis's TCB Band from 1969 to 1977.
Stars of 'Elvis' take the stage
Luhrmann took the stage to discuss the movie's origins and the process of making it, starting in 2017 when he first visited Memphis and Tupelo.
Every one the team came in contact with in either city was helpful and kind, he said, "whether myself and my research team were at Graceland or whether we were looking for someone like the wonderful Sam Bell, who took a long time to find and sadly passed last year."
Bell, who died in September 2021, was a Tupelo native and childhood friend of Elvis whom Luhrmann while conducting research for the film.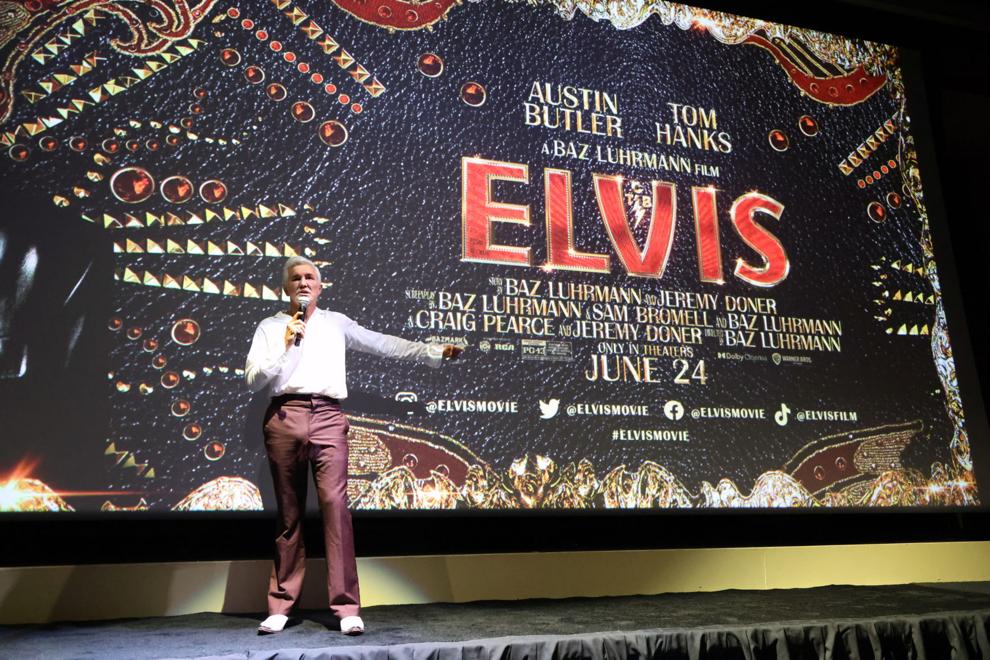 "Elvis" premiered at the 2022 Cannes Film Festival, where it received a 12-minute standing ovation, and later screenings were held in London and Australia.
But Memphis was different.
"It's great to be in Cannes, but it's almost mythical the way that coming back to Graceland, it's not like anything else," Luhrmann said.
"It all started here, and it's amazing that we're all back here," he added.
Cast members joined him on stage, including: Yola, who plays Sister Rosetta Tharpe; Olivia DeJonge, who plays Priscilla Presley; Alton Mason, who plays Little Richard; and Kelvin Harrison Jr., who plays B.B. King.
And of course, Austin Butler, who plays Elvis Presley, and Tom Hanks, who plays Col. Tom Parker, were also in attendance.
Hanks told the crowd he likes to think he's responsible for two movies about Memphis.
"Not only do I play the manager that helped make possible, in his diabolical genius way, many, many a platinum record that has been delivered to Graceland. I also made the movie about the messenger delivery service that can deliver those platinum records overnight, on time, 365 days a year by way of FedEx," Hanks said, referencing his role as Chuck Noland, an executive for the Memphis-based shipping and transportation service, in the 2000 film "Cast Away."
As an actor, Hanks said, he's filmed in castles where kings and queens once lived.
"But notice all of those kings, queens have an 's' on the end of them, meaning there are more than one," Hanks said. "At Graceland, we are visiting the home of the King."
Elvis's family praises the film, cast
Elvis's longtime friend, Jerry Schilling, joined the cast on stage, along with members of Elvis's family — Priscilla Presley, Lisa Marie Presley and Riley Keough.
"I was very reluctant at first, not knowing how this film was going to turn out," Priscilla Presley said. "Because you know, Baz can get a little — he has his own take on things."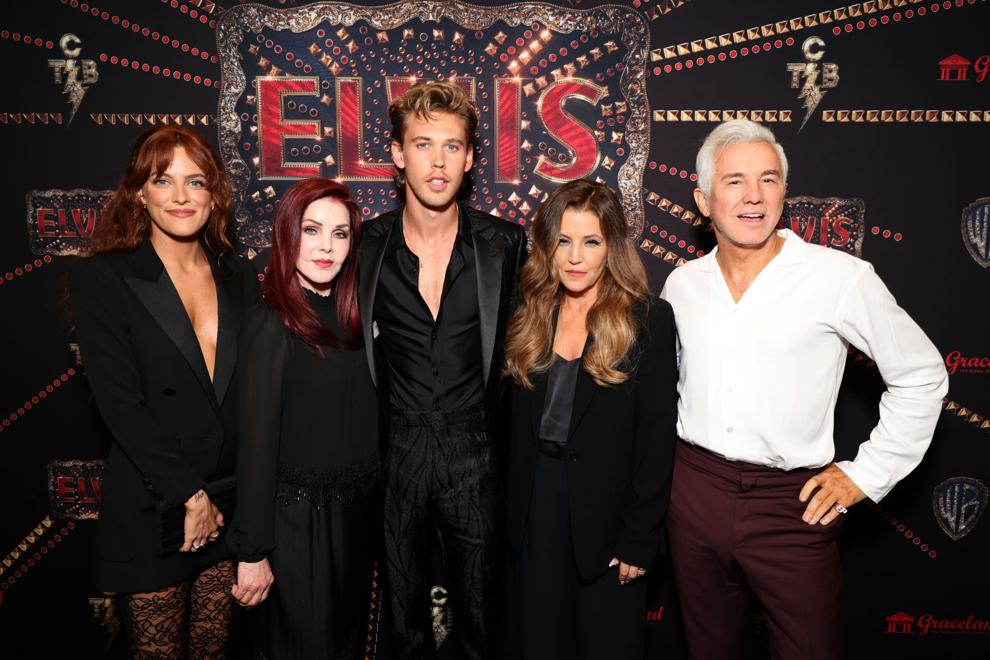 In the film, Butler actually sings all of the songs performed by young Elvis. The family had high praise for Butler's performance, with Priscilla Presley telling him, "Elvis morphed into you, I have to say. You had his guidance."
Lisa Marie applauded his devotion to the role, from the performances to the way he spoke, adding she didn't realize Butler was singing the first time she saw the movie.
"He genuinely grabbed his spirit like I've never seen before," Lisa Marie Presley said. "I was quite young, but I still remember my father's energy and his vibe. Austin, absolutely, he nailed it."
A must-see movie theater experience
It felt surreal to watch the movie in Memphis at Graceland while sitting in a crowd of fans dotted with Elvis tribute artists and personal acquaintances of Elvis.
Luhrmann's signature fast-paced, colorful production style is perfect for illustrating the life of a man whose music and flashy lifestyle captured hearts and imaginations of millions around the world.
I've heard plenty of stories about Elvis's childhood in Tupelo, but seeing scenes of him pretending to be Captain Marvel Jr. and peeking into a juke joint to watch Arthur "Big Boy" Crudup playing "That's All Right" made them real.
Priscilla and Lisa Marie Presley were right. It's one thing to hear about Butler's phenomenal performance. It's another to see it. In 'Elvis,' Butler isn't just portraying a star; he's becoming one.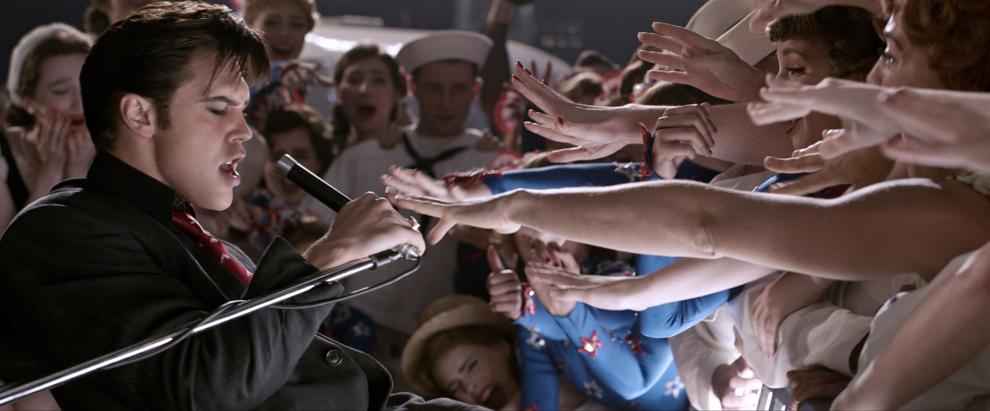 Every musical performance, and the soundtrack in general, were fantastic and had me tapping my feet through the entire movie.
The energy in the theater was electric, with the audience cheering and clapping anytime a Memphis landmark appeared or Butler nailed another piece of his performance.
Luhrmann's 2 hour, 39 minute odyssey through Elvis's life is as close as most will ever come to seeing Elvis perform live. 'Elvis' is a must-see movie theater experience.
I'm glad I saw Elvis at Graceland.