The fallout from the national rural hospital crisis is real in Houston.
Financial pressures forced Trace Regional Hospital to close its emergency department in September 2014.
"People still go to the hospital thinking we still have an emergency room," but there are no emergency services available, said Houston Fire Chief Jonathan Blankenship. "They are told to call an ambulance."
That confusion contributed to the desperate trek made by the friends of Shyteria "Shy" Shoemaker in the early morning hours of Jan. 27 when the 22 year-old mother with a history of asthma had trouble breathing at a home just south of Houston.
A story in this week's Chickasaw Journal painted a picture of frantic calls to 911 and a decision to drive to the hospital in Houston. The 911 dispatcher rerouted the friends carrying Shoemaker to first responders at the Houston Fire Department and redirected the ambulance dispatched from Okolona. Shoemaker was taken by ambulance to Baptist Memorial Calhoun City, where efforts to revive her were unsuccessful. She was pronounced dead 72 minutes after the first 911 call was logged.
Not speaking directly to the circumstances surrounding Shoemaker's death, Blankenship said the lack of emergency services in the county are cutting into the ability to get people timely care. The two ambulances based in the county have longer turnaround times. First responder resources are stretched thin because they have to be on the scene longer.
"We are 35 minutes from Tupelo. Some parts of Chickasaw County are 45 to 55 minutes away," Blankenship said. "That's a lot of the golden hour" referring to the benchmark to get emergency cases to care.
When its ER closed, Trace Regional opened a family medicine clinic available until 9 p.m. seven days a week, but they aren't equipped to stabilize medical emergencies.
"You don't want to lose your emergency room," Blankenship said. "It is vital."
In the red
There hasn't been a rural hospital closure since 2016 in Mississippi, but health care leaders are worried that streak won't last. The state's rural hospitals – particularly small, geographically isolated critical access hospitals – are vulnerable.
"It's a real challenge for us," said Tim Moore, president of the Mississippi Hospital Association. "There are four or five that are fighting a day-to-day battle."
Out of 64 Mississippi rural hospitals, 39 – 61 percent – have negative operating margins, according to data compiled from federal reports by the Chartis Center for Rural Health.
Of 13 rural hospitals in the 16-county Northeast Mississippi region, eight reported negative operating margins. Nationally, 46 percent of rural hospitals are in the red.
Five Mississippi rural hospitals in Marks, Newton, Belzoni, Kilmichael and Natchez are among the 95 that have closed nationally since 2010. Only Natchez still has a hospital in its town. Three were the only hospital in their county. The Kilmichael facility transitioned into a primary care clinic.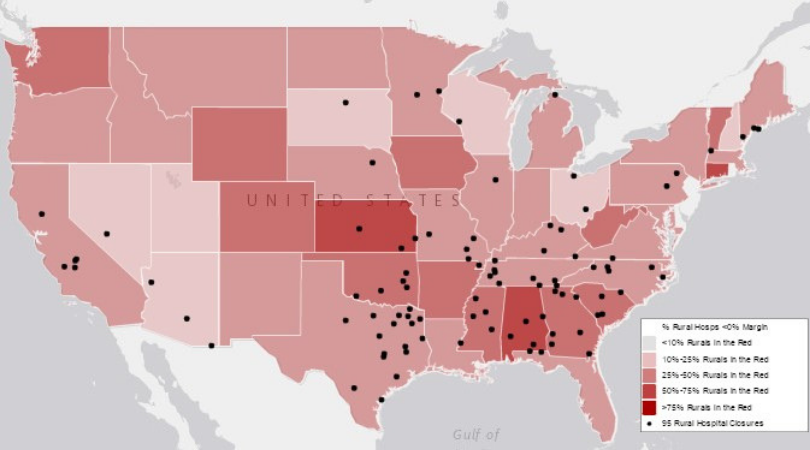 Mississippi has lost fewer rural hospitals than some states. Tennessee has had nine close; Georgia has seen seven shutter; and Texas has seen 16 close, according to a database maintained by the North Carolina Rural Health Research Program, one of 10 programs that are part of the federal Office of Rural Health Policy.
After a lull in the rate of hospitals closing, health care experts are concerned. The Rural Health Association estimates nearly 700 rural hospitals around the country are vulnerable.
Headwinds
All hospitals are facing headwinds, but rural hospitals are facing a confluence of pressures.
Rural populations are older, sicker and poorer, Moore said. They see a higher percentage of patients that are self-pay.
Rural hospitals have many of the same costs as other hospitals for electronic medical records, supplies, pharmaceuticals and recruiting and retaining staff. Without a positive profit margin, hospitals can't update aging facilities and equipment, Moore said.
"They have a hard time borrowing funds because they don't have enough revenue to cover the debt service," Moore said.
Hospitals also are seeing an increase in unpaid bills from those who have insurance but can't manage the high deductibles.
"Not many people can afford $5,000 in charges in a year's time," Moore said.
Rural hospitals rely heavily on Medicare inpatient reimbursement. Critical access hospitals are supposed to receive 101 percent of their cost for taking care of Medicare patients to help stabilize them. With sequestration, that now comes out to 99 percent of cost.
It's not enough to keep many rural hospitals in the black. Hospitals in states that expanded Medicaid under the Affordable Care Act are faring better, Moore said.
"Arkansas and Louisiana hospitals have seen a significant cut in their bad debt as a result of expansion," Moore said.
While it wouldn't solve all the problems for rural hospitals, it's worth considering in Mississippi, Moore said. There have been some indications that state officials are slightly thawing on the topic that had been completely frozen.
"That could be the single biggest thing," Moore said.
Redesign
All hospitals are wrestling with changes in the way they are paid and the growth in outpatient procedures. Rural hospitals need a bridge to a model that is less reliant on inpatient beds, but can maintain outpatient services in a community, Moore said. That will require a shift in regulations.
"Something has to be done to redesign rural health care," Moore said.
The American Hospital Association's Rural Health report released last month called for fair and adequate reimbursement, regulatory relief, new models of care and expanded use of telehealth.
There are several models for rural care to maintain access to medical infrastructure and the economic contribution rural hospitals bring, Moore said. Greater use of outpatient care and more care coordination for rural residents with chronic conditions or recent hospitalizations could be more sustainable, but hospitals need sufficient funding to provide them, Moore said. Telemedicine could help rural residents, who often have transportation issues, get follow up care closer to home.
"They can provide many services older patients need, closer to home," Moore said.
Rural hospitals may not need a fully staffed emergency department, but their communities need a 24-hour access point where emergency cases can be stabilized and shipped to trauma centers.
Rural health clinics often have procedure rooms that could serve that purpose if there are the funds to staff them appropriately.
"We've got to redefine hospital on the national level," Moore said.
The Chickasaw Journal's Floyd Ingram contributed to this story.