OXFORD • It's a mild fall day, and Regents School of Oxford is a hive of activity. Uniformed students of all ages are out enjoying the change of seasons on the school's leafy grounds.
Located in the College Hill community, the private Christian school is home to 306 students from kindergarten through 12th grade.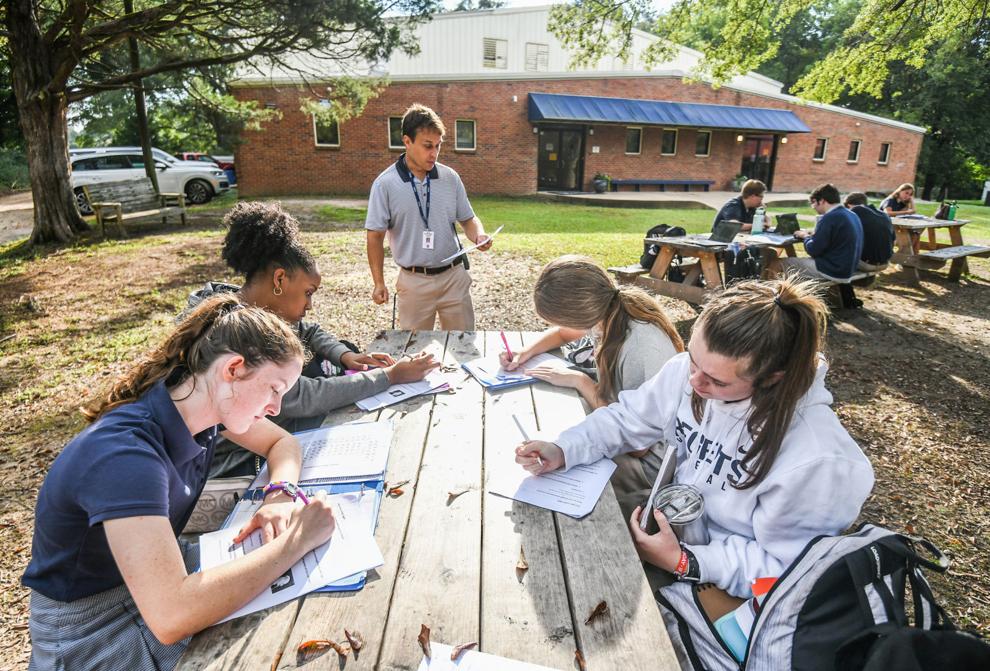 Jill Bell, Regents' director of marketing and admissions, said the school is bursting at the seams.
"We are packed to the brim," she said. "Last year we added 73 new students, and we have a 93% retention rate. We're in the middle of a capital campaign for our new building, and we can't get it done quick enough."
Bell said Regents is a very particular kind of school.
"Regents is built on two pillars: classical and Christian," she said. "We are gospel-centered and classically driven. Our mission is to provide a classical, gospel-centered education to disciple our students to love, serve, and glorify God."
Based on the medieval "trivium" of grammar, logic, and rhetoric, classical education moves students from learning facts (grammar) in the elementary grades, to asking "why" questions (logic) in middle school, to expressing complex ideas in spoken and written form (rhetoric) once students reach high school.
Bell said the classical pillar of teaching is neither new nor radical.
"It's tried and true," Bell said.
She said Regents' two-pronged approach is intended to produce a very particular kind of graduate.
"We want to infuse a Christian worldview into everything," Bell said. "We use academics, fine arts, and sports to teach our students to be people who love God and who can defend their faith in the world."
Regents, Bell said, tries to find the "sweet spot" where academic vigor and mutual support overlap.
"That's what a great school does," she said. "You push a kid, and you love that kid. If you only push a kid, you get an anxious child. If you only love a kid, you get an undisciplined child. Love and expectations go hand in hand."
Camden Reed is a senior at Regents this year, and he gives his experience high marks.
"It's been awesome," he said. "I really like the school, and I've learned a lot about God and how the Bible integrates with life. The teachers are super nice and very personable."
Reed said Regents helped prepare him to "stand his ground" in the marketplace of ideas.
"We debate all kinds of things in class," he said. "Our teachers make sure we are very respectful of other viewpoints and give us a grounded view of things through a Christian lens."
Regents' headmaster Jason Wood has been at the school for five years. A doctoral candidate at Ole Miss, Wood said Regents tries to take a "wide angle" approach to education.
"When we reduce education down to standards-based testing, we measure success based on those scores," he said. "I think that's the essence of what's going on in education. We've lost the bigger vision of what it's about — the flourishing of the human soul."
Wood said Regents' culture of high expectations helps produce graduates who are both grounded and gracious.
"In their junior and senior years, our students take apologetics," he said. "We want them to be able to analyze and challenge other world views in a winsome way. One of the problems we have as a culture is that we can't have conversations of disagreement. These kids are trained to be able to disagree in a loving way that shows the heart of Christ."
Wood said Regents' five broad aims sum up the school's aspirations.
"We have five main goals for our kids," he said. "Love God, serve others, treasure knowledge, cherish beauty, and transform culture."
Wood said they take that last goal very seriously.
"The idea is not to protect them from culture," he said, "but to go out and transform it."