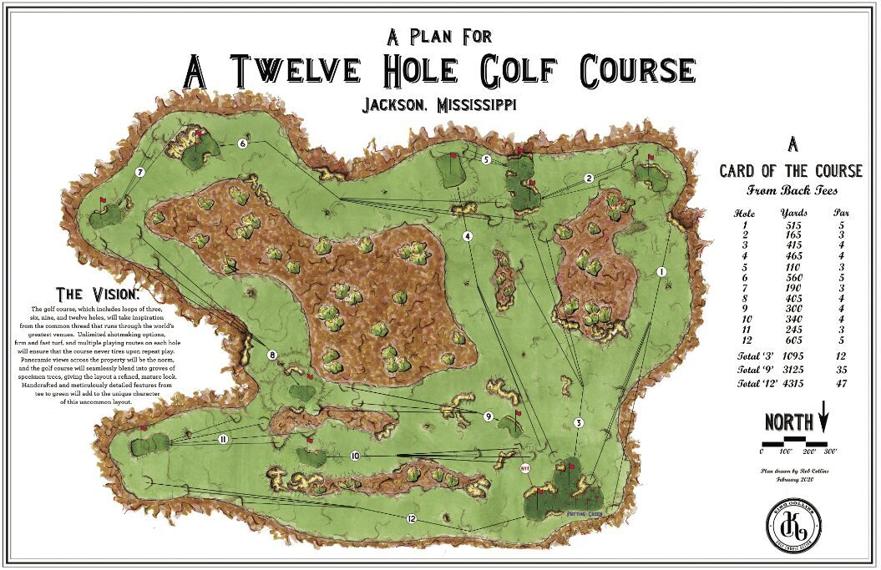 The old 18-hole Colonial Country Club will be redeveloped as a 12-hole public golf course under an agreement that has been reached with owners of the site.
Yes, 12 holes.
That's the latest news in the efforts to revive the land that was home to former Colonial in northeast Jackson, which closed in 2014. 
Sale of the property to an investment group led to plans to redevelop the 152-acre site.
Then-manager of the group Colonial Jackson LLC, Bo Lockard of Shreveport, said the mixed-use traditional neighborhood plan would cost roughly $250 million 
That plan approved by the city calls for 636 living units – 60 percent of which are single-family detached, 24 percent rental apartments and 15 percent single-family attached and apartments for sale – a grocery store, a restaurant, shops and a fitness club.
The group owned the land. All it needed were investors to build it out. 
Expected deadlines for moving forward with the initial redevelopment had to be pushed back more than once.
Finally, Arlington Properties of Birmingham, announced a year ago that it would build a 220-unit luxury apartment complex, Tapestry, which will allow the first residents to move in around October 1.
In conjunction with that release, Luke Guarisco, Baton Rouge-based developer, said that the site would be renamed NorthRidge.
Guarisco, managing partner of NorthRidge, has enlisted a design team that has turned heads in the golf course design world.
King-Collins Golf Course Design of Chattanooga, which has no corporate or development connection with Arlington Properties, has drawn up a 12-hole course at NorthRidge, 
Guarisco said in an email reply to an inquiry last week:
"We are in the process of getting city approval to build the course on a portion of the remaining acreage.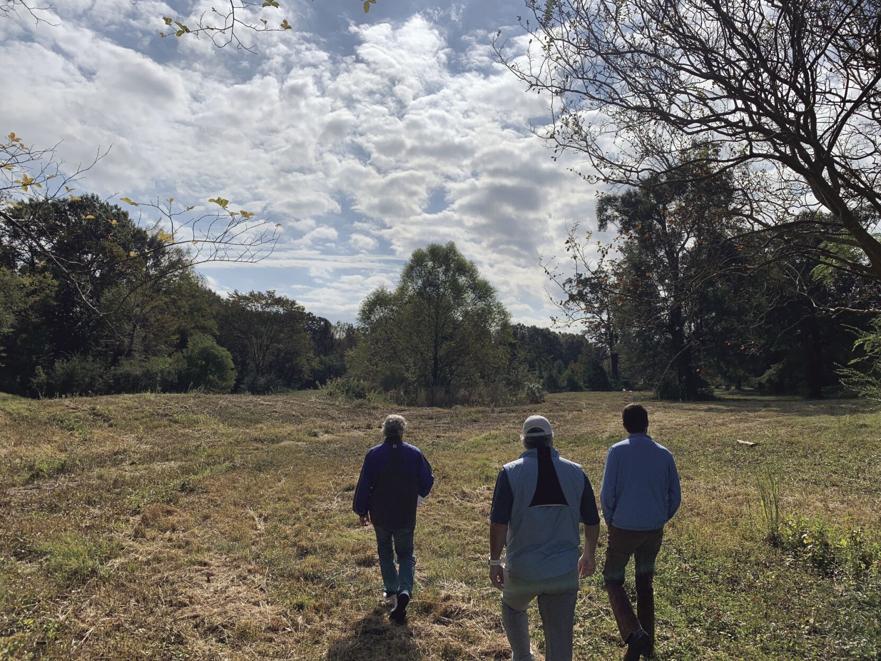 "We are still developing the business plan. We have not yet begun the capital raise, but because of the role King-Collins will play in this project, we have received great interest from those in the golf community.  
"This project will fill a much needed void which currently exists for those craving fun, firm and fast public golf within the city limits of Jackson.
"Their golf courses are beautifully crafted and efficient to maintain. I am delighted and feel extremely fortunate to have them on board.  Brazen Head Golf Club will be great for the neighborhoods surrounding NorthRidge, great for the city of Jackson and great for Mississippi." 
Coastguard said further: "I cannot answer when the course will be complete. There are too many factors out there that make that assessment impossible at this stage. I do not have any plans for the remaining acreage at this time.  I will have over 38 acres to develop, but may elect to keep many areas around the course green."
Rob Collins, lead designer for King-Collins, said investors in its acclaimed Sweetens Cove near Chattanooga include bothers Peyton, Eli and Cooper Manning, and Andy Roddick, who won the U.S. Tennis Open in 2003 and is a former No. 1 player in the world. CBS sports announcer Jim Nantz is also an investor.
One observer said that "sports geeks" are especially drawn to such investments 
Peyton Manning has even brought out a Sweetens Cove bourbon.
The course has been kept simple: gravel parking lot, no locker room or clubhouse. Greens fees for the nine-holer are only about $30. 
But Sweetens Cove offers tickets for three, six, nine, twelve, 18 and all-day, Collins said. 
"At Sweetens Cove, we sell more all-day passes than 18 holes."
Likewise, "Brazen Head will have a tremendous amount of flexibility," Collins said 
At Brazen Head, named for a pub in Ireland, he thinks that there will be a demand for three- and six-hole tickets for lunchtime, and after-work golfers, respectively.
He said it will be "very laidback and a helluva lot of fun to play."
Jackson has three public golf courses. Two are municipally owned and run. 
The Pete Brown Golf Facility, an 18-hole layout, is operating, and revenue from play in 2019 was up 400 percent over the previous year, according to Ison Harris, director of parks and recreation for the city.
And revenue in 2020 is still above that of 2019, even with a three-month shutdown due to the coronavirus pandemic, Harris said.
The course was renamed in 2019 for Pete Brown, the first African-American to win a tournament on the Professional Golf Association tour. That happened in 1964. Brown was born in Port Gibson and grew up in Jackson.
Grove Park, a nine-hole course in Jackson is currently shutdown because it lost its sponsor, the Mississippi Urban League.
But Harris said he expects the course to resume operations next month. 
LeFleur's Bluff Golf Course, a 9-holer operated by the Mississippi Department of Wildlife Fisheries and Parks, is temporarily closed due to maintenance. 
"A world-class golf course in the middle of the city center is a great place to recreate," Collins said.
"The intention is to make it very affordable," he said.
Golf magazine wrote that "Collins and King took an insolvent nine-hole course on a flat, featureless plain . . . and turned it into an imaginative, eye-popping revelation."
Garden & Gun magazine will hold a tournament there on Oct. 31, two rounds. Despite being only a nine-hole course, Sweetens Cove has been included in Golfweek's top 100 modern courses for the past four years.
Collins said in an interview with Golf Course Architecture that "the twelve-hole idea . . . evolved as the best solution for the property – we wanted to do something a little different, and give Luke a little extra room to develop the site." 
The course will require about 100 acres, leaving 38 acres for other use.
The plan calls for a par 47, 4,315-yard course, including four par threes and three par fives, according to Golf Course Architecture. 
There are two shared greens, one for the par-three second and fifth holes and another for the third, twelfth and practice putting greens.
The course can be played in smaller loops, such as three, six or nine holes.
Ashby Foote, councilman for Ward 1, which includes the property, said: "I think it's great. We need have as many things as possible to make the city attractive."