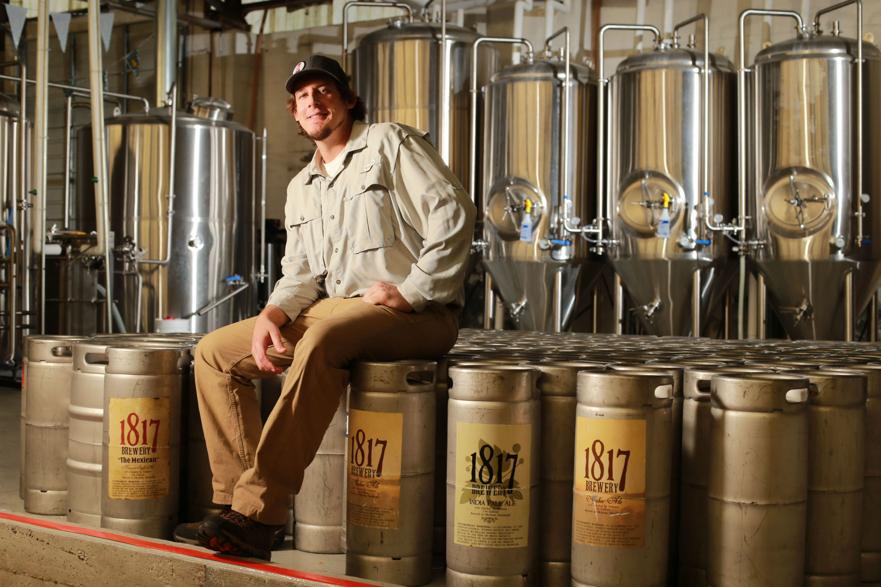 OKOLONA – Recently, 1817 had its first public event, Post-toberfest, named so since it was an Oktoberfest event held in November.
"We just figured that 2020 screwed up everything anyways so why not screw something up on purpose?" said 1817 Brewery owner and brewmaster Kem Coleman.
After brewing beer in 5-gallon buckets about five years ago from his home in Amory and finding his first customer, Coleman started making bigger batches in 2016 in a building in Okolona. Two years ago, 1817 could be found in seven cities in Mississippi, and Coleman had 35 accounts and 60 taps. 
Enthusiastic bar owners and supporters urged him to find a bigger and better location where he could brew even bigger batches and distribute to a larger audience.
So last year, after finding an abandoned building that was once Ford's first dealership in the state, Coleman went to work cleaning and renovating the place.
It officially opened in February, and Coleman was ready to get distribution started across the state, and even into Memphis, Alabama and Louisiana.
"This was never going to be a high-traffic place – that's better suited for a place like Tupelo," he said. "But as far as manufacturing and distribution, it's perfect and I have room to grow."
But then the pandemic hit, and those plans were put on hold.
"It's 300 gallons at a time, which is 10 barrels, and each of the fermenters is an equal batch to fermenter amount, so those are 10-barrel fermenters," he said, pointing to a row of three shiny, stainless steel fermenting tanks. A 20-barrel fermenter sits next to it.
But Coleman hasn't been able to utilize his new equipment the way he would like.
"I've only done 10 brews since February," he said. "When you shut down the bars and restaurants, there's just not a lot of consumption going on."
Because Mississippi law limits the amount a brewery can sell on premises, they must rely on distributors to get their product into other businesses. And some of those distributors suggested to Coleman he needed to get a canning line to supplement the kegs he was selling.
The problem is, as seen with other products during the pandemic, there's a shortage – in this case, aluminum cans.
"I could spend $100,000 on a canning line but I couldn't use it because there's a global canning shortage," he said. 
Business during the past nine months, Coleman admits, "has sucked."
But he hopes that the COVID-19 will settle down and 1817 can regain the momentum it had pre-pandemic.
"Things were going well; it was awesome," he said. "We got up ready to go and got the first batch in February, and right as it matured and we were getting ready to go to the market, COVID hit. I didn't even really get going."
And the craft beer industry in the state has seen better days. Four years ago there were nearly two dozen microbreweries and brew pubs; today there are only about a third remaining. And 1817 is the only microbrewery still standing in the north Mississippi.
If it wasn't for COVID, Coleman is convinced 1817 would have signed on with a bigger distributor, and thus expanded its footprint.
"I would have been all over north Mississippi probably down into Jackson and Meridian by now and absolutely in Memphis and DeSoto County," he said. "Instead I'm still at the same amount of taps I was two years ago, because nobody wanted to take me on with COVID going on."
UNUSUAL BEGINNINGS
Coleman's route to founding his own brewery was atypical to say the least. Beer never appealed to him. But he had never had a "good" beer.
After getting married and moving to Spartanburg, South Carolina, in 2009, Coleman was exposed to craft beer for the first time at RJ Rockers Brewing.
"They had an incredible peach wheat beer called Son of a Peach, and it was phenomenal. It was a game-changer for me," he said. "I thought beer doesn't have to taste the way I was used to it tasting, which was incredibly unappealing."
Wanting to know more about the beer and how it was made, Coleman all but interrogated them on how to make the magic happen.
Coleman made his first batch, what he called a "buffet beer," grabbing various ingredients here and there. It was not what one would call an award-winner. 
So like a mad chemist, he decided to do some experimenting to make a better beer. It took six weeks and 40 bottles for Coleman to finish his first creation. Even though it wasn't the best-thing in the world, it was his very own.
With a beer-making software giving him some parameters from which to work, Coleman's next concoction was a hefeweizen, a wheat beer.
And, "It was fantastic," he said.
Coleman, his wife and their first child moved back to Northeast Mississippi in 2013 to be back home near family. He began brewing at home, and one thing led to another.
At the time, Coleman was a band director and baseball coach, and he slowly found a way to begin distribution with a family friend.
His very first customer was the Blue Canoe in Tupelo, followed later by Neon Pig and what was then Kermit's Outlaw Kitchen.
Coleman then was able to shift his beer-making operations from his house to his first facility in Okolona.
"I remember making a 10-gallon batch to make just two kegs to take to Blue Canoe, and I was just floored," he said. "And things just took off."
In August 2016, Coleman attracted an investor, allowing him to leave his band director's job and brew beer full-time. That eventually led to moving into the bigger facility in Okolona.
"It's still my full-time job," he said. "I'm the only employee, so trust me when I tell you there's always something to do around here."
For now, Coleman is impatiently waiting for the time he can begin brewing large batches again, and getting 8-10 beers out to the public. Currently, he's only producing three beers – there's no point in producing more without the demand. Otherwise the beer would be wasted.
"Nobody wants to pour good beer down the drain, especially me," he said.
1817 beer is made by Mississippians for Mississippians, a point of pride for Coleman. While the coronavirus has him down, he's not out, and he's confident the market will open up again eventually.
"I just have to be patient and wait it out," he said. "You just have to leave it in God's hands. If it works out, it works out; if not, then he just had other plans."