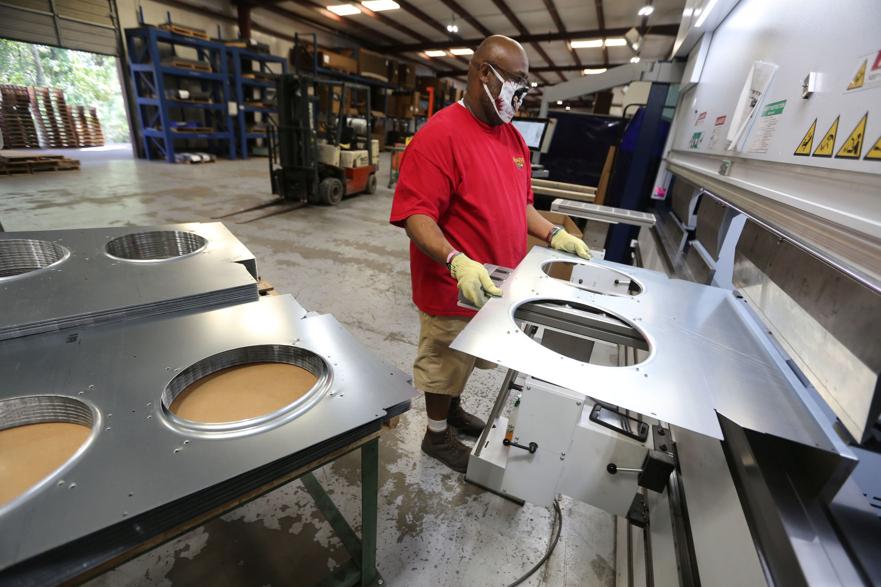 TUPELO – For Bryan Hawkins, 2020 has been an unusual year like for so many others, but business at his company is as good as ever despite the global pandemic.
His company, Hawkeye Industries, is celebrating its silver anniversary this year. Founded in Tupelo in 1995, Hawkeye Industries is a contract sheet metal fabricator using metal manufacturing technologies including state-of-the-art laser cutting, punching, forming and welding, with customers across the country.
"When I started this, I went really deep into planning," Hawkins said. "To get the bank loan I had to forecast out for 10 years of pro-forma financial, sales ... a business plan that really went into detail. I go back and pull that business plan out that I still have on my shelf, and it's amazing how accurate  it was. Was it luck or providence? Both, probably - I don't know."
Since 1995, the economy has been through three recessions, including the 2009-10 Great Recession and, most recently the pandemic. Through it all, Hawkeye has continued without a hitch.
"It's turned out well," Hawkins said. "The result is that the strategy from 25 years ago hasn't changed. Because of that strategy, financially we've been absolutely stellar. We're at the point now that the bank doesn't blink an eye when we ask for a loan."
And when Hawkins asks for a loan, it's usually not a small amount. He's spent an estimated $20 million in capital over the years.
What started as a small 6,000-square-foot fabrication shop has expanded six times to its current footprint of some 60,000 square feet. The capital investments Hawkins has made are to ensure that his workers – many of whom have worked 20 years or more with the company – are trained to be among the very best working with state-of-the-art machinery.
"If I didn't have that, we wouldn't be where we are today," he said. "That sound financial footing is so important, when you're continuously doing what we do, which is when equipment becomes technologically challenged, we replace it ... we're upgrading all the time. That's the leg up I have on my competition and on my customers."
Some customers contemplate buying their own equipment but fail to realize that it has to be replaced as technology advances, Hawkins said.So most rely on Hawkeye Industries instead, knowing it has a consistent capital expenditure plan.
"I invest more in capital every year than a lot of my customers," Hawkins said. "That's because of that strategy, which keeps me up to date with the best quality, the best technology, the best through-put... We're known across the state and region as the best job shop – we're the go-to people."
Two years ago, Hawkins invested another $3 million to meet not only growing demand in its core business, but also its entry into the high-volume laser processing of the tubing market. The laser tube processing line opened another market for Hawkeye. Tubing is used by many manufacturers, including the furniture industry, which has a strong foothold in the region. 
"As I've always said, if there's a niche market to be had, we want to be the first one in it," Hawkins said when the equipment was dedicated. 
Hawkins worked in the metal fabrication business for two decades before starting Hawkeye. His vision was to build a precision sheet metal fabrication facility guided by the founding principles of service, quality and competitiveness based upon continuously adapting to new technologies throughout every process in the company.
Hawkeye has  found a way to help customers "build better mousetraps" and at a lower cost, collaborating with their customers and working hand-in-hand for the best solutions. 
And Hawkeye is a family business though and through. Bryan, his wife, Brenda, and all three sons are involved in the day-to-day operations of the company.
"People ask me when I'm going to retire, but I'm having too much fun," Hawkins said. "I enjoy coming to work every day, and not very body can say that."
For the past 12, Hawkeye Industries has partnered with Itawamba Community College, the CREATE Foundation, and Community Development Foundation to establish the annual Tek2Go Advanced Manufacturing Camp for youth 12 to 15 years old in order to introduce the contribution and reality that advanced manufacturing careers make to the economy.
Last fall, Nuts, Bolts & Thingamajigs, the foundation of the Fabricators & Manufacturers Association International, awarded the inaugural Future of Industry Award to ICC for the Tek2Go Advanced Manufacturing Camp.
Hawkins has garnered several awards over the years, including being named U.S. Small Business Administration Small Business Person of the Year. And Hawkeye has placed three times on the Mississippi Business Journal's top 50 fastest growing privately held companies.
In 2016, it named an "Innovator to Watch" by Innovate Mississippi at its 2016 Innovator's Hall of Fame ceremony.
"Hawkeye Industries exemplifies how a business should be run by offering the highest quality products and services while offering innovative solutions to their customers," said Mark Hayes, chief operating office for Phoenix Metals Company. "Bryan and Brenda operate at the highest level of honesty and integrity. It has been an honor to be a vendor of Hawkeye Industries since Feb. 10, 1997. We look forward to the next 25 years."