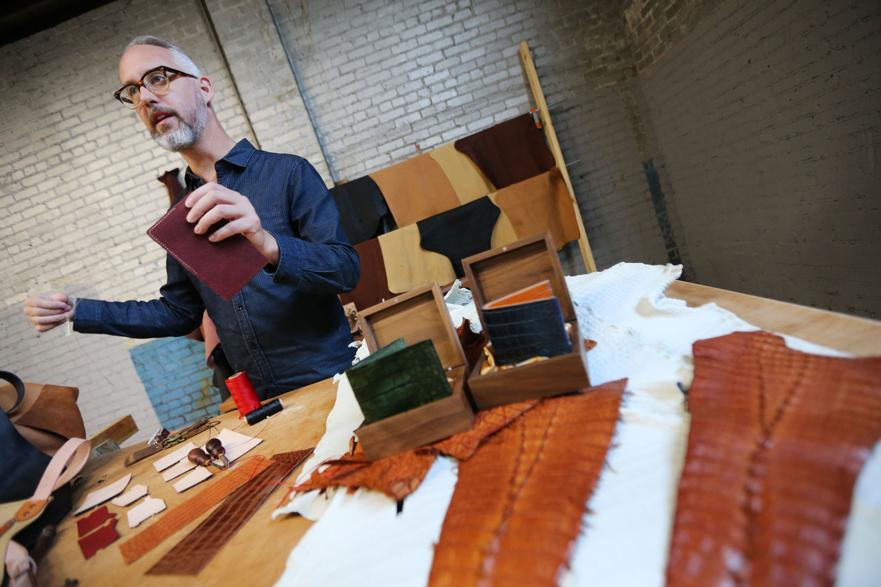 TUPELO – With careful attention to detail, Josh Mabus pulls a stitch though a leather work apron in his workshop a couple of blocks away from his marketing firm, the Mabus Agency in downtown Tupelo.
The warehouse is mainly empty, save for a table and work station set up in a corner where he can tune out the rest of the world as he enters another one, working with his hands.
It's an outlet for Mabus, who has actually created two leather-making brands for himself.
"I realized while growing up on a farm that I've been working with leather all my life, when you ride horses and raise horses," he said. "A bridle breaks, a saddle malfunctions. One day, I just ordered some leather, even though I didn't have a plan to make anything with it."
Along with the leather, he bought an inexpensive leather-making tool kit.
"It looked interesting, and I made a pen pouch," Mabus said. "Then I didn't touch the stuff for another year."
The needles, thread, leather and punches just sat there. But after seeing a YouTube video about making a leather wallet, Mabus decided to give it a try. 
But it wasn't just any leather wallet – it was an alligator (i.e., expensive) leather wallet. Instead, he chose to make a caiman skin wallet, and after posting a few Facebook updates on its progress, Mabus sold the wallet before he could even finish it.
The buyer was from Alabama, and one of his favorite wallets was a caiman skin one. So he had a personal link to the one Mabus was making.
"To this guy it was important that he opened his wallet even day and he knew the person he was familiar with made it," he said. "So I said there may be something to this, an interest in this craftsman thing."
And thus, Brokkr Leather was born, Mabus' personal high-end leather goods company.
All this happened during the midst of the COVID-19 pandemic. With more people staying at home and with more time on their hands, it was a perfect time for Mabus to build the brand. 
"My core business day job serves banks and it looked like there would be a future in it, but who knows – another day was not guaranteed," he said. "I didn't want to wallow in fear and worry and I just picked up some stuff and made another wallet. So far I've sold five. They're a labor of love and take a lot of time, and they're espensive just for my time and the value of the materials."
The Brokkr wallets go fo $500 to $600 and can be hand-dyed to customer specifications.
One is being made as a surprise Christmas present with the Green Bay Packers' signature colors.
"My goal out of this is that I've put every stitch in the wallet, and I want to make this man cry with tears of joy, and I'm not kidding," Mabus said. "I think that's the appeal of wanting somebody to do it. There's a lot of beautiful products made by singular craftsmen that are better than me, but they didn't' have the end user in mind when they made something."
It's that connection that Mabus wants to make with each customer, which means there won't be a mass production of wallet. Mabus is a one-man show, and each custom order will be handled only by him..
Not that it was an easy task to make his first wallet. With no previous experience in making a wallet, it took Mabus six weeks and about 60 hours to finish it. He didn't work full-time on it, but spent a couple hours a day working on it.
His next wallet he was able to finish in about three days, taking about eight hours a day to work on it.
But that wasn't enough for Mabus, who also is a woodworke.
He wanted a work apron to fit his needs, and since he had some leather, he made his own custom apron.
"That happened between the two wallets," Mabus said. "I made a prototype apon."
Instead of vertical pockets near the top of the apron, he made them horizontal so that pencils and other small tools could be pulled out from the side. It was a micro-innovation of sorts, Mabus said with a laugh. 
Marketed on social media, Mabus now has two personal bands - Brokkr Leather and Corvid Leather Works.
"The high-end leather goods is Brokkr, and Corvid - not be be confused with covid – is more rustic kind of stuff," Mabus said..
The aprons are made with deertan cowhide, which creates a water-repellant finish and stays soft to the touch. A fastener magnet on the bib keeps screws and nails close at hand and there's also a D-ring for a dust collector remote or clip-on towel. This  base apron starts at $225. Made-to-order tool holders and fastener pouches for the front can be added for an additional cost.
Also part of the Corvid line is a cinch belt using saddle leather and other tack hardware.
"Corvid is probably more my style," Mabus said. "For me this is all a good distraction. I'm not good with idle time, I don't watch a lot of television. I tend to want to stay busy with something with some purpose, and it's something that's kept my hands busy."