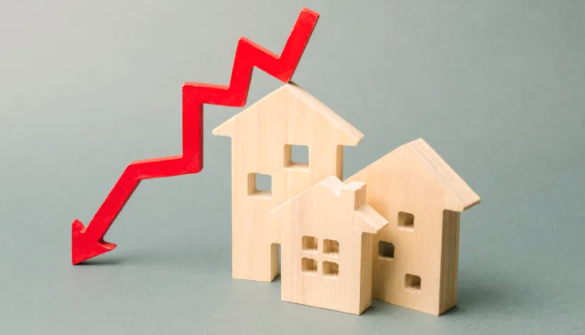 In order to shore up the U.S. economy hard hit by business disruptions stemming from the coronavirus disease-2019 (COVID-19), the Federal Reserve indicated earlier this year that interest rates would remain near zero for at least the next three years. While those extremely low interest rates have fueled sales in housing and other types of property, making it an attractive time to buy for those with the means to make down payments, there are significant downsides to the low interest rates, as well. 
For decades, the concern with low rates was that it would cause inflation.  
"However, with the recent recessions and other issues like COVID, the concerns for increasing inflation are diminished," said Ken B. Cyree, Ph.D., a professor of finance who is director of the Mississippi School of Banking, University of Mississippi School of Business Administration. "As you know, there are many countries with negative rates, such as Germany. This is something that I never thought possible. There will certainly be a day of reckoning, but that day has been delayed for much longer than most predicted."  
Housing prices are up in some areas of the country, and it is a seller's market. But there is concern that the U.S. could be fueling another housing boom-bust cycle such as the one that resulted in the Great Recession of 2008.
"It's a distinct possibility," Cyree said.
Low rates clearly harm savers, he said, particularly retirees relying on income from pension plans as managers have had to seek more risky investments in an attempt to provide growth.
The prolonged, artificially low interest rates are distorting all capital markets, said Charles F. Beauchamp, CTP, FP&A, an associate professor of finance, Mississippi College, Clinton. 
"Prolonged low interest rates make it extremely difficult to find low-risk savings growth," Beauchamp said. "This disproportionately hits seniors and retirees as both groups are at a point in their financial lives where they need their investments paying out a steady and decent return."
Beauchamp said there are two potential problems with the historically low mortgage rates: 1) Those home owners who financed with adjustable rate mortgages could get squeezed if and when rates increase. 2) Low interest rates incentivize some home buyers to purchase more home than they can actually afford. This is generally not a widespread problem during healthy economic periods, but the situation can deteriorate rapidly when the economy weakens. 
"So, given the prolonged uncertainty of the government imposed COVID-19 restrictions and its overall negative economic effects, we could see an increased number of delinquent mortgages in 2021, especially if the government imposes a nationwide shutdown of the economy," Beauchamp said. 
Even while many portions of the economy such as airlines, tourism and restaurants have taken a nosedive during the pandemic, the U.S. stock market has continued to grow in value. Beauchamp said he subscribes to the belief that, yes, prolonged low interest rates do provide positive fuel for stock prices that wouldn't be present in a normal interest rate environment. 
"However, what the degree of stock price appreciation this fuel contributes is unknown," he said. 
  John Olaimey, CEO of Southern Bancorp Bank, isn't particularly concerned about the low rates fueling another housing boom-bust cycle.
"It is possible, but I don't see this as the likely outcome," Olaimey said. "While rates are low, most people have been de-leveraging rather than leveraging up. We see refinancing at the lower rates so people are paying less interest. We have not seen a lot of purchase activity or increase in value of houses substantially. So, folks aren't going out and buying new homes that they can't afford. Rather they are paying down the ones they have. We are also not seeing a ton of use of the equity in people's homes for consumption debt, which is a good thing. We always see it for investment purposes (invest in a small business, education, etc.)."
However, he said savers have been punished by low interest rates for the past 10 years. 
"Very few people are talking about this issue," Olaimey said. "While there has been little to no inflation, there has also been very little yield or benefit to savers. If you want yield, you are forced to look to higher yielding assets which may not be suitable for savers. It could be one of the reasons you are seeing what the stock market has been doing the past five years."
He said while the stock market can provide greater return, it also carries greater risk. 
There have been concerns in some areas of the country that the pandemic boom in home purchases could make buying a house less affordable for lower-income people because those with more wealth are buying second homes or investment homes while rates are so low. But Olaimey said they're not really seeing that in their markets. 
"While demand may be up, supply is low," he said. "We need more affordable housing in our markets, and the hope is that a low-interest environment will encourage investment that provides that."
Also, lending standards have tightened and Olaimey said that was probably a good thing. 
"We are certainly not in the 2005 market where anyone who could breathe could get a home loan, and we shouldn't be," he said. "With the Qualified Mortgage and Ability to Repay rules, banks became much more disciplined on home lending. With as much liquidity as banks have right now, I would think we will see a loosening of lending standards."
Pandemic job losses have particularly impacted lower-income people in their ability to buy a home or pay for one they have already purchase. Olaimey said jobs are absolutely the name of the game.  
"You need income to pay for the house," he said. "You need income to save so that you can make the down payment. The real problem is that the pandemic is not having equal impact. Low-income borrowers are being impacted more through the jobs they have, such as in retail and restaurants which were forced to shut down and have not come back like many of the other industries which have higher paying jobs. We need smart, targeted policies to address these issues."