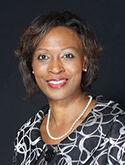 Felicia D. Gavin, executive vice-president and general manager for Diamondjacks Casino & Hotel in Vicksburg, was named Mississippi's Business Woman of the Year for 2016 Thursday by the Mississippi Business Journal.
Gavin was joined by 10 finalists and 39 other honorees at an event at the Old Capitol Inn in Downtown Jackson.
For Gavin, a good leader should also be a great person. In her role as executive vice-president and general manager for Diamondjacks Casino & Hotel in Vicksburg, Gavin likes to practice what she preaches. She manages 25 departments consisting of more than 350 team members and an annual budget of $50 million. Additionally, Gavin serves as regional vice-president of finance and is responsible for the overall financial reporting of the casino. A Bastrop, Louisiana native, Gavin received her doctorate from Jackson State University and an MBA from Mississippi College. Prior to joining Diamondjacks, she served the Office of the Governor as Director of Administration and Fiscal Policy. Gavin is an active member of the Anderson United Methodist Church and serves as a board member for the Pigs In Flight Children's Museum. Married with one daughter, Gavin enjoys reading, shopping and cooking on the grill in her spare time.
The Top 10 are as follows (alphabetically) …
» Jocelyn Chisolm Carter — United Healthcare Community Plan of Mississippi
» Marisa S. Davidson — Mississippi Health Partners
» Kathy W. Freeman — Butler Snow
» Donna M. Gardner — Camelia Healthcare
» Kristi Henderson — University of Mississippi Medical Center
» Jamie Higdon — Tempstaff
» Misti Munroe Preziosi — Office of the State Treasurer of Mississippi
» Charlotte Harness Seals — Madison County Schools/President of Junior League
» Amy W. Smith — Ross & Yerger
» Pamela P. Ware — Metropolitan Bank
These were also named Top 50 Businesswomen by the Mississippi Business Journal.
Lolly Barnes
Karen Chain
Lisa Cochran
Pamela Confer
Amanda Rasberry Crawford
Vanda N. Crowe
Liz Hogue Densmore
Tahya Dobbs
Lindsay Thomas Dowdle
Patty Dunn
Macey Lynd Edmondson
Stephanie Edwards
Alison Ketner Goodman
Jennifer G. Hall
Leigh G. Jaunsen
Kimberla M. Little
Bridget M. Lowery
Macie Malone
Lori Hill Marshall
Amelia McGowan
Gaylene M. McHale
Kelly McQuaig
Jan Miller
Melanie S. North
Kathleen Shields O'Beirne
Weatherly Rose
Ryanne Duffie Saucier
Camille Allen Snyder
Mandi Stanley, CSP
Susan K. Steadman
T. McCall Stern
Addie L. Johnson-Stover
Amanda D. Villeret
Stephanie Sago Vivians
Christie D. Walters
Carol Warren
La'Keylah White
Sarah Beth Wilson
Jaklyn Wrigley
» Read more about all the honorees in next week's Mississippi Business Journal.