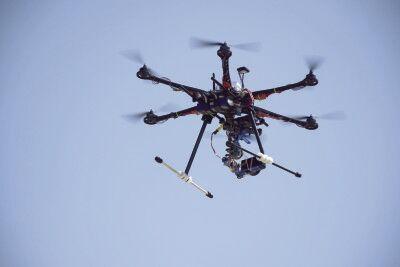 By LISA MONTI
A small, woman-owned business at Stennis Space Center now has federal approval to fly unmanned aerial vehicles at low altitudes on commercial missions.
The Federal Aviation Administration granted the exemption to Innovative Imaging and Research to operate their drones under 200 feet anywhere except near airports and events with large crowds.
"Getting the exemption is huge," said Mary Pagnutti, I2R cofounder with Bob Ryan. "We are the only ones in South Mississippi to have that."
The complicated process of getting FAA's OK took about a year, but the company owners believe it was worth the wait. I2R has already been contacted by engineering firms for work on restoration projects, Pagnutti said. More clients are expected to follow.
Pagnutti has a master's of science degree in mechanical engineering and Ryan holds a PhD. in physics and a master's in electrical engineering.  They founded their company at Stennis Space Center in 2007.
They had previously worked at the Hancock County center as contractors, providing instrument calibration services for NASA's satellite and aircraft-based Earth remote sensing program.
Pagnutti said their focus on applying imaging technology to produce high-quality images is I2R's niche market. "Most others are just strapping on a camera and whatever happens, happens. Ours can be used for engineering purposes," she said.
Pagnutti calls I2R a "micro company." It has annual sales of around $1.5 million and 10 employees working inside the Mississippi Enterprise for Technology's small business incubator. Being at Stennis, a federal installation that hosts government and commercial tenants, puts them close to current and potential customers, she said.
"We are taking what we learned by calibrating and validating remote sensing instruments and marketing that to government agencies and companies here," she said.
Laurie Jugan, project coordinator for the Mississippi Enterprise for Technology, said, "I2R is one of MSET's most recent success stories. They started in our Stennis incubator with just the two founders and today have expanded their staff and have developed useful technologies supporting a variety of pressing problems. In developing this specific capability, their technologists have taken a basic platform and transformed it into a scientific data collection system."
I2R has a half dozen UAVs equipped with sophisticated cameras that are calibrated to create ultra-high resolution images and GIS mapping products that look exactly like the areas they fly over, in focus and without distortion of any kind.
"We calibrate them to give us real engineering information. "Those have to be geometrically perfect so you can make a map from that imagery."
It's not just a pretty picture," she said.
"Engineering information, such as the amount of radiance emitted or reflected in a particular location, can be drawn from a calibrated image," she said.
The I2R drones are ideal for flying over hard-to-reach areas such as marshes for environmental site monitoring and during emergencies when downed trees and power lines make it difficult to get through. I2R is training Civil Air Patrol squadrons around the country to quickly perform reconnaissance so officials can decide where to send larger resources.
There's also a market for the drones to monitor structures that may be difficult or dangerous for people to reach. "They can be flown for inspections of water towers and roofs of large structures," she said.
I2R calibrates large and small cameras, from tiny ones inside cellphones to aerial mapping cameras costing a million dollars. The large format cameras are used to produce images of entire states to monitor crops and the environment, among other uses.
In addition to providing engineering services such as calibration to improve geospatial images, I2R develops custom algorithms to enhance image quality. They also manufacture custom electronics and optical components.