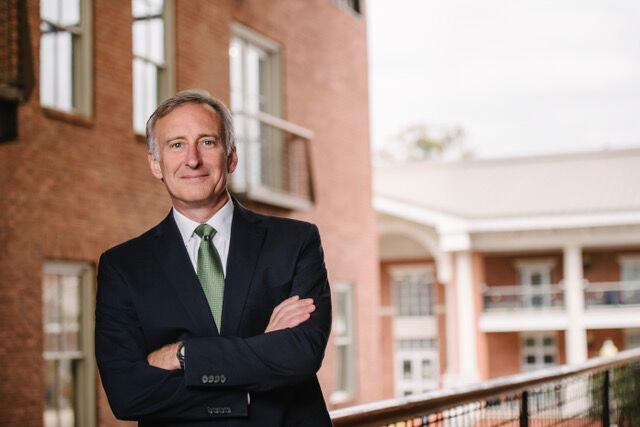 Author Izaak Walton once wrote in his 17th century tome The Compleat Angler that "God never did make a more calm, quiet, innocent recreation than angling".
You'd get no argument from Trey Byars, Daniel Coker law firm president and fly fishing extraordinaire, regarding Walton's keen observation about the art and spirit of the sport.
"I do a lot of fly fishing when I get free time," said Byars. "My father-in-law has a place in the North Carolina mountains right outside Asheville, and my wife and I go there several times a year. It's very relaxing.
"Plus, you can't catch a trout in an ugly setting."
A highly successful trial attorney for 28 years, Byars was installed as Daniel Coker president in January 2020. One of the state's most established law firms, Daniel Coker has a 70-year history and boasts offices in Jackson, Oxford and Gulfport.
Based in the Oxford location, Byars assumed his presidency of the firm a year ago with an eye towards enhancing communications within the firm, especially with his team of lawyers spread around the state. 
Two months into his tenure, however, COVID-19 and the pandemic took center stage.
"I had (strategic) plans but they went out the window," he said, wistfully. "Starting in late March, the bulk of my time was devoted responding to the pandemic. It was so unknown what was going to happen in March and April. People weren't used to working remotely – we had very few people in the office". The pandemic gobbled up a lot of my time, for sure."
Cloud-based software platform Zoom became a lifesaver for Byars and the firm.
"Zoom-meetings, Zoom-hearings, Zoom-depositions, Zoom everything," he added. "But our lawyers and staff made the adjustments and have worked well remotely. We're just trying to get back to where we were (pre-COVID-19)."
One other aspect of the pandemic Byars laments is staying connected in-person with his colleagues, especially inexperienced lawyers.
"Young lawyers need mentoring," he said. "When we are working remotely at home, it's hard to have those connections that are so important to development. I know I benefitted greatly from the mentoring I received."
Since he joined the firm after graduating from the University of Mississippi School of Law in 1992, Byars has successfully tried cases ranging from simple vehicle accidents to complex products liability and insurance disputes. 
He enjoys high profile jury trial cases – the higher the stakes, the better.
"Trial work is my forte – I love the products liability side the most," he said. "(Daniel Coker) is a litigation firm. After a few years, you have the actual (legal aspects) down pat. You learn so much in product liability.
"If you don't understand the product or issue, it's hard to defend the case."
Whether deftly working a courtroom jury or a Pheasant Tail Nymph fly on a pastoral Carolina trout stream, the 53-year old litigator plays to win. 
"I'm a competitive person, and I'd always planned to go to law school since I was nine or 10 years old," Byars said. "My grandfather was a county attorney for Calhoun County and a member of the Mississippi Senate in the 1950s. He was so kind and intelligent, and I learned so much about his legal career. I knew from a young age that law was for me."
During his 28-plus year legal career, Byars has taken note of several impactful changes in the practice of law.
"I'd say when tort reform came along in 2003-2004, the numbers and types of cases we saw declined and greatly impacted the legal field in MIssissippi ", he said. "Secondly, the cost of litigation has gone up substantially. Clients today are very in-tune about how much litigation cost. And thirdly, technology has really changed the practice of law for the better, in my opinion. Technology is a game changer."
In addition to his litigation practice, Byars is actively involved in several legal organizations that focus on competence and professionalism. Those include the Mississippi Board of Bar Admissions and the William C. Keady American Inn of Court.
"The key word is 'active' in actively involved – I believe every lawyer should be actively involved in legal organizations," he said. "With the Board of Bar Admissions, nothing is more important than making sure we admit lawyers that are both competent and ethical."
Born in Jackson, Byars moved with his family to Greenville as a six-year old. He says Greenville, and the Mississippi Delta, is still near and dear to his heart.
"We stayed outside all the time, riding bikes, hunting and fishing," he said. "In fact, I learned to fly fish catching bream on poppers at Lake Ferguson and Lake Jackson (in south Washington County)."
One of Byars' fondest memories was visiting his maternal grandparents in the tiny Delta community of Panther Burn.
"You don't get more 'outside' then Panther Burn, Mississippi." he said, smiling.