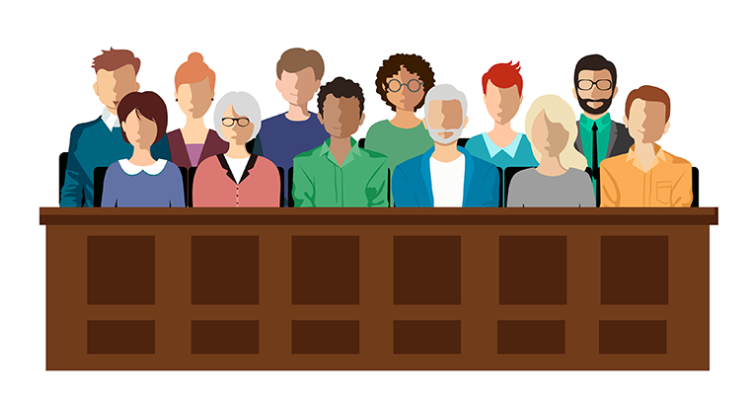 With guidance from the Mississippi Supreme Court and the arrival of funds through the CARES Act, jury trials are taking place around the state in compliance with the state's constitution and health safety protocols. From March through December 2020, Chief Justice Mike Randolph, in his capacity as chief administrative officer of all courts in the state, issued 18 Emergency Administrative Orders, each addressing an aspect of court operations. Judges around the state looked to alternative venues such as auditoriums and arenas or rearranged their courtrooms as they pushed to resume jury trials after months of delays due to COVID-19. 
Chief Justice Randolph commended trial judges for going above and beyond the call of duty to keep Mississippi's courts open and serving citizens during the ongoing pandemic. "I want to congratulate each and every one of you for leading this state in protecting the judicial system and all of the people that we collectively represent," he said. "It's because of you and the work you have done in fulfilling the responsibility that we all share under the constitution to ensure that people get justice night and day. There's not a region in our state and not a judge in this state, that hasn't stepped up and done more than required." 
Beverly Kraft, the Supreme Court's public information officer, said, "All emergency orders balanced the constitutional and statutory duties of keeping courts open with safety concerns for preventing the spread of the virus."
CARES Act funds enabled courts to make electronic upgrades after inadequate equipment hindered efforts to conduct virtual court proceedings in some courtrooms during the pandemic. 
First District Senior Chancellor Jacqueline Mask of Tupelo said, "The CARES Act has provided an excellent opportunity to fund improvements to the court system. These funds are arriving at a time when there is a need to make the courts safe and accessible. This equipment will begin a new way of moving court forward in a productive, meaningful and safe manner."
In Hinds County, Circuit Judge Faye Peterson says the four circuit judges figured out how to hold jury trials and resumed them last July. "The hardest part for us is jury qualification with a big group of people," she said. "We could not do it at the court house. In late August we called in 4,000 people and did not know how many would show up."
The qualification process was held at the pandemic-compliant Westin Hotel and everyone wore masks. The court created 32 panels of 12 jurors who are required to call each Friday to see if they must come in person. Because the trials are held in larger court rooms, only three trials can be held at the same time. Court ends at 4:30 p.m. so court rooms can be cleaned.
At the trials, Peterson explains, the jurors sit in the spectator area to allow spacing, and anyone wishing to observe can sit in the jury box or watch via live streaming. "The spectators must be seated before the trial starts and can not leave after it starts," she added. "Also, I give each juror an individual sanitary pack that they can take home."
Peterson is pleased that no one has gotten infected participating in her court room. "It's really not harder to hold jury trials now. I've been surprised that a lot of people do participate," she said, "although people still ask to be excused for various reasons."
She has suspended three trials for January and February. "I don't want people coming to court if they don't have to, but we will start again in March," she said. "How will we get caught up? It is a challenge."
Peterson stresses that the most powerful thing the courts have now are the benefits of technology. Maybe witnesses will testify via live stream and inmates can use a virtual platform to testify from prison without the security issues of transporting them to court. "The new technology is the most powerful thing we have and I hope we continue to use it," she said. 
However, Peterson does not go so far as to say that jurors should not be physically present in court rooms. "We have to secure the trial and make sure they're not receiving other information. But overall, people need to know that jury trials are continuing."