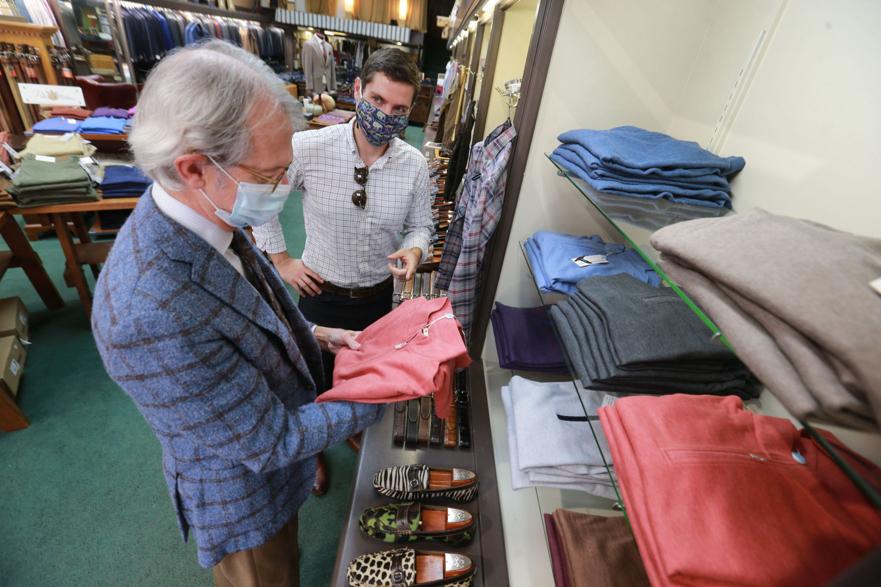 OXFORD – For nearly the first two years of its existence, GenTeal Apparel was a men's apparel brand without customers.
But patience and a dedication to make a quality product has paid off – GenTeal can be found in nearly 130 stores in 19 states, and the numbers are growing.
The company's spring performance polos are the pillar of the line, but GenTeal also makes outerwear pieces like cotton-cashmere quarter-zips, cotton/modal quarter-zips, waxed cotton zips, flannels, T-shirts, belts, wallets, hats and other accessories. 
GenTeal co-owners Blake Dubinksi and Bryce Noonan met at the University of Mississippi though a mutual friend in 2014; Dubinski was a grad student earning his MBA while Noonan was – and remains – a biology professor at the school.
What started as a casual conversation resulted in their developing a business partnership and an entry into the competitive men's apparel industry.
But the start of the company was rather innocuous.
"Bryce actually had the logo (a flying mallard) and talked to me at the Grove," Dubinski said. "He said, 'I've got this logo I think is pretty cool, and you're in the business school, and I want to run some ideas by you.'"
One idea was obvious – putting the logo on some shirts, but Dubinksi told him that had been done countless times.
"This was a time, back in 2014, when 'Southern' this and 'Southern' that was covering everything," Dubinski said. "So we talked about it for a while, talked to several stores including Landry's in Oxford, which is a customer now."
After getting feedback from Landry's and several others, Dubinski and Noonan decided to do something that separated from the other men's apparel offerings.
They focused on fabrics and colors, looking for the right sourcing to meet their needs.
"We didn't want to be as contemporary as Peter Millar and not as outdoorsy as Orvis," Dubinksi said. "We thought that there was a market out there, and so far, that's been the case .... We try to balance the line, taking innovative spins on classic pieces."
It was in August 2014 when Dubinksi and Noonan first spoke, and it wasn't until February of 2016 at the Charlotte Men's Apparel Club, where they picked up a dozen stores.
"It took little while," Dubinksi said. "We didn't know anything about apparel, and we took a lot of time to do a lot of research. We heard from a lot of people that apparel companies go out of business was bad sourcing and they can't find the funding."
But they did get some financial banking, and they found the sourcing they needed. Dubinski believes that the sourcing is one of the core competencies of GenTeal. While the leather is done in the U.S., and designs are done in the company's Oxford warehouse, the clothing manufacturing is done overseas. 
Apparel manufacturing was once a major component of the U.S. economy, and Northeast Mississippi was no exception. But global competition and various trade agreements in the last quarter-century have led the bulk of apparel manufacturing to outside the U.S. GenTeal tried to find a domestic manufacturing, and they found one. The problem was that  when the company sent back a sample of its work to GenTeal, one sleeve was shorter than the other.
"If you can't get the sample right, how are are you going to get the actual product right?" Dubinski said. "We're trying for the middle to higher tier price points, and the quality of the material drives that. If we could make things here we would, but we just don't have a textile industry anymore."
Dubinski paid homage to Tupelo-based Blue Delta Jeans, which has been successful in its tailored-made jeans that sell for $600 or more.
"They've been able to capitalize on the furniture industry and hiring some of the experienced people to help them," he said.
GenTeal isn't quite ready to stand on its own and to the point where its co-founders can step away from teaching. Noonan is a full-time professor at Ole Miss and Dubinski still teaches a couple classes each semester in the business school.
"I really enjoy the teaching part, and it gave me the flexibility to work on the line," Dubinksi said. "We both enjoy teaching. Bryce has more of a research obligation, while I have a small administrative rolewith the entrepreneurship major. I'm on campus two, three times a week, but the rest of the time I'm at our Oxford warehouse."
Dubinksi and Noonan meet once a week, on Sundays for their design time. Noonan runs the back of the house, communicating with GenTeal's manufacturers and sourcing, while Dubinksi works with sales and marketing.
"We kind of meet in the middle for sourcing and design," Dubinksi said. 
How far and how fast the brand grows depends on not only the customers, but also on Dubinski and Noonan and where they want to take the company.
"We obviously want to grow; we're not doing this for fun, and we want to make money, but we want to do it in the right way with the right stores," Dubinski said. "It took us two years to sell our first shirt, so we're patient in our growth. We're primarily in the Southeast, but we'd like to expand into the midwest. We don't see ourselves as just a Southern brand. In fact, we have a store out in Utah, and we'd like to see that grow."
Hiring former Southern Tide sales reps also has been a bonus, allowing them to market the brand to a wider audience that would have been much more difficult with a cold start.
It's how MLM owner Joe Yarber got acquainted with GenTeal, and he started selling the line for this fall.
"We weren't really look for another line at the time, but some old Southern Tide guys got on board with them, and our rep always has the best lines, and I said I'd buy whatever from him if he sold it," Yarber said. "He has a good eye in this business, and we like the product and we like the story. It's a great story."