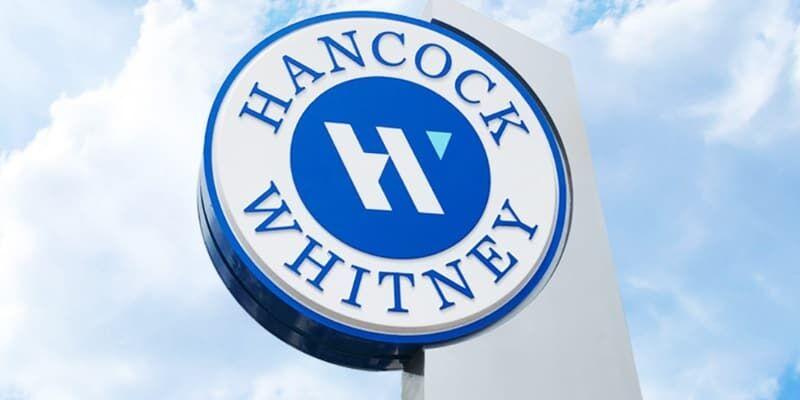 Hancock Whitney Corp. on Wednesday announced that net income for the first quarter of 2021 was $107.2 million, or $1.21 per share, compared with a net loss for the first quarter of 2020 of $111 million, or a $1.28 per share resulting from a Covid-19 reserve fund.
Shares of Gulfport-based Hancock Whitney on the NasdaqGS stock market were up Wednesday by $3.48, or 8.53 percent, closing at $44.48. The 52-week range is $14.88 to $47.37.
Nonperforming loans declined 20 percent and suspect commercial loans declined 11 percent, according to the bank's release.
Deposits increased $1.5 billion  over the fourth quarter of 2020, mainly from the pandemic-related federal Paycheck Protection Program (PPP) stimulus deposit funding.
John M. Hairston, president and chief executive, said: "Today's operating environment is heading in a decidedly more positive direction compared to the end of last year, and as such, we are releasing a modest amount of loan loss reserves, while maintaining solid capital ratios and reporting improved operating leverage.
"We see signs of cautious optimism across our footprint. However, loan growth remains limited, net of PPP. Asset quality metrics continue to improve across our lines of business and geographic areas as businesses and consumers have received PPP and stimulus funding.
This funding has also led to excess liquidity on our balance sheet, thereby further compressing NIM [net interest income]. Net interest income does benefit from the growth however, and we are seeing green shoots in fee income. We are continuing our focus on expense and efficiency initiatives all leading to pre-provision, net revenue (PPNR) growth for the quarter."
Loans totaled $21.7 billion at March 31, down $125.1 million, or 1 percent, from the fourth quarter of 2020. New PPP loans totaling $836.4 million were originated under the extended CARES Act program, with $496.0 million in PPP loans forgiven during the quarter. Core loans declined $465.5 million as indirect loans continue to runoff with no new production planned, residential mortgage payoffs increased, line utilization slowed and normal payoffs and paydowns, coupled with slower levels of loan production, led to declines in the central and western regions of our footprint.
Total deposits at March 31 were $29.2 billion, up $1.5 billion, or 5 percent, from December 31, 2020. Excess liquidity related to stimulus and other pandemic-related client funds contributed significantly to the growth in the first quarter.
The company continues to evaluate certain credits in light of the ongoing financial challenges some companies are having as a result of Covid-19. Included on slide 10 in the earnings deck are current sectors under focus related to the changing economic impact of the pandemic, and details regarding the status of loans within those lines of business.
Despite today's economically challenging environment, the company's overall asset quality metrics continued to improve with both commercial criticized and total nonperforming loans down linked-quarter.