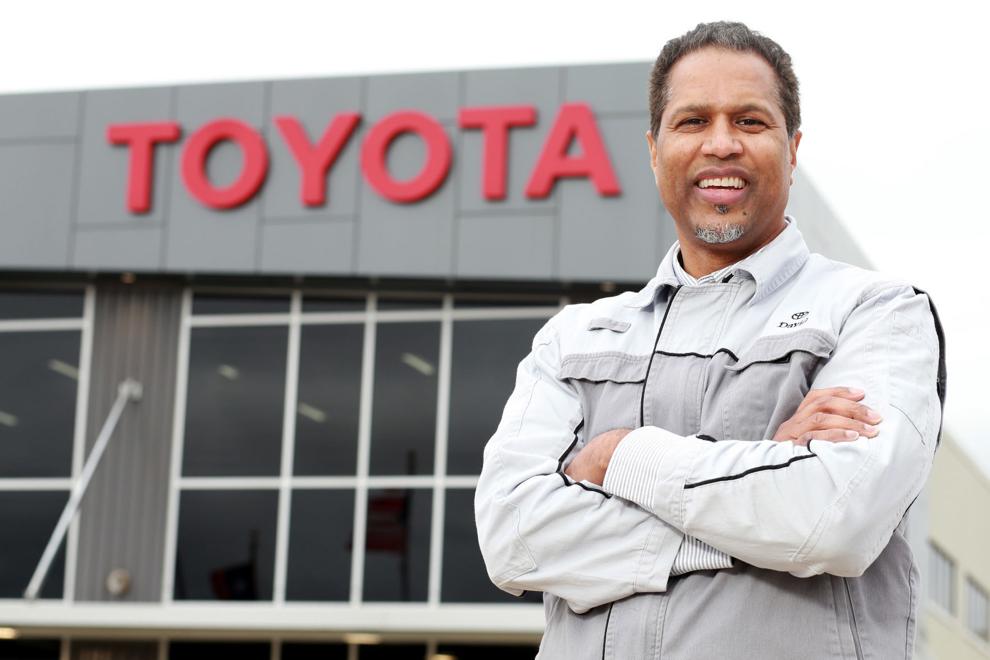 BLUE SPRINGS • David Fernandes has only been in Northeast Mississippi a few weeks, but he's getting familiar with the people and places of the region.
Fernandes, 51, was named the fifth president of Toyota Motor Manufacturing Mississippi in January, following in the footsteps of Sean Suggs, who left for a larger corporate role at Toyota Motor North America.
"I've been living in temporary housing in downtown Tupelo, so I've had a chance to wander around downtown, and just like people always say, the people are nice here," Fernandes said.
Overseeing more than 2,000 team members at the plant doesn't give Fernandes a lot of free time, but his familiarity with Toyota's vaunted manufacturing processes has made the transition easier.
"Most of the Toyota plants are pretty similar, so when I'm in the plant it feels like any other," he said. "This is a younger plant, about 10 years old, and I've had experience in the Kentucky plant, which is more than 30 years old. So this is a good opportunity for me because I get to experience a younger vehicle plant."
Fernandes spent the past two years as senior vice president of manufacturing at Toyota South Africa Motors. Before that assignment, Fernandes was president of Toyota Motor Manufacturing Alabama and had a variety of roles within Toyota Motor North America's Manufacturing and Production Engineering groups. He began his Toyota career in 1998 as a group leader at the company's West Virginia plant.
Before joining Toyota, he worked for Rolls-Royce Aerospace in Indiana. There, he studied Toyota's lean manufacturing process, working with the company extensively. After visiting Toyota's West Virginia plant, he jumped at the chance to work with all-new equipment at a brand new manufacturing plant.
Shifting back to the States from South Africa has been a "huge transition" for Fernandes, especially traveling back during the COVID-19 pandemic.
"It's good to be home," he said. "It's a new environment for me, which is always exciting to meet new people."
Fernandes is a familiar face for some at Toyota Mississippi. He worked alongside Emily Lauder, the vice president of administration at Toyota Mississippi, at the West Virginia plant, as well at the Alabama facility. He also has worked alongside Suggs.
Fernandes lavished praise on his predecessor and said he had big shoes to fill, but added that he would continue the progress the plant has made over the years.
"I would say that at this point in my career, with 23 years with Toyota, it's really about where I can support the next generation," he said. "I would say, my leadership style is how to develop people, how do we grow the next generation. With the plant being this young, it's a good opportunity to set standards and make sure we can come post-COVID."
Dealing with the changes in the automotive industry, with its push toward greater sustainability through the use of electric vehicles and hybrids, is a challenge Fernandes thinks Toyota is well-positioned to handle.
"We have a very diverse portfolio," he said. "Obviously we have several gas vehicles, but we're the leader in plug-in hybrids. Because of that portfolio, we don't have to go really aggressively one way or the other. As the industry moves toward electrification, Toyota will also and we're in a great position."
The Blue Springs plant assembles the Corolla sedan, which has been the world's best-selling sedan. Fernandes' children drive Corollas, and he said he's "passionate" about the vehicle.
"Sedans are honestly not that popular, except the entry-level vehicles like the Corolla," he said. Indeed, trucks and SUVs have dominated overall vehicle sales in recent years, and even with the rising price of gas, their popularity has waned very little.
The key is to keep popular cars like the Corolla in the forefront of customers' minds by offering them the performance, styling, value and quality they demand.
"We just have to be ready to adjust for the changes and see what the North American market will do," Fernandes said. "I don't have a crystal ball, but I think it will be challenging for everybody over the next few years, whether it's the impact of changes in regulation or the changes in customers' expectations."
Fernandes said he's enjoyed getting to know the team members at Toyota Mississippi. Having worked at several other Toyota plants, he said there's a familiar theme running through all of them.
"What's most impressive to me is how motivated they are at each of the plants. Whenever I leave one site for another, I'm excited about meeting team members," he said. "It's always tough leaving the people behind that I worked with for a long time, but our team members are so passionate about what they do, it's why we make some of the best products in the world. And that's what makes Toyota great – it's about the people."