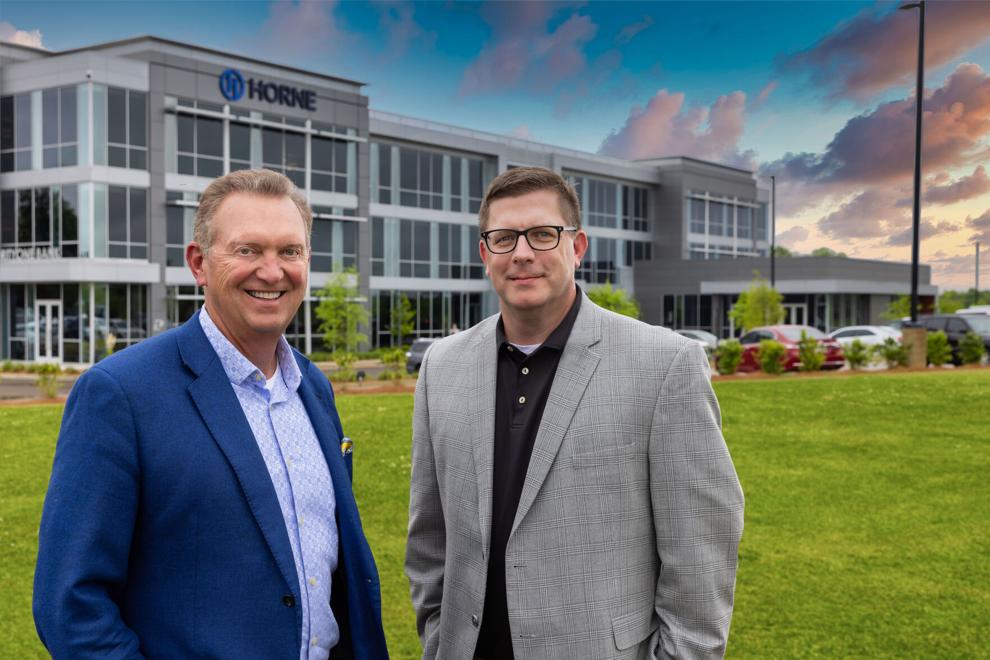 French journalist Alphonse Karr once wrote that the more things change, the more they stay the same.
HORNE executives Joey Havens and Neil Forbes might agree with Karr's assessment.
Forbes, who serves as managing partner of government services, will be assuming the reins of executive partner in mid-May from Havens, who is stepping aside due to the Ridgeland-based accounting firm's mandatory retirement at age 65 for executive partners.
Havens notes the transition will be seamless.
"Neil was elected in June 2020 and the transition process is virtually 98 percent complete," said Havens, who will remain with HORNE. "I'll continue to work as one of Neil's closest advisors – we need to be on the ground growing leaders as fast as we can."
Being named executive partner nine years ago was a personal career highlight, says Havens.
"It was very humbling to have that trust placed on me (by the firm)," he said. "My biggest challenge was our own success. Over the years, we'd been a good firm but not a great firm. The firm has developed an uncommon discipline in our culture and customer service. There is a strong sense of belonging here at HORNE."
HORNE is one of the fastest growing accounting firms in the nation as noted by its No. 2 ranking in the nation by industry publication Accounting Today. HORNE boasts 1,800 team members and serves clients in 48 states from offices and project locations in 13 states, Washington D.C., Puerto Rico and the U.S. Virgin Islands.
A former member of the U.S. Army's famed 82nd Airborne Division, Forbes joined HORNE in 2008. Since then, his focus has been directed to the firm's government services clients relating to a variety of programs, including the FEMA public assistance grant program.
He says there are challenges that await when he assumes the executive partner role for the firm but doesn't anticipate wholesale changes based strictly on a leadership change.
"The greatest challenge is meeting the needs of our team and our clients," he said. "We've all experienced the change of getting to be a larger firm. I expect us to continue to get ahead of the curve in the ever-changing world."
In addition to the lofty ranking as the fastest growing firm, HORNE is listed by Accounting Today as No. 35 on its Top 100 Accounting firms. Both Forbes and Havens point to client service as the keys to successful growth.
"We have an incredible team here and they chase excellence," said Havens. "HORNE lives by its four core values – God, family, care and service. We're grateful for the opportunity to lend accounting and strategic direction to our clients."
"Part of growing the firm has been providing exceptional client service to any region in the country," he said. "HORNE is not limited by geography in offering distinctive and complete solutions in serving our clients."
Before the pandemic, change was evolving in accounting firms. CPA firms were already seeing a movement away from time-based billing, an increase in remote work, less compliance-focused accounting and more advisory work, according to a CPA Journal article.  COVID-19 forced many accounting firms to make dramatic changes in a short period of time.
"COVID changed everybody's world but due to long-term investment in culture and technology, and a robust communication plan, we turned the COVID 'challenge' into an 'opportunity'", said Havens. "basically, we had the resources in place to allow 1,000 people overnight to work remotely."
With his elevation to executive partner only a few weeks away, Forbes is asked about his management style.
"My management style is focused on the evolution of the firm," he said. "Our size dictates that we have a flatter organizational structure that allows for more creativity. I believe it serves us well and gives the firm an advantage in the market."
Now that he's leaving the executive partner's chair, Havens plans on doing a lot more writing.
The author of a weekly blog named "beBetter", he's also co-authored Creating Value: Your 90 Day Plan to Right Tracking Your Career, a book designed to help young professionals jump start their careers.
"The writing is connected to my purpose to help others be their best," Havens said. "I'll continue with the blog, as well. Also, I'm looking forward to writing a book about the HORNE culture in the future."
Despite the challenges presented by the pandemic in the past year or so, Forbes predicts even further expansion for HORNE.
"The firm is actively pursuing more locations and looking for project offices nationally," he said. "Growth gives us all opportunities.
"Our new vision is to be the most loved brand in the profession and to be who we can be at full potential."