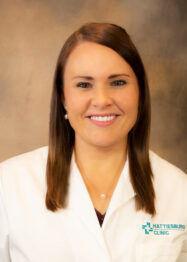 Barbara "Kati" Karcher, MD recently joined Hattiesburg Clinic Immediate Care in Petal.
Karcher provides quality, convenient and personal medical care for patients with acute care needs. She accommodates patients who need to see a provider promptly and do not have a life-threatening condition. She is from Petal and is returning home to serve her community.
Karcher received her medical degree from the University of Mississippi School of Medicine in Jackson, Miss. She completed an internship and residency in internal medicine at the University of Mississippi Medical Center in Jackson.
Karcher is board certified in internal medicine by the American Board of Internal Medicine and in pediatrics by the American Board of Pediatrics. She is a member of the American College of Physicians, the American Medical Association, the American Academy of Pediatrics, and the Mississippi State Medical Association. She has a special practice interest in internal medicine and pediatrics.
"For most, medicine is a calling, and I feel the same. I started this journey because I wanted to help people, and every visit during this journey has reminded me of that. I look forward to continuing to make a difference in my patients' lives," Karcher said.