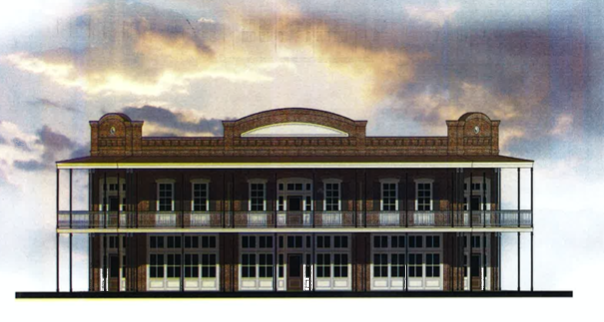 Construction on the cornerstone of the Magnolia District in downtown Madison has begun.
Old buildings were moved to make room for the 9,000 square foot, two-story, historically-inspired brick building offering 4,500 square feet of retail space on the first floor and 4,500 square feet of office space on the second floor.
Construction of the building is expected to be completed in January 2022.
Situated on nine acres in downtown Madison near the intersection of Madison Avenue and Magnolia Street, The District project began in 2004 through the efforts of Madison developer and contractor Greg Johnston, and his parents, Brent and Cynthia Johnston, to restore historic buildings in the area and recreate historically accurate new buildings.
Recently Johnston moved two historic buildings to another part of the property, and is renovating them to serve as new offices for Elliot Law Firm and other tenants.
Rock's Barber and Style will move from its present location at the corner of Madison Avenue and Magnolia Street into the new building.  Rock's is currently housed in a cottage-style house that was built in the 1920s.  When Rock's vacates this building, Johnston plans to move this old house to the location where the other two historic buildings have already been moved.
Johnston's Old Town Construction of Madison, is serving as the general contractor on the project.
Johnston's office is situated in the heart of The Magnolia District in a cottage-style house that was built in 1903 and has been in Johnston's family since 1972.
Johnston's development partner is Chuck Bell, a Madison pharmaceutical executive and entrepreneur.
The new development will include ten buildings with 71,000 square feet of space for restaurants, retail, and professional offices.  The developers are working closely with the city of Madison to ensure that the Magnolia District will blend seamlessly with the Madison at Main development that the city of Madison has planned for its adjacent property.