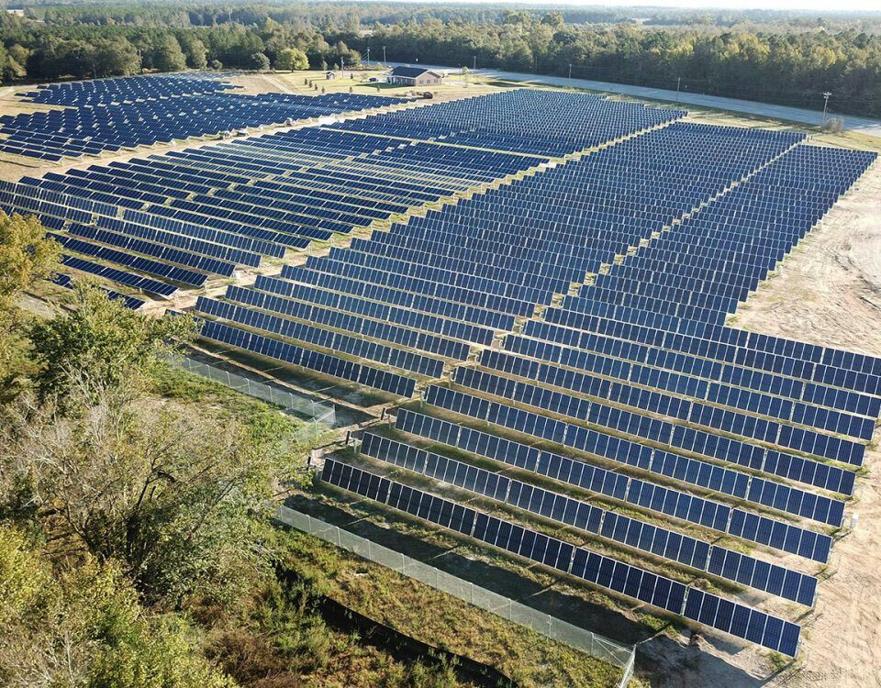 Construction of two large solar panel facilities will begin soon at sites in Hancock and Clarke counties. The two electric generating stations, each costing $80 million, will sell wholesale power to Mississippi Power which in turn will sell it to its customers. 
The 78.5 megawatts solar farms are owned by Birch Creek Development, a California-based company that specializes in the development, financing, ownership and operation of utility-scale solar projects across the Southeast and Mid-Atlantic. Birch Creek has partnered with Pine Gate Renewables of  Asheville, N.C., to oversee the development of the Cane Creek project in Clarke County and the Moonshot Solar project in Hancock County.
Public Service Commission Chairman Dane Maxwell, who announced the PSC's approval last month of the two projects, said negotiations for land purchases for the projects is ongoing so exact locations aren't yet available. "We'll know shortly," he said. "They're supposed to be breaking ground in the next several months."
Construction of the two facilities is expected to take about a year with the goal of reaching commercial operation by the end of 2022, said Daniel Forde, the PSC's director of policy.
Maxwell said the new projects will have a number of direct and indirect economic benefits for Hancock and Clarke counties and the surrounding areas. "It will create 300 jobs during construction and five full-time jobs over the 35-year lifespan of the facility. Other businesses will spring up because of it and there could be companies working to maintain those panels," Maxwell said. "It's going to give us a reliable source of renewable energy and we don't have a lot of that." 
Utilities including Mississippi Power are looking to solar energy as a clean and cheaper alternative to carbon-based resources. The company's website calls solar generation a cost-effective power source that stabilizes prices for its customers and benefits the environment.
The company is involved with four solar energy businesses and the U.S. Navy on solar facilities in its service area which generate more than 160 megawatts o electricity. That amount is enough to power more than 23,000 homes or a year.
The facilities are a 3-4 megawatt utility-scale solar energy project on a 15-acre site at the Naval Construction Battalion Center in Gulfport, a 50-MW  project on 450 acres in Hattiesburg, a 52-MW 595-acre site in Sumrall and a 53-MW project in Lauderdale County.
According to the PSC, the two planned facilities will be 78.5 megawatt generating stations that will deliver wholesale power directly to the Mississippi Power/Southern Company transmission grid. The facilities will utilize approximately 265,000 400-watt photovoltaic panels that will be ground-mounted via steel racking structures and single-axis tracking systems.
"As far as acreage goes, the engineering plans are still in the works on these projects," Forde said. "Topography, other environmental factors, and technology all impact how much land is needed to reach their capacity goal of 78.5 megawatts." According to the Solar Energy Industry Association, a utility-scale solar power plant could require between 5 and 10 acres per megawatt of generating capacity.
The developers received approval from the PSC last month and are working on engineering plans which will be filed at the PSC prior to construction.