2022 is expected to be a year of ribbon cuttings, business openings and new business announcements in Diamondhead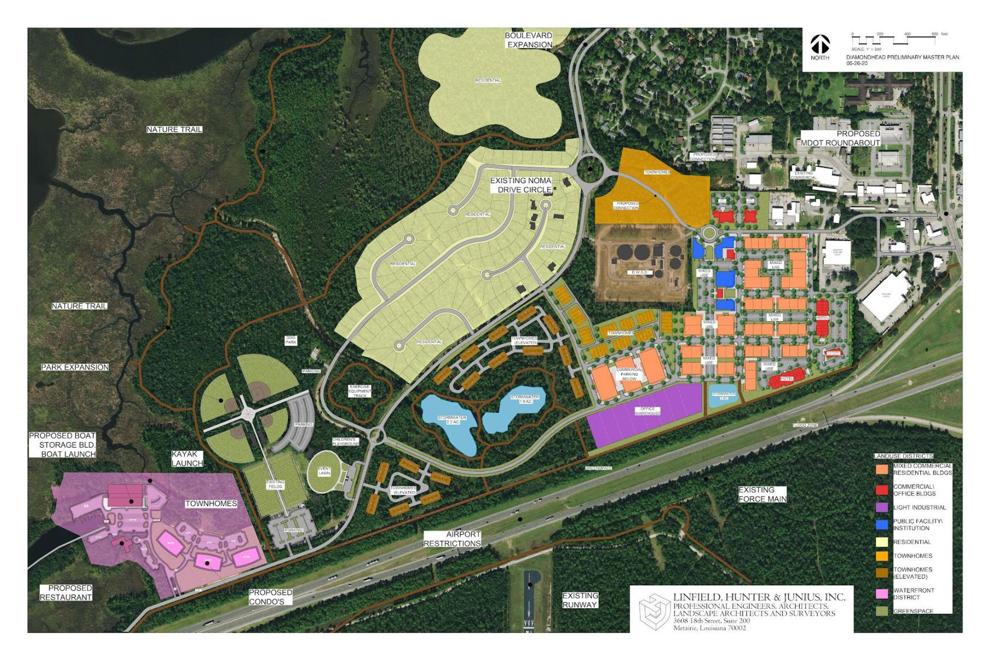 Fifty years ago, developers began carving out a master planned community with a Hawaiian theme in rural Hancock County that is now home to 9,370 residents. Many residents left nearby cities and harsh northern winters to take advantage of the golf-cart lifestyle in Diamondhead and the amenities in coastal Mississippi.
Now Diamondhead is turning 10 years old with a boom in residential construction and revitalization of the commercial district.
"This is going to be a busy, busy year for Diamondhead, with new businesses coming and new homes being built," said Mayor Nancy Depreo. "We have so much going on and we hope to get a lot accomplished that we've been working on. This is going to be a very exciting year."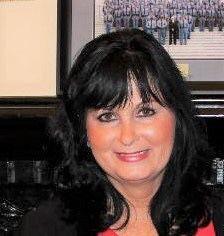 Michael Reso, Diamondhead's city manager, expects a year of ribbon-cuttings and "big dollar projects" for the city.
The improvements and projects are part of Envision Diamondhead 2040, the comprehensive plan prepared by Orion Planning and Design of Hernando, Miss., and approved by the city council last July. Orion planners are also developing a master plan for Diamondhead's entrance from I-10 and a wayfinding navigation plan.
The activity will be coming up on the east and west sides of Gex Drive, the main entrance off I-10 into the city. Improvements are even planned for that entranceway. MDOT will spend $6.9 million to add three roundabouts at the I-10 exit and at the entrance intersection and make improvements to help traffic flow.
Officials just awarded a contract for the first phase of the East Aloha Drive revitalization project that will see $420,000 invested in the business district which already includes Rouse's Market, medical facilities and strip malls.
Depreo said additions to the commercial area include a Taco Bell which announced plans to build its first double drive thru in the U.S. on East Aloha. Memorial Hospital at Gulfport is building a $4.6 million, 20,000-square-foot physicians clinic on Veterans Drive and Aloha Drive that will have 20 exam rooms, a cancer treatment facility and a pharmacy.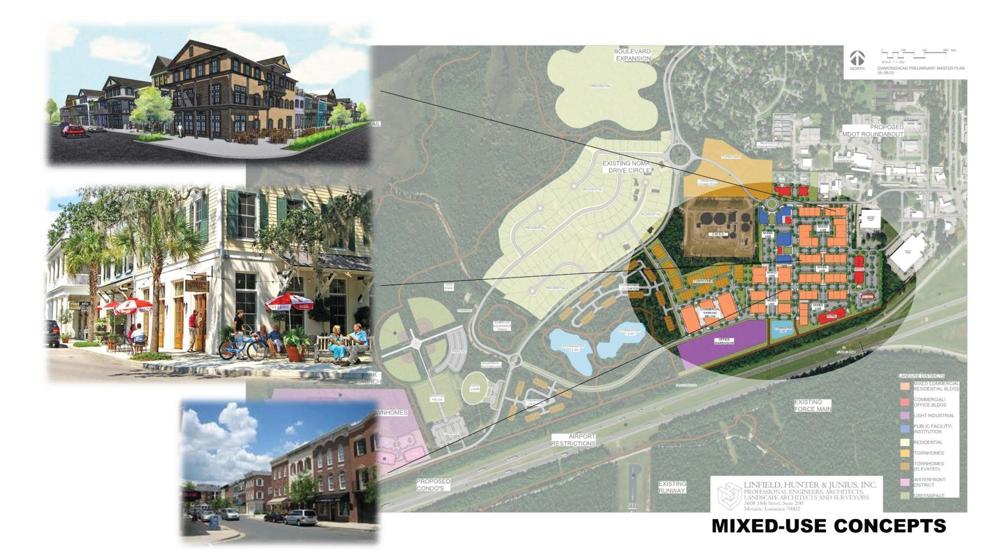 The goal of the commercial district upgrades is to create a pedestrian-friendly environment where people want to gather for food, drink, entertainment and shopping. Buildings will be constructed along the sidewalks with parking in the rear of buildings to create a "Main Street" feel welcoming more pedestrian traffic than vehicles.
Reso said Orion is creating a landscaping plan to include plants and trees used throughout the city. About $450,000 will go to improving the roadway to add parallel parking, bulb out and drainage. That work will begin soon, Reso said. A $500,000 grant will pay for 10-foot sidewalks, decorative street lights, landscaping and pavers for crosswalks.
To the west, the city will begin construction this year on a mixed use Town Center using $4.2 million from the state's Gulf Coast Restoration Fund to build roads and public infrastructure. 
Depreo said, "The Town Center will eventually connect with East Aloha's commercial district featuring narrow tree-lined streets with parallel parking, all brought together with some very smart planning."
Reso said the city has applied for 2022 funding from the state Legislature for $1.2 million to connect the Town Center roads to Noma Drive which leads to the new Noma Drive Waterfront Project, funded by $800,000 in Tidelands grants. "This has a new boat launch, trailer parking and boardwalk into the Jourdan River," he said. The city hopes to see construction this year on a dog park with a pier and walking trial paid for by a $150,000 grant from DMR and a $25,000 grant from the Gulf Coast Community Foundation.
Officials hope the projects will keep that residents spending money at home. A study showed they spend $135 million annually outside of the city limits.
Depreo said, "I've reviewed the business leakage since 2012 and I hope with the new businesses and commercial district we are able to keep those tax dollars and help our residents."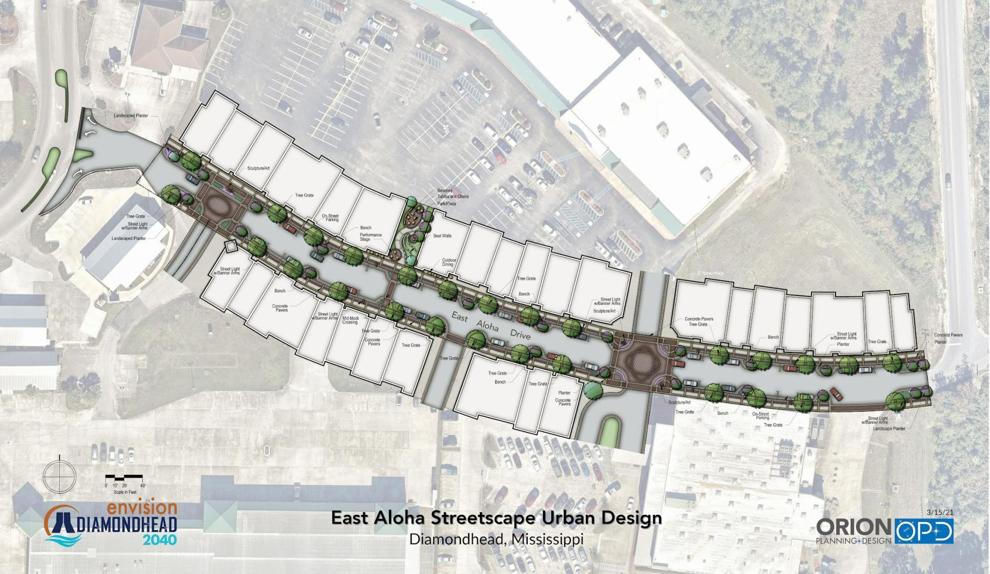 Alison Kingston owns Exit 16, a popular boutique on East Aloha that opened 18 years ago in Diamondhead and has expanded to Slidell and Gulfport. She said she's "all for the improvements in the business district. Anything that attracts more businesses and people to the area is great."
She lives with her family in Diamondhead where they enjoy what the city offers to residents. "We love it. We enjoy the amenities, the country club and the community. It's just a great place. It has everything we want."
Kingston said she's seen a lot of change in the community over the years especially in demographics and it's "all been good." "Before Katrina it used to be more of a retirement community," but she said, "since Katrina families of all ages are living here now."
The Diamondhead real estate market is robust, with little inventory to match the high demand. "We've now got multiple subdivisions coming on line. Overall about 500 houses will be built over the next several years," Reso said.
Jon Ritten, broker/owner of RE/MAX Coast Delta Realty in Diamondhead, said homes are selling as fast as they hit the market, and multiple offers are common. That sounds like a good problem to have but Ritten said "it does add complexity to a deal and makes it challenging."
Buyers are coming from around the country, with the lion's share from Louisiana and California. "It's not just one group or one place. It's all over the board. It's insane," Ritten said.
"Now that people are able to work remotely we are seeing a lot of people moving in from expensive places that don't have the amenities" in and around Diamondhead. "We're seeing a lot of people moving back home, young and old, either retiring or finding opportunities on the Coast. The lifestyle here offers so much more" than high-cost locations, he said.