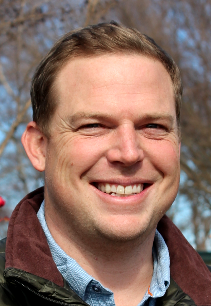 Dr. Steve Martin, the interim Head at Mississippi State University's Delta Research and Extension Center in Stoneville, is proud to announce the appointment of Dr. Drew Gholson as the Coordinator of the National Center for Alluvial Aquifer Research (NCAAR). NCAAR is a jointly created and cooperative organization established by MSU and USDA/ARS. The mission of NCAAR is to conduct research and provide information for issues surrounding water-use for agriculture and natural resources in the Lower Mississippi River Basin (LMRB).
Dr. Gholson received his undergraduate degree in Rangeland Ecology and Management from Texas A&M University, and his masters in Water Management and Hydrological Sciences from Texas A&M. Dr. Gholson also received his Ph.D. from Texas A&M in Soil Science. In his new role, Gholson and his team will coordinate closely with the ARS faculty and staff to further the mission of NCAAR. 
"I am excited about this opportunity as a whole," said Dr. Gholson. "The level of expertise at the Center is outstanding. The talent and dedication is part of the spirit of the MSU and ARS organizations, and this side-by-side collaboration is invaluable to our local producers and ag industry", added Gholson.
"Dr. Gholson was the excellent choice for this position. Not only does he have the perfect background and experience, Drew is also highly respected among his peers," said Dr. Martin. "Water quality, the sustainability of the alluvial aquifer, our ecology, and their preservation, are some of the most pressing issues we are currently studying at NCAAR. Not only does this research help our local producers, but it also touches all stakeholders of the LMRB. Dr. Gholson is highly qualified and positioned to address these issues in the short- and long-term", added Martin.