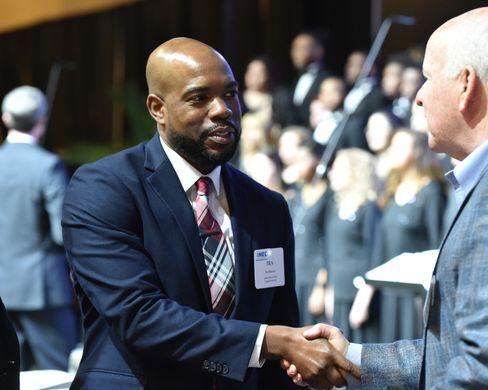 Ira Murray admits he's a bit of an introvert. 
The Columbia, SC native doesn't have the desire to be front and center, despite his lofty position as president and chief executive officer of United Way of the Capital Area.
"I love to see other people do well," he said. "That's true in both my family and professional life. When my employees are thriving and happy, that's my success – it's what drives me."
Murray originally arrived in Jackson as a National Community Fellow with United Way of America in 2005. At the end of the fellowship, he was impressed with the city's people and their willingness to give back. Murray was appointed as director and eventually vice-president of community impact at United Way of the Capital Area, a position he held until 2014.
During his first stint with UWCA, Murray led the organization's transition from a traditional 'pass-through' entity to one that focused on addressing large-scale community issues through collective impact partnerships.
"I'd never been to Jackson before the day I arrived," he said. "I felt like I could learn a lot. A month into the fellowship, Hurricane Katrina hit the Gulf Coast and our work changed immediately. Jackson suddenly had 30,000 Katrina evacuees. I saw how the people here responded and I was impressed with how Jackson reacted in wanting to help those evacuees."
A man with a thirst for knowledge, Murray decided he needed a change in 2014. He resigned from UWCA and moved his family to Pennsylvania to begin work on his PhD in education at the University of Pittsburgh.
"Education runs in my family – my mother is a high school English teacher and both brothers are in the teaching profession," Murray said. "I have so much respect for teachers and the work that they do. For me, going back to get a PhD in education was just so that I could come back into this (non-profit) work with a much deeper understanding of the complexities and issues that people are facing while trying to educate children."
However, like a moth to a flame, the introspective Murray was drawn back to Jackson.
"I ask myself that every day – I never thought we'd move back," he said. "Perhaps I was thinking I could have done more to help or didn't give (Jackson) everything I could. 
"It just felt right – coming back was a way to give back more."
Growing up in South Carolina's capital city, Murray sees similarities between Columbia and Jackson. 
"Both are college towns and have a little bit of everything," he said. "Our neighborhood was low to middle class income and there was a sense of pride in the community. My dad is an engineer and of course, Mom is a high school English teacher. Though Columbia is a little larger, Jackson is very similar in size and scope."
Since returning to Jackson after being named UWCA's CEO and vice president in2018, Murray's goals for the organization have changed only slightly. But he notes the sense of community he experienced initially in Mississippi remains the same. 
The COVID-19 pandemic is one example – Murray admits it's affected the way he works and thinks about his work.
"The pandemic has given us an opportunity to reflect on what we're doing and made us re-think how we're re-directing our resources," he said.
Murray is most proud of the Jackson metro community and his team's response to COVID-19.
"We've raised $150,000 to help feed families, provided PPE and found a great partner in Comcast to provide free internet to underserved children for their distance learning needs. Long-term, our goals are more emphasis on early childhood development and better job opportunities for families. 
"We want to be a catalyst for structural change."
Finding his leadership style is still a work in progress, Murray admits.
"I'm striving to be a transformative leader," he said. "The ultimate goal is putting people in the best position to succeed – give them the space for creativity and flexibility with a common mission, a common goal."
Murray has received numerous recognitions for his work, including the 2019 Early Career Alumni Award by the University of Pittsburgh School of Education. The Palmetto State native also was named to the 2013 Mississippi Business Journal Top 40 Under 40 class. Additionally, he is a member of 100 Black Men of Jackson, the United Way Worldwide Equity Advisory Board, Excel by 5 and the Mississippi Early Learning Alliance.
Murray might be the biggest Pittsburgh Steelers fan in Mississippi.
His favorite all-time Steeler is Hines Ward (Pittsburgh's career leader in receptions, receiving yards, touchdown receptions and Super Bowl XL MVP), who was known for his quiet, workman-like (see 'not flashy') approach to the game.
"I see myself in Hines Ward," he said. 
Most who've met Murray would probably agree.