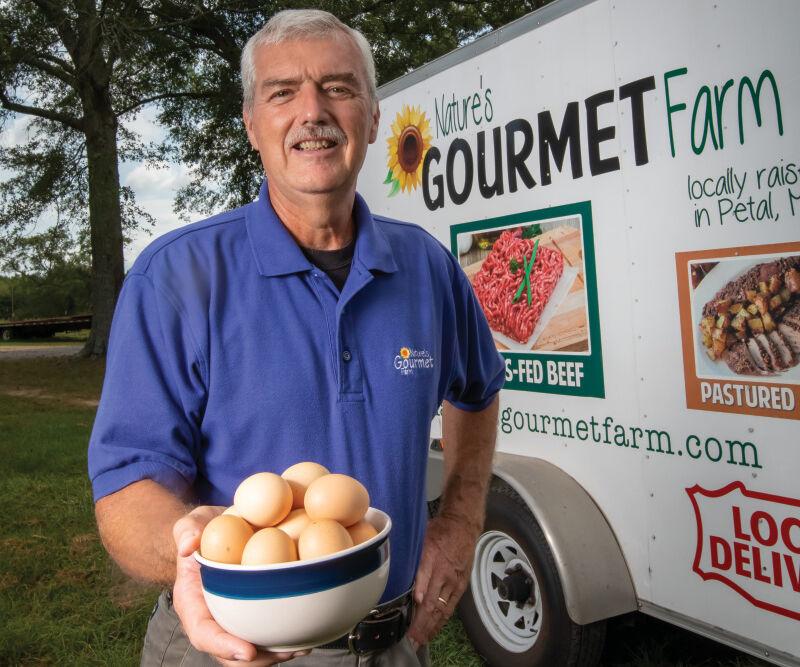 Ben and Beth Simmons operate one of the state's largest and most diverse grass-fed protein operations selling 100 percent grass-fed beef, pastured pork, pastured chicken and pastured eggs. 
Their company, Nature's Gourmet Farm (https://naturesgourmetfarm.com/) located near Petal has a large footprint in the region selling direct to customers not only in the Pine Belt region, but in Jackson, Ocean Springs, Gulfport, Picayune and Mobile, Ala. 
Earlier in life, Simmons had a career in manufacturing in positions across the Southeast and also traveled to Asia, Europe, and South America. He was also first in the Army National Guard and later transferred to the Air National Guard. He retired in June 2015 with the rank of Colonel.
Simmons inherited the farm from his father in 2009. From the beginning, the Simmons had a commitment to regenerative agriculture, humane animal handling, and environmental stewardship farming without using harmful pesticides, chemicals and artificial growth hormones. 
"We treat our livestock with respect and let them live their lives the way God intended," Simmons said. "All of our animals are raised on diverse forage pastures, in a low stress, all-natural environment where they are free to express their God-given nature."
They started out with cattle in 2010. In 2012, they started raising poultry under an USDA processing exemption for 1,000 chickens per year. In 2014, they added pastured pigs to their operation. In 2017, they added laying hens. 
Simmons said regulatory burdens imposed to protect big ag companies are the biggest impediment to small farms. There are 40 states that have adopted the 20,000- limit on chickens raised on a small farm. 
"Mississippi and many other states in Southeast where big poultry industries are located will only let you do 1,000 per year and you have to sell it directly from your farm," Simmons said. "A family cannot survive on only 1,000 chickens per year. So, in 2019, we built a small, on-farm USDA poultry processing plant. Now that I have a plant and sanitation, I can grow as many as I want and ship wherever I want. That is a barrier to other farmers. Investing in a plant opens up a lot of markets and the investment is not as big as some people would lead you to believe." 
Most of the work on the farm is done by Ben and Beth and their oldest son, Eric. On chicken processing days, they bring in a few part-time helpers. 
Nature's Gourmet had the first USDA poultry plant in the state for a small producer, and now has built a processing plant to allow them to slaughter and process beef and pork on the farm.  
Like most grass-fed producers across the country, Nature's Gourmet saw increased demand for their product during the pandemic.
"Our sales went up tremendously this past year," Simmons said. "The pandemic actually resulted in more people considering buying directly from a farm. They started looking, investigating and calling. There is a lot of discussion whether this is a temporary thing or if these will become permanent customers. But we certainly have enjoyed continuous growth. In our recent delivery to Mobile, Ocean Springs and Gulfport, probably 15 percent of those customers were first-time buyers. One of them who bought beef, pork and chicken for the first time gave us a five-star Google review."
There are advantages to raising multiple species. Simmons said mimicking nature creates a synergy. 
"You do not see a monoculture pasture in nature," he said. "What people don't realize is that 70 percent of what a cow eats and drinks is returned to the soil. That builds up the quality of the soil and allows more plant diversity."
Producing multiple species also helps with cash flow. Cows take about two years to raise. 
"Most people getting started can't handle a two-year cash flow," Simmons said. "With laying hens, there is something to sell every day. With broiler chickens, every eight weeks there is a product to sell. Pigs can be raised in about ten months."
Simmons sees much greater potential for direct marketing from small farms in Mississippi. He points to North Carolina as a good model. 
"North Carolina has hundreds of small direct marketing farms and a population that knows the value of buying direct from the farm," Simmons said. "And they have an ag department that is pushing that."
Education is key to success in grass farming. He started reading Stockman Grass Farmer in 2010, and felt it aligned with his values and belief in God. He started reading SGF books including those by SGF founder and publisher, the late Allan Nation, and Joel Salatin, who is considered one of the top grass-fed producers and authors in the country. 
"In 2011 my wife and I went to Joel's Polyface Farms for one of his farm tours," Simmons said. "My biggest takeaway was that this does work, this is viable, and we need to be doing this. What I saw on his farm was exactly what I read in his books. It wasn't just a marketing gimmick to sell a book. He was actually trying to help people and educate farmers that there is a better way of doing this. We started immersing ourselves in what grass farming means."
Simmons found Nation and Salatin a refreshing change from professors and extension folks who write articles about their theories—not practice—of how people should be farming.
"Most of it goes back to supporting the big ag engine of feed, seed, fertilizer, chemicals and pharmaceuticals," he said. "You have to follow the money. Monsanto provides money to professors to study something and then once the research is finalized, they push it out through the USDA and local extension office as the latest, greatest way to do things."
Simmons also attended a The Grassfed Exchange conference in North Dakota in 2012, and was amazed at what he saw. He was particularly impressed by the tour of Gabe Brown's farm.
"In just years, he took soils from less than two percent organic matter to up to eight percent all with diverse forage-based pastures, no chemicals, no tillage, and good livestock management," Simmons said. "We came back and started adapting his land management principals to grow the health of our soils."
Simmons also met and learned from industry leader Dr. Allen Williams with Understanding Ag LLC.
"I was surrounding myself with like-minded people," he said. 
Marketing built up gradually. They used Facebook initially to let people know pickup locations, and had a critical focus on quality and consistency.
"Unlike the conventional farmer, we see the customers who buy and consume our products," he said. "We work really hard on establishing trust with our customers. Trust comes through truth and being transparent. I know other direct marketing farms in Mississippi who label products as grass-fed when they are really not. The lack of Country of Origin (COO) labels is a big problem, too. More than 80-90 percent beef sold in America sold as grass-fed beef is imported. You have no idea what country it comes from, who the farmer was, or how the animal was raised. But those big corporations and their lobbyists got rid of the COO labeling so foreign products could be processed here and be labeled: Product of USA. That is wrong. That is deceitful."