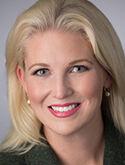 The Mississippi Wildlife Federation (MWF) has named veteran conservation advocate, public policy expert and attorney Ashlee Ellis Smith as its executive director to chart the future growth and success of the organization.
Smith, who has more than 16 years of conservation advocacy, government affairs, public policy and legal expertise, has a bold vision for growing and enhancing MWF's conservation work in the state. She is the 10th executive director in the organization's 73-year history.
Smith is the founder of Ellis Smith Policy Solutions, a political advocacy firm specializing in conservation, wildlife, and sportsman's issues, where she represented clients such as The Nature Conservancy (TNC), managed the Wetlands Policy Coalition (TNC, Ducks Unlimited, Wildlife Mississippi, Pheasants/Quail Forever, California Waterfowl) for Farm Bill issues, and 26 state fish and wildlife agencies working to combat Asian carp and invasive species. Previously, Smith served as director of public policy and government affairs for Ducks Unlimited's Southern Region, where she was responsible for federal and state advocacy for 13 states. At Ducks Unlimited, she helped shape policies and legislative priorities in the areas of waterfowl habitat and wetlands conservation. She continues to serve as a volunteer on DU's national public policy board.
Smith practiced law from 2003-2012, focusing in complex commercial litigation, First Amendment law, municipal law, and contract law, with Wells, Moore, Simmons, Edwards and Hubbard in Jackson, Miss. and prior to that, with King and Ballew in Nashville, Tenn., and Glankler Brown, LLC in Memphis, Tenn.
Under Smith's leadership, MWF will embark on a comprehensive campaign to engage new audiences through the development of a strategic plan that will expand and enhance existing programs as well as add new youth, education and advocacy programs. It will include initiatives to protect and restore wildlife habitat, and bolster the growth, membership and funding levels of MWF. Specifically, the plan will advance goals to enhance existing signature programs/events such as the Adopt a Stream initiative, Hunter's Harvest, the Mississippi Conservation Achievement Awards, the Mississippi Wildlife Extravaganza, its many coastal programs – including Habitat Stewards, Art and Ecology Summer Camp, marine fisheries and Gulf restoration issues, the youth Outdoorama, and various youth hunts and fishing adventures, the Asian carp/invasive species fight, Chronic Wasting Disease (CWD), while exploring new initiatives such as combatting Urban Heat Shields, Recovering America's Wildlife Act and a Women in Wildlife initiative designed to boost women of all ages' engagement in outdoor, wildlife and sportsman's activities.