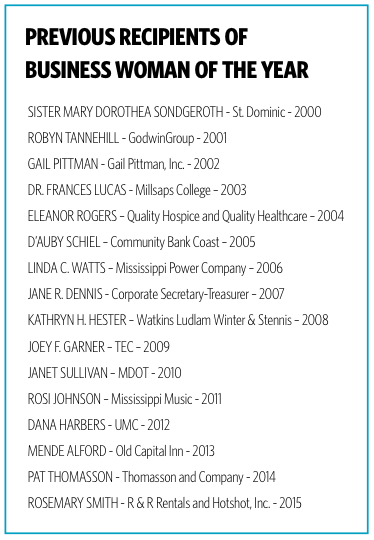 Felicia Gavin has been immersed in numbers her entire working life. Counting them, adjusting them, projecting them – the thrill is never gone.
Today she is in her element as executive vice president and general manager of DiamondJacks Casino & Hotel in Vicksburg, one of Mississippi's major gaming destinations. With the numbers come the added responsibility of overseeing a $50 million a year budget and leading a work force of 300 people who keep the 24/7 casino, hotel and food service operations humming along.
"It became very addictive," Gavin says of the long, stressful hours and the non-stop learning opportunities that the gaming business offered her at its birth as a Mississippi industry more than 20 years ago.  Her start in 1993 as finance director for Harrah's in Vicksburg led to a position as regional vice president of finance for Isle of Capri Casinos and later to the top job for DiamondJacks' Vicksburg operation.
"There was a lot to learn and a lot to do," Gavin recalls.
Today, she is in her eighth year as Diamondjack's general manager, a job she says never ceases to test her nimbleness. Go in expecting to do "A," "B" and "C" but end up doing "D" and "E," Gavin says.
Gavin grew up in the paper mill town of Bastrop, Louisiana, and came to Mississippi to work as an accountant for Hughes Aircraft in Forest after earning a finance degree at Louisiana Tech. In the years since, she has gained recognition as one of Mississippi's leading executives, having entered the gaming industry in its infancy and become one of its key decision makers.
Her most recent recognition came last Thursday with her selection as the Mississippi Business Journal's Business Woman of the Year.
"We are truly delighted to have selected Felicia as this year's Business Woman of the Year," Alan Turner, MBJ publisher, said. "With her background in public service and the private sector, she is certainly one of Mississippi's great woman success stories.
"I can't say enough about all of our Top 50 Business Women, and it is incredibly gratifying to know that we have so many highly qualified business leaders in our state."
» MORE on Mississippi's top businesswomen …
With an elementary school teacher as a mother, Gavin grew up in a household that greatly valued education. Spiritual faith carried immense value as well, Gavin says.
Both parents "instilled in me that education is fundamental to any success," says Gavin, who carried that belief into an adulthood in which she would gain a master's degree in business administration from Mississippi College and a doctorate in higher education from Jackson State University.
Faith has been her foundation, she says. "I grew up with faith. A lot of who I am is faith driven."
With that, Gavin says, has come "a strong belief that I can do anything I want to do" in both life and business.
Toward the end of the 1990s, Gavin left the casino business briefly to join the staff of Mississippi Gov. Ronnie Musgrove as director of administration and fiscal policy. "I saw that as a-once-in-a-lifetime opportunity," she says of the political appointment.
"I was there for three years" until the governor completed his term, Gavin says. "It was probably one of the most rewarding experiences of my life. I got to travel across the state of Mississippi and meet people from all walks of life."
Gavin expected her time in the public sector would be short. Fortunately for her, Harrah's had encouraged her to experience the business outside of the accounting offices. That policy – part of an industry-wide strategy of creating homegrown executives – gave her a holistic perspective on the operations of the casino and its lodging and food-service amenities, she says.
A year after she returned to the gaming business as an executive with Isle of Capri, Gulfport-based and privately held DiamondJacks bought the casino/hotel and promoted Gavin to regional vice president of finance. With the position came a mentor, Kim Tullos, the casino and hotel's GM.
"She groomed me to take her position when she left. We worked well together, side-by-side."
Gavin says she has strived to do for her employees what Tullos did for her. "Maybe the persons themselves do not realize they have the potential but you see that potential. You have an obligation to pull that out of them."
In many instances, it's not that the employees don't want to take on new responsibilities and challenges, it's just that no one has mentored them and helped them move to the next level, she says.
As the "face of the casino," Gavin devotes a large portion of time to community projects and causes such as the United Way and American Cancer Society. "We are in the community to give back to the community," she says.
Gavin also has maintained her devotion to education, serving as an adjunct professor for Alcorn State University's master degree program in hospitality and gaming management in Vicksburg.
"I am able to apply some practical experience with textbook theory" to give students a real-world perspective, she says.
As one of four casinos in the city, DiamondJacks' market share is hardly guaranteed and gains in it come only at the expense of competitors, according to Gavin.
"When we pick up market share someone else is losing. And we have gained some market share; not significantly, but we have moved the needle."
Unlike winning at blackjack, winning market share doesn't come by chance, especially in Mississippi's stagnant casino industry. It comes from setting your casino apart from the others, Gavin says.
"We hang our hat on guest services."
For Gavin, eight years into her general manager's job, some questions remain every bit as 24/7 as DiamondJacks' casino operation. "How do I move the business to the next level? How do I inspire everyone else to take that step?"