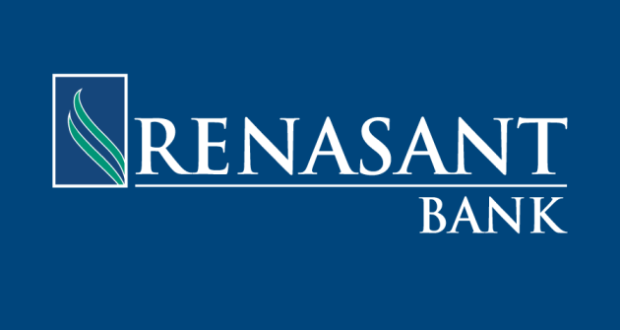 Renasant Corp. reported Wednesday that its net income for the first quarter of 2021 was $57.9 million,  compared to $2 million for the first quarter of 2020, which ended with the first month of the coronavirus outbreak and government-ordered lockdowns and other restrictions.
Earnings per share were $1.02 for the quarter just ended, compared with 4 cents a year earlier.
Shares were selling at $41.86 on the NasdaqGS stock market at 2:30 p.m. on Wednesday, down 68 cents. The 52-week range is $19.38 to $46.97.
Tupelo-based Renasant is the parent of Renasant Bank, which has deposits of $15.6 billion and operates 200 offices in Mississippi, Tennessee, Alabama, Florida, Georgia, North Carolina and South Carolina.
President and Chief Executive C. Mitchell Waycaster stated in a release: "We saw a significant increase in our deposits, particularly noninterest-bearing deposits, and achieved net loan growth when excluding [Paycheck Protection Program] loans, while our asset quality metrics remained stable. Pandemic-related restrictions continue to be relaxed and business activity appears to be accelerating throughout our region."
The bank completed the closure of six  branches in the first quarter and said during a conference call on Wednesday that several more may be closed in the second or third quarter.   
Total assets were $15.62 billion at the end of the first  quarter, compared with $14.93 billion a year earlier. Loans held for investment included $890.9 million in PPP loans.
Covid-19-related pretax expenses for the quarter totaled $785,000, diluting share value by one cent.
Deposits increased to $12.74 billion, up from $12.06 billion in the year-ago quarter.
Non-interest-bearing deposits increased $450.3 million to $4.14 billion, or 32.47 percent of  deposits, compared with $3.69 billion, or 30.56 percent of the total as of Dec. 31, 2020.
The company has a $50 million stock repurchase in effect through October, though it did not repurchase any shares in the first quarter.
Net interest income was $109.6 million for the quarter, compared with $106.6 million for first quarter 2020.
Net interest income was $109.6 million for the first quarter of 2021, as compared to $108.1 million for the fourth quarter of 2020 and $106.6 million for the first quarter of 2020.