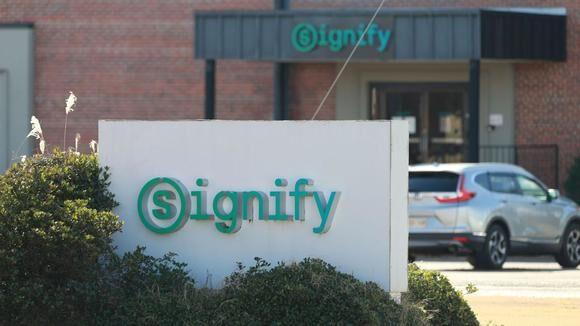 TUPELO • Signify – still known by many locally as Day-Brite – will shutter its lighting manufacturing facility on Green Street by December, eliminating approximately 135 local jobs.
In a letter sent to Tupelo Mayor Jason Shelton and other officials last week, the company said all manufacturing positions in Tupelo will be eliminated. Job cuts are expected to begin in April and be completed by December.
Some other jobs associated with sales, marketing, IT and research and development will remain here in the city, said a company spokesperson.
Manufacturing work previously done in Tupelo will transition to facilities in San Marcos, Texas, and Monterrey, Mexico, according to the same company spokesperson. This includes the DayBrite and Chloride indoor lighting products as well as some research and development.
"The decision has not been taken lightly but is necessary with the ongoing transformation in the lighting industry," said Beth Brenner in a statement to the Daily Journal on behalf of the company. "Signify will support its affected employees through the transition, and provide resources and training to assist them through this difficult period and set them up for future success."
Local leaders promised efforts to aid impacted workers.
"We are working with our partners in economic development to make this transition as easy as possible for the employees and community," Shelton told the Daily Journal.
According to Community Development Foundation President and CEO David Rumbarger, some employees at the facility "are eligible for rehiring at other positions across the community, and we have a number of companies in a hiring mode."
Three Rivers Planning & Development District will also play a key role in efforts to assist workers, according to Gary Golden.
Three Rivers will coordinate efforts among Itawamba Community College and the Mississippi Department of Employment Security to assist workers with the unemployment process, search for new jobs, or to seek training or education for new work as desired.
CDF has also set its sights on the future – including the future of the manufacturing building itself, which is owned by the city of Tupelo.
"We're actively seeking another tenant for that facility," Rumbarger said.
The announcement marks the end of a long and storied presence in Northeast Mississippi. What was then known simply as Day-Brite was the first major manufacturing facility to locate in Tupelo after World War II, opening in 1947.
The company has since been through a number of corporate transformations and its parent ownership has shifted.