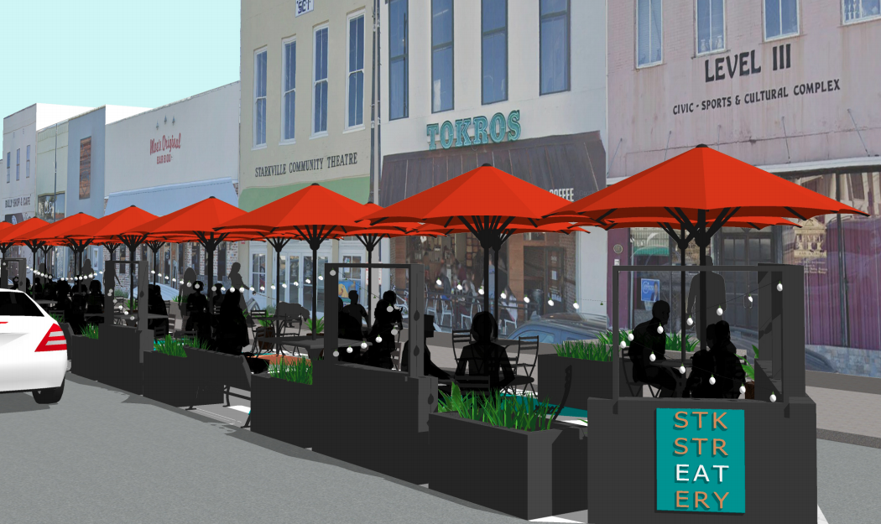 For many people, having a nice meal out with family or friends is a highlight of the week. But with the pandemic dangers, many people--especially those who may be the most vulnerable for complications from COVID-19--may not feel safe eating inside a restaurant.
The decline in business for restaurants and bars has not only been tough on business owners and their employees, but it has reduced tax revenues for cities. The Small Town Center at Mississippi State University is working to help downtowns economically by developing a toolkit for creating new designs for shared public spaces called parklets or streateries. Those allow people to enjoy eating outside socially distanced from others in a charming environment that adds to the appeal of going downtown.
"I think it provides an economic impact in a positive way," said Leah F. Kemp, AIA, director of the Fred Carl Jr. Small Town Center at Mississippi State. "Even though we are architects and designers, the number one concern for the communities we work with is improving the economy. Therefore, we are thinking of ways to improve the built environment that help the bottom line. All of these measures are not necessarily done just for beautification purposes. They are also created for economic purposes."
The Small Town Center has seen that a number of communities are beginning to think about their public spaces differently. Parklets or streateries are an unconventional and innovative use of public space.
"The idea is to bring people downtown while increasing business and improving the local economy," Kemp said. "We have designed a streatery for Starkville and a streatery toolkit for small towns. We're happy to discuss this and other ideas further with other towns in Mississippi if they are interested."
The idea is you occupy what is already public space in the form of parking spaces and convert those into a different form of public space by providing seating. The one planned in Starkville takes up nine parking spaces, so it supports multiple restaurants. The space could also be used for meetings. And when people come downtown for a meeting or a meal, they are more likely to patronize other businesses in the downtown area.
A lot of times restaurants expand to provide some sidewalk tables. But Kemp said the streatery provides more dynamism. It is unique, eye-catching, and it brings people downtown—which is the goal. 
 While people have adopted Zoom meetings as a way to do business during the pandemic, sitting behind a computer all the time isn't ideal. Being outdoors socially distanced while conducting business meetings can be an attractive option.
"Committee meetings can't take place inside in person, but shared public places give people the opportunity to meet outdoors with fewer restrictions," Kemp said.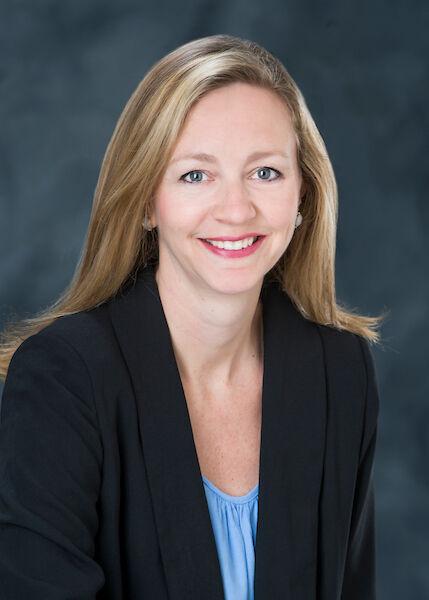 A lot of planning and design considerations go into creating the streateries. The streatery designed for Starkville has shade structures over tables, and also takes into account wind flow and drainage. Kemp said designers work to accommodate normal weather conditions. You can add screens to block the wind and when it is cool, heating lamps. 
"Our designs are really for small towns and specifically for our southern climate," Kemp said. "The goal is to be able to use these most of the year. I think that is something many of our small towns can do. In Berlin, Germany, even when it is 20 degrees you see people outside and eating. We have a warmer climate. And as we are adapting to the pandemic, we can adapt to being outside more times of year."
Kemp expects streateries to be popular even after the pandemic.  In New York City, they have made regulations to accept the streateries as permanent features. 
"Right now, our small towns in the South are still adapting to the concept and trying to get them off the ground," Kemp said. "But it has definitely opened the conversation to incorporating them into communities whether there is a pandemic or not. I think people are understanding they bring value to the community."
Other considerations for design include the slope of the street, any drop off from the sidewalk to the street, rainwater runoff, shade and the other environmental aspects such as the heat island effect. That can impact whether you want to use materials that are going to make the area hotter or cooler. What are some of the materials conducive to a pleasant experience outside? Another major consideration is trying to figure out how to assemble the streateries with unskilled volunteers since tax revenues have been down because of the pandemic.
Another effort is to work with local community ordinances or zoning regulations. Is it part of the entertainment district so you can sell alcohol? Is it self-serve or do businesses provide wait staff? Another major consideration is Americans with Disabilities Act compliance. 
"There are a lot of technical details that have to be thought through," Kemp said. "Those are all highlighted in our toolkit. The toolkit has not been released yet; there are a few more edits to make. But soon we will be able to go and help other communities with technical assistance and design needs locating them in their specific sites. Even site selection is something that needs to be considered."
The Small Town Center helped City of Starkville implement some string canopy lighting over their streets downtown. Those have been a hit bringing a wonderful atmosphere of lighting downtown. The area is now popular for socially distant events. People go downtown to have their pictures taken under the canopy of lights.
"That is something that was a quick win," she said. "That is a project that with a little bit of design work and not much money, a community can make a large impact. That is something that will last far beyond the pandemic. In a way, the pandemic has been a catalyst for some of these public improvements."
There is no one-size-fits-all approach. Kemp said every project is community specific. 
"We're available to help other communities with design services," Kemp said. "If they are interested, we would love to talk to them because we want to see them in communities. I think there is a real interest in them, and we want to make that process simpler for folks."
For more information, call 662.325.8671 or visit the website www.carlsmalltowncenter.org.