» DECADE-OLD ANALYSIS FOCUSED FULLY ON COSTS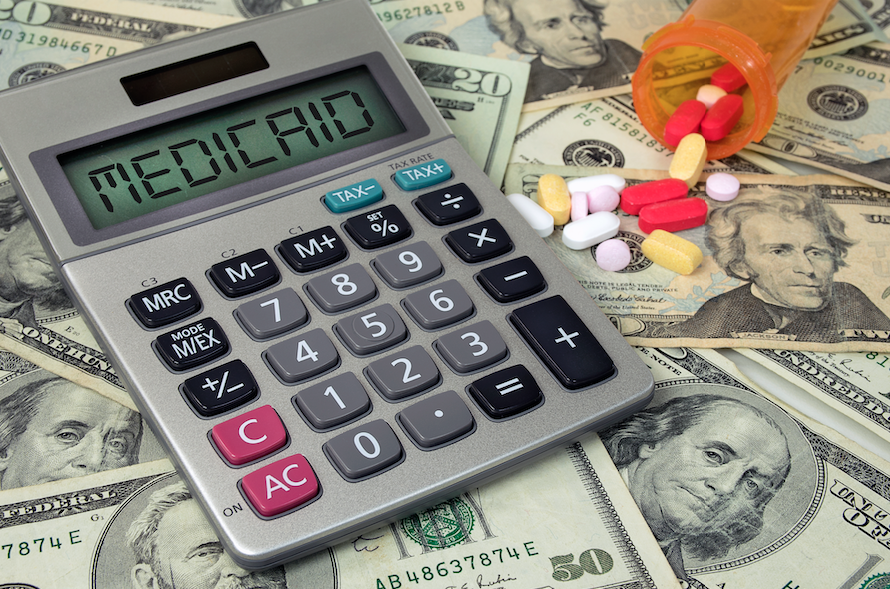 The state's University Research Center's 2012 economic analysis of Medicaid expansion reached nearly the same conclusions on the costs to the state as a new analysis the Research Center released in September.
Mississippi would be paying nearly $500 million a year by 2025 as its share of adding hundreds of thousands of uninsured, low-income working-age adults to the Medicaid rolls, both analyses estimated.
"I don't know that our conclusions and those in the 2012 analysis are actually dissimilar considering they are almost a decade apart," State Economist Corey Miller said in an email.
Nonetheless, the newer look into the dollars and cents of Medicaid expansion presented a sunnier fiscal outlook. A key reason is that projections in the 2021 analysis included savings to the state not calculated in the previous look at expansion.
Another reason is a more recent development in federal cost-sharing for states willing to expand Medicaid. The Covid-19 pandemic led Congress last March to bump up the federal share for new expansion states by 5 percentage points. 
The 2-year bonus increases the Federal Medical Assistance Percentage from 78 percent to 83 percent. That, in turn, would shave $622,595,898 from Mississippi's regular annual Medicaid costs of $1.36 billion over the two years. 
Those savings alone would cover the first 3.5 years of Mississippi's Medicaid expansion costs, according to the new report titled "A Fiscal and Economic Analysis of Medicaid Expansion in Mississippi under the Affordable Cre Act."
Miller said that beyond the two years of the 5 percentage-point hike in the federal share of regular Medicaid, "The other savings in and outside of Medicaid on an annual basis roughly offset the annual costs of expansion."
These more permanent savings were not included in the 2012 study by Dr. Bob Neal, a former senior state economist who emphasized at the start of his report that he factored-in neither Mississippi's regular Medicaid nor the Affordable Care Act in making his projections.
Two of these savings categories are key to the cost-coverage projections in the analysis by Miller and Dr. Sondra Collins, senior state economist.
First, calculations in the decade-old look at expansion did not include savings to regular Medicaid by shifting the costs of caring for several special categories of Medicaid to the expanded coverage. These include disabled patients, pregnant women, women with breast or cervical cancer, patients receiving mental health and substance abuse coverage from Medicaid and state prisoners treated outside of the correctional system.
Getting them to the expanded category benefits the state by having the federal government cover 90 percent of the costs as long as the expansion is in place. The patients moved out of regular Medicaid into the expanded category would have to be in households with annual incomes below 138 percent of the federal poverty threshold, a sum of $17,724 for one person, $24,040 for two people, $30,305 for three.
Miller and Collins project the savings on state Medicaid costs for disabled Mississippians to be $15.3 million in 2022, $14 million in 2023 and down to $14.1 million in 2027. 
They project annual saving derived from transferring an estimated 45 percent of low-income pregnant women to expanded Medicaid coverage would save $8 million a year.
The transfer of uninsured women enrolled in the Breast and Cervical Cancer Treatment Program is projected to save the state nearly $5.8 million annually through 2027.
And the shift of uninsured mental health and substance abuse patients would save a projected $8.9 million from 2022 through 2027.
The state Department of Corrections would save $8 million annually from 2022 to 2027 by shifting the costs of treating inmates outside of the correctional system, according to the projections of Miller and Collins.
Also missing from the decade-old analysis are projections for savings on the costs of uncompensated care now borne by both the state and its safety-net hospitals. The 2019 cost for this totaled $616 million, a figure that accounts for 7.6 percent of operating expenses for the safety-net hospitals. The percentage of operational expenses Mississippi safety-net hospitals devote to charity care is among the highest among the states.
The economists' analysis estimates that with expansion, uncompensated care costs to Mississippi' safety-net hospitals designated as responsible for caring for low-income patients would drop by 25 percent a year. They would save an estimated $158.7 million in 2022 and about $169.3 million annually from 2023 through 2027.
Miller, in his email, said he does not know how much confidence Neal and the  Research Center had in estimates of potential savings in 2012. "That said, I do think estimates of the potential reductions in uncompensated care costs to the state from expansion could have affected his results," he said.
As with the savings in uncompensated hospital care, Miller said he is unsure how much confidence Neal had in calculations on savings on the shifting of special Medicaid categories to the expanded-coverage ranks. "Nevertheless," Miller noted, "the inclusion of those potential savings could have reduced the net costs to the state."
Neal and Miller took slightly different approaches to their respective examinations of the economics of adding hundreds of thousands of uninsured residents to Medicaid. Neal based his cost projections on an eligibility range of ages 20-64, while the new analysis used an age range of 19-64. 
Neal, who left the Research Center in 2020, gave separate projections for three levels of participation in expanded Medicaid: 95 percent, 85 percent and 75 percent. The Research Center's September report based all of its projections on a 75 percent enrollment rate.
The 2012 report projects a 95 percent rate 
from 2015 to 2025 as the most likely outcome.  "We believe the high participation scenario is the most likely to occur," Neal said in the executive summary. 
He cited expectations for continued high unemployment, low to nonexistent real wage growth, strong media coverage of Medicaid expansion, robust marketing of Medicaid expansion by governmental and non-governmental entities, and a streamlined enrollment process. Enrollment would be 313,125 in 2015 and level off to 310,039 in 2025, according to Neal's projections.
Miller said a major difference in enrollment outlook centered on expectation of a "woodworking effect" by which previously eligible – but uninsured – residents seemingly come out of the woodwork to sign up. The effect seems minimal in Miller's enrollment projection that of 330,875 eligible Mississippians, 233,489 would actually enroll in the expanded coverage.
One reason for Neal choosing the 95 percent enrollment figure was a higher confidence than Miller individuals eligible for public health enrollment but not now participating would choose to enroll.
The 2012 and 2021 assessments agree fullly on another aspect of Medicaid expansion: The state is way short of the number of healthcare workers it would need.
"Mississippi may be unable to train or recruit enough doctors, dentists, nurses, and other healthcare professionals to meet the new demand for healthcare.," Neal said.  
A fast-forward to today provides a similar labor picture, according to Miller. "Many healthcare jobs in Mississippi are currently unfilled as patient needs in locations throughout the state –including some of the poorest areas – exceed the capacity of available medical professionals," Miller's report said.
To fill the ranks, the number of healthcare workers in Mississippi would have to rise 5 percent annually, according to a 2020 study cited by Miller titled "Physician Workforce in the United States of America: Forecasting Nationwide Shortages."