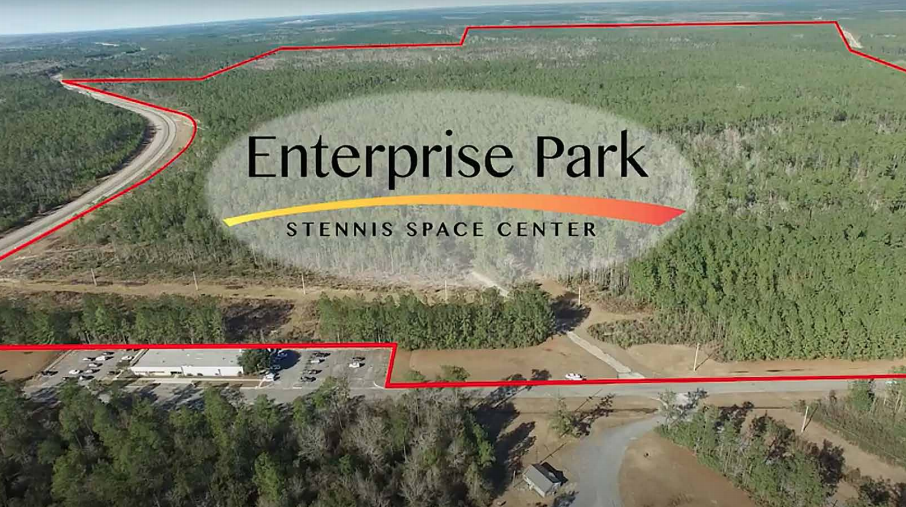 » The combined impact of two  parks in close proximity would give the I-10 region a magnet that has proven successful in other areas with NASA operations.
The John C. Stennis Space Center and NASA's Michoud Assembly Facility have both played important roles in America's space program for decades. Michoud, located in New Orleans East, is the "rocket factory" where the Saturn V and SLS were built. Stennis, about 40 miles away in Hancock County, Miss. is the place where all of those rockets were tested before they blasted into space.
Now, both facilities are developing business parks on their grounds to better serve the public and private agencies that are already there. The hope is to make both Michoud and Stennis even bigger economic drivers. They're modeling the parks after similar commercial operations at other NASA facilities such as Kennedy Space Center in Cape Canaveral, Fla., Marshall Space Flight Center in Huntsville, Ala., and Ames Research Center in Mountain View, Calif..
Stennis has been discussing Enterprise Park, a 1,100 acre technology corridor on the north side of the complex for nearly four years now. There were several delays in the development, caused by the COVID19 pandemic and the retirement of Stennis' business manager. But NASA officials have approved plans for the space center to sendout an announcement for proposals to develop the business park. A new office for specialized business development is also being established at the space center, with hiring about to start.
"We're hoping to see some traction on this in the next couple of months," said Tim Pierce, chief of the Planning and Development Office at Stennis.
A report issued in June 2020 by Michael Baker International identified the need for the park, to fill gaps to help with the further development of business opportunities at Stennis. After all, the space center was established to test rocket engines, not be an economic development engine.
"We know what we need to do today and what is inhibiting us from getting there tomorrow," he said.
Because the park will be partially outside of the space center's security gates, Pierce said the facility may be able to bring in business that had been scared off by the costs and issues of being located inside a restricted area.
"We think this is going to be a way to alleviate some of the issues with red tape we've had in the past," he said.
Two major drivers for tenants in Enterprise Park have already been identified by the Baker report. One is aerospace, to capitalize on the space center's role as the largest NASA test facility, as well as having existing tenants such as Lockheed Martin, Aerojet Rocketdyne and Relativity Space. The other is unmanned systems, to play off on the Navy's considerable presence and the remote sensing work already going on at Stennis through the National Oceanic and Atmospheric Administration and the National Weather Service. This could include both supporting airborne drones and marine vessels.
The hope is to get the state of Mississippi and Hancock County involved as developers of the enterprise park. Pierce notes the state of Florida supports Exploration Park, which is located just outside the gates of Kennedy Space Center.
"We've seen some interest from the county level and from the Mississippi Development Authority," Pierce said. "We're very excited about the possibilities. We hope to have something going forward in the next four, five or six years."
While Stennis officials have been working on a business park for several years, Gov. John Bel Edwards announced in March he had signed an agreement with Michoud that could lead to the creation of the Louisiana Space Campus.
The space campus is a 50-acre facility in Michoud that will target commercial office development for existing tenants as well as bring in new public and private partners. This could serve as a physical hub for hundreds of local and regional STEM jobs, said Michael Hecht, head of GNO Inc., the economic development agency for metro New Orleans.
Louisiana Economic Development and NASA have a memorandum of understanding to explore the best way to develop the campus. State officials hope the agreement has a similar effect as the deal with LSU that led to the creation of the Water Campus in Baton Rouge. The Water Campus has seen $100 million in public and private investment in the past few years, including coastal research facilities, commercial office space and upscale apartments.
"By pursuing a Louisiana Space Campus with contemporary office space and amenities, we believe we can do an even better job of attracting a 21st century professional workforce to Michoud Assembly Facility," said Don Pierson, LED secretary.
Some of the potential tenants in the space campus could be offices for research and development; engineering and design; manufacturing; and administrative support, he said.
"We want to harness the alreadysignificant economic impact of Michoud — over 3,500 jobs, $875 million in annual economic impact — and create something more powerful," Pierson said. "We need to pursue this campus as an important next step for economic development excellence, just as NASA is pursuing excellence in its space mission."
Pierson and Pierce said they don't see the space campus or enterprise park as direct competitors. They note Michoud and Stennis have distinctly different missions, which means different business will want to be near them.
"In certain cases, we may encounter a prospect who could locate at either Michoud or Stennis, or who could choose to locate at both," Pierson said. "We view the roles of both locations, and the business parks they are developing, as highly complementary."
But he said economic development is a competitive field by nature.
Pierce said while he didn't fully know the details of the space campus, he thinks the enterprise park can co-exist with the facility. There are some agencies with a presence at both Stennis and Michoud, such as Lockheed Martin. LSU's Louisiana Business & Technology Center even has a presence at Stennis.
"They don't do what we do," he said. "We test rocket engines; that gives us a big advantage." 
PROOF THERE'S INTEREST
California-based Relativity Space showed there's interest in being close to NASA's testing facility.
Relativity said in June 2019 that it would build it's Terran rocket at SSC using 3D printing. It has a nine-year lease for space in Building 9101, with an option for an additional 10 years.
Even earlier, in March 2018, Relativity was granted use of the E-4 test complex for 20 years to test its engines. And before that It earlier reached an agreement with SSC to use the E-3 stand.