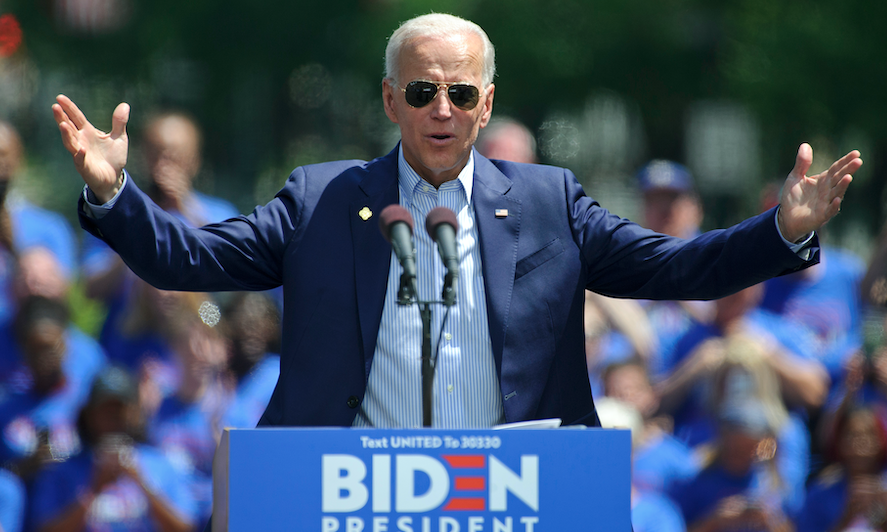 President Biden is wrapping up his first year in the White House, and he is setting a first with the media – fewest news conferences.
Biden held less news conferences than any of his five predecessors at the same point in their presidencies and has conducted fewer media interviews than any recent commander in chief.
The president has done only 22 media interviews, fewer than any of his six previous White House predecessors, according to the Associated Press.
The 46th president has held just nine formal news conferences – six solo and three jointly with visiting foreign leaders. Ronald Reagan, whose schedule was scaled back early in his first term in 1981 after an assassination attempt, is the only recent president to hold fewer first-year news conferences, according to new research published by Martha Joynt Kumar, a professor emerita in political science at Towson University and director of the White House Transition Project. However, Reagan did 59 interviews in 1981.
The dynamic has the White House facing questions about whether Biden – who pledged to have the most the most transparent administration in the nation's history – is missing the mark on how the administration operates, missing countless opportunities to explain the Biden agenda.
However, Biden does more frequently field questions at public appearances than any of his recent predecessors, according to Kumar. He routinely pauses to talk to reporters who shout questions over Marine One's whirring propellers as he comes and goes from the White House. He parries with journalists at Oval Office photo ops and other events. But these exchanges have their limitations.
Former President Donald Trump, who regularly pilloried the media, did 92 interviews in his first year in office, more than two dozen of those with Fox News. But Trump also held lengthy sessions with ABC News, AP, the New York Times, Reuters and other outlets whose coverage he attacked throughout his presidency.
Biden's 22 media interviews have included one-on-one sessions with journalists at three of the major television networks, three CNN town halls, an appearance on MSNBC, a trio of regional television interviews via Zoom, as well as conversations with late night host Jimmy Fallon and ESPN'S Sage Steele, according to the AP. He's given just three print interviews.
The White House has fielded requests from media outlets – and complaints from the White House Correspondents' Association – for Biden to do more one-on-one interviews and formal news conferences.
Press secretary Jen Psaki has pushed back, arguing that a formal news conference with cushions on journalists' seats is unnecessary since Biden answers questions several times a week.
Only problem is, those exchanges often don't allow for follow-up questions, and Biden routinely ignores questions he might not want to answer.
The president has answered questions at 55% of events where he's delivered remarks or an address, more than even two of the chattier presidents, Bill Clinton (48%) and Trump (41%), according to the AP.
White House officials pointed to such frequent interactions with reporters as evidence that Biden has demonstrated a commitment to transparency. Officials also suggested that the pandemic has also affected the number of interviews and news conferences in the administration's first year.
Advertising & PR Jobs Increased in December
Employment in advertising, public relations and related services increased by 2,300 jobs in December, according to the monthly employment report from the U.S. Bureau of Labor Statistics.

For the overall economy, U.S. employers in December added 199,000 jobs, the weakest monthly increase in a year, while the unemployment rate fell to a pandemic low point of 3.9%.
U.S. employment in the Bureau of Labor Statistics (BLS) classification of advertising, public relations and related services increased to 460,400 jobs in December.
The ad business banked its 11th consecutive month of growth since ad jobs hit a pandemic period low of 432,100 in January 2021.
The December increase in advertising employment came in below November's gain of 3,300 ad jobs. BLS upwardly revised the November figure from the preliminary 2,900 jobs increase it reported a month ago. 
This BLS figures includes ad agencies, PR agencies and related services such as media buying, media reps, outdoor advertising, direct mail and other services related to advertising. Ad agencies account for the biggest portion – 44% – of jobs in the statistics.
Americans Reading Fewer Books
Americans say they read an average of 12.6 books during the past year, a smaller number than Gallup has measured in any prior survey dating back to 1990. U.S. adults are reading roughly two or three fewer books per year than they did between 2001 and 2016.
The results are based on a Dec. 1-16 Gallup poll, which updated a trend question on book reading. The question asks Americans to say how many books they "read, either all or part of the way through" in the past year. Interviewers are instructed to include all forms of books, including printed books but also electronic books and audiobooks, when entering the respondent's answer.
The decline in book reading is mostly a function of how many books readers are reading, as opposed to fewer Americans reading any books. The 17% of U.S. adults who say they did not read any books in the past year is like the 16% to 18% measured in 2002 to 2016 surveys, though it is higher than in the 1999 to 2001 polls.
The drop is fueled by a decline in the percentage of Americans reading more than 10 books in the past year. Currently, 27% report that they read more than 10 books, down eight percentage points since 2016 and lower than every prior measure by at least four points.
The reasons for the decline in book reading are unclear, with Americans perhaps finding other ways to entertain themselves. It is uncertain whether concerns about COVID or COVID-related restrictions are leading to a decline in visits to libraries or bookstores, similar to the documented declines in air travel and movie theater attendance Gallup found in the same poll. However, unlike those activities, for reading, Americans can order books or download electronic books or audiobooks without leaving their homes.
Reading appears to be in decline as a favorite way for Americans to spend their free time. In 2020, a few months into the COVID-19 pandemic, when many Americans were still reluctant to leave their homes, Gallup found 6% of U.S. adults naming reading as their favorite way to spend an evening, down from 12% in 2016. Since Gallup first asked the question in 1960, at least 10% of Americans had identified reading as their favorite evening activity in all but one survey.
The new data on book reading reinforce that the popularity of reading is waning, with Americans reading an average of three fewer books last year than they did five years ago and had typically read for the past three decades. The decline is not because fewer Americans are reading at all – a percentage that has held steady at 17% – but because Americans who do read are reading fewer books. The changes are especially pronounced among the most voracious book readers, namely, college graduates, women and older Americans.