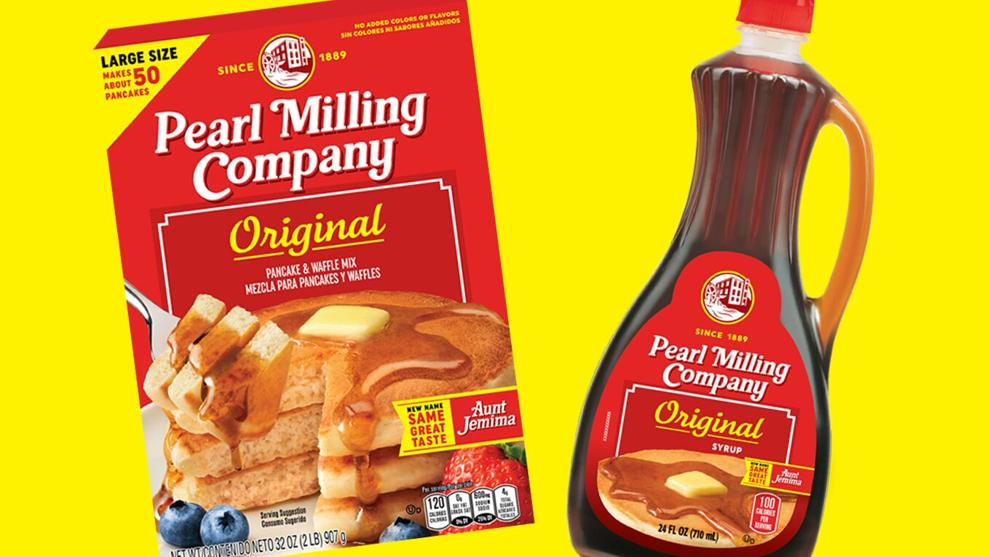 Quaker Oats has cooked up a new brand for a tired, old controversial name – Aunt Jemima.
PepsiCo Inc., the parent of Quaker Oats, has revealed a new face to the popular pancake and syrup purveyor as Pearl Milling Company, retiring a racist stereotype used for the product's image for years.
The Pearl Milling Company brand will debut in June, a year after the company first announced plans to ditch the Aunt Jemima brand.
Pearl Milling Co. was the creator of the original self-rising pancake mix, first marketed as "Self-Rising Pancake Flour" before it was trademarked in 1890 under the Aunt Jemima brand.
After the founders purchased Missouri-based Pearl Milling Co. in 1888, they began a search for a novel product all Americans would eat, according to the book "Aunt Jemima, Uncle Ben and Rastus," by Marilyn Kern-Foxworth. They settled on pancakes and perfected their mix in 1889. The brand name was inspired by a popular song, "Old Aunt Jemima," typically performed in minstrel shows by a white man in blackface.
The new packaging will retain much of the current colors and design. The company had already dropped the image of a Black woman from its bottles and boxes.
PepsiCo was one of several brand owners moved to rethink their products and marketing as the U.S. was confronting systemic racism after the killing of George Floyd, a Black man in police custody last summer. Mars Inc. said it would change the name of Uncle Ben's rice to Ben's Original and drop the image of a bow-tied Black man from its packaging. The maker of Cream of Wheat said the image of a Black chef would be removed from Cream of Wheat's packaging, and the name of Eskimo Pie was changed to Edy's Pie.
Pearl Milling Company will also announce details of a $1 million commitment to empower and uplift Black girls and women in the coming weeks, according to the company. The investment is in addition to PepsiCo's $400 million, five-year commitment to advance and uplift Black businesses and communities.
Satisfaction Sinks w/Many Aspects of Life, Gallup Poll Finds
Americans' satisfaction with seven broad aspects of the way the country functions is collectively at its lowest in two decades of Gallup measurement.
This includes satisfaction with the overall quality of life in the U.S., assessments of government, corporate and religious influence, and perceptions of the economic and moral climates.
The average percentage satisfied with these seven dimensions has plunged to 39% at the start of 2021. That compares with 53% a year ago, the highest average in more than a decade amid strong economic confidence and before the coronavirus pandemic took hold in the U.S.
Gallup asks Americans about their satisfaction with various aspects of the country as part of its Mood of the Nation poll, conducted almost every January since 2001. The poll was not done in 2009 and 2010, two years when satisfaction was likely depressed because of economic problems stemming from the 2008 global financial crisis.
Not only is average public satisfaction with the broad contours of the country at an extreme low today, but Americans' satisfaction with each element of the index is at or near its lowest since 2001. This reflects declines of seven to 17 percentage points in the past year.
The peak satisfaction ratings for all seven elements tracked since 2001 were recorded in 2002. That high point reflected the surge in Americans' positive feelings about the country in the immediate post-9/11 period. This year's poll was conducted Jan. 4-15, during the high point in U.S. coronavirus deaths and infections and spanning the Jan. 6 riot on Capitol Hill.
The findings at the start of 2021 contrast sharply with 2002, when at least half of Americans were satisfied with all of the dimensions except the moral and ethical climate.
Today, Americans are satisfied with only two dimensions: the overall quality of life in the country (67%) and the opportunity for a person to get ahead through hard work (58%).
For the first time, less than half of Americans are satisfied with the influence of organized religion (48%).
The 31% satisfied with the size and power of the federal government roughly ties the record lows recorded in 2011 (31%) and 2012 (29%).
Barely a quarter are now satisfied with how government is working (27%) as well as the size and influence of major corporations (26%).
A mere 18% are satisfied with the nation's moral and ethical climate, down by more than half from 47% in 2002 and lagging behind the prior low of 26% in 2019.
In addition to the seven aspects of the nation tracked since 2001, the new poll updated public satisfaction with the way income and wealth are distributed, first added to the list in 2014. Since then, satisfaction with income distribution has averaged 34%, with most yearly readings hewing closely to that, including this year's 36%. The lone exception was last year, when it rose to 43%.
Mr. Peanut Has Skipped Over to Skippy
It's been a tough few years for Mr. Peanut, who died in early 2020 and was reborn as a baby nut during a Super Bowl ad campaign.
Now he has a new home: Kraft is selling Planters to Hormel, the maker of Spam and Skippy, in a $3.35 billion deal.
The sale, which is expected to close this year, will give Hormel ownership of most products in the Planters brand, including mixed nuts, trail mix, Corn Nuts, Cheez Balls and Cheez Curls. Planters brought in about $1 billion in sales in 2020.
For Kraft, ditching Planters will offer a chance to focus on its most successful brands like Lunchables, the company said in a news release. The deal, the largest acquisition in Hormel's history, also helps the buyer expand its snack offerings at a time when people are eating at home more.
The pandemic, which has driven people to stock up on pantry staples and nostalgic foods, has helped boost Kraft's sales. In the fourth quarter of 2020, net sales grew 6% to $6.9 billion, beating Wall Street's expectations.
Hormel is planning on shelling out some serious TLC for the Planters brand, much as it did with Skippy when it purchased the brand eight years ago. After some tinkering, it managed to boost Skippy into a powerhouse, investing in advertising along with new product lines like squeeze packs, and no-sugar and extra protein versions of the peanut butter.
The famed monocled mascot, Mr. Peanut, was created in 1916 when a schoolboy, Antonio Gentile, submitted a sketch to win a contest for the brand. At a funeral, attended by other brand avatars like the Kool-Aid Man, a baby peanut emerged from the ground, first squeaking like a dolphin, before proclaiming, "Just kidding. I'm back."
Mr. Peanut is back indeed!
» TODD SMITH is co-founder, president and chief executive officer of Deane | Smith, a full-service branding, PR, marketing and advertising firm with offices in Jackson. The firm – based in Nashville, Tenn. – is also affiliated with Mad Genius. Contact him at todd@deanesmithpartners.com, follow him @spinsurgeon and like the ageny on Facebook at https://www.facebook.com/deanesmithpartners, and join us on LinkedIn http://www.linkedin.com/company/deane-smith-&-partners.