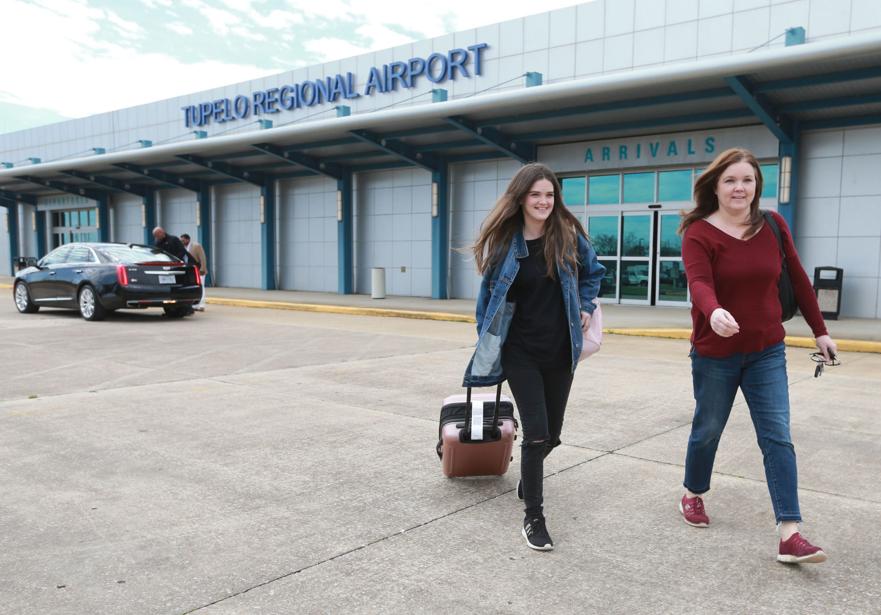 TUPELO • Preliminary findings from a study of the runway pavement at Tupelo Regional Airport show that there has been no significant deterioration since a similar study done four years ago.
Earlier this year, the airport board approved to pay for the study – a formality since it is required every few years by the Federal Aviation Administration. Airport executive director Cliff Nash said at the time that the study in 2016 suggested some potential underlying weaknesses that might need to be addressed 
To his pleasant surprise, recent samples taken by an engineering firmshow that those problem areas have no worsened.
"It's in the same condition as it was," Nash said.
Tupelo Regional, with a 7,100-foot-runway that was extended 650 feet in 2013, serves mainly general aviation. The airport also has air taxi service to Nashville with Smyrna, Tennessee-based Contour Airlines, which flies ERJ-135/145 regional jets that have 30 seats. But Universal Asset Management, a plane recycler and parts distribution business, also uses the main runway to retire much lager aircraft, like Boeing 747s, 777s, 757s and the like. UAM has been in operation since 2012.
But the heavy aircraft landing on Tupelo's runway haven't caused any major issues, Nash said..
As result, the money that would have been spent repaving the runway if it was needed will be directed elsewhere, and the runway work can be put off for another year or two.
"We can do some previously lower priority work that needs to be done," Nash said. "We need tor rehab our air control tower, replacing all the communications gear, the navigation aids, etc., and the carpet, ceiling tiles, consoles."
Additionally, it's been the board's wish to rehabilitate the old runway and build a 75-foot taxiway to give UAM and direct route to its facility. In addition, another 43 adjacent acres can be opened up to additional tenants and hangars if needed if the old runway is refurbished.
"Having that old runway where we can use it for future development will open it up to additional economic development," Nash said..
AIR SERVICE CONTRACT EXTENDED
Meanwhile,  expected, Contour Airlines and Tupelo Regional agreed to another two-year extension for air service.
The new contract officially began Oct. 1.
However, the airline has reduced the number of weekly flights from 18 to 14. The federal ubsidy it receives via the Alternate Essential Air Service program has been reduced as well, to about $3.8 million, compared to about $3.9 million for the last contract.
The new schedule has the 30-passenger jets leaving Tupelo for the one-hour flight to Nashville on Monday, Wednesday, Thursday and Saturday at 7:15 a.m. and 2 p.m.; Tuesday at 7:15 a.m.; Friday at 7:15 a.m., 12:15 p.m., and 4:15 p.m and Sunday at 12:15 p.m. and 4:15 p.m.
From Nashville, departures to Tupelo are Monday, Wednesday, Thursday and Saturday at 10:45 a.m. and 6:30 p.m.; Tuesday at 6:30 p.m.; and Friday and Sunday at 10:45 a.m., 2:15 p.m. and 6:30 p.m.
Contour has been the carrier since April 2016 when it took over following a five-month lull in service following SeaPort's early departure in October of the previous year.
Until 2020, passenger boardings had grown every year with Contour's service between Tupelo and Nashville. Boardings the past three years have reached at least 10,000 – the first time that's happened since the early 2000s when the airport was served by two airlines.
But due to the coronavirus pandemic, boardings have fallen off. Major airlines nationwide have seen a 70% drop in passenger traffic. The percentage drop in Tupelo isn't as precipitous, but boardings are down nearly 40%.
"We're doing better than the national average," Nash said. "Statewide, we're third in getting our passengers back, behind Laurel-Hattiesburg and Meridian. Columbus is next to us, Gulfport-Biloxi and Jackson are next, and they're in the 60% range. So we're trending in the right direction. It's not near as fast as I hoped though."
For September, Contour recorded 760 boardings, a drop of 39% from last September when 1,248 boarded. Total boardings this year so far are 6,299, compared to 10,022 at the same time a year ago. That's a decline of 37%.
The 10,000-passenger mark is significant because the Federal Aviation Administration distributes grants of $1 million to airports if they hit that benchmark. Those that don't hit the figure get only $150,000 in what's called AIP, or Airport Improvement Program, money. AIP grants are used for planning, development or noise compatibility projects or associated with individual public-use airports. Money cannot be used for projects related to airport operations. Operational costs, such as salaries, equipment and supplies also are not eligible for AIP grants.
But Nash said the FAA has waived that requirement this year because of the pandemic, and 2018 boarding numbers will be used instead. That's good for Tupelo, since that year nearly 13,000 boardings were recorded. 
Additionally, Contour has an interline agreement in place with American Airlines, which allows passengers to book flights between Tupelo and any of American's destinations on a signal itenarary without having tp check in  again or recheck luggage. Third-party travel siites like Expedia and Travelocity show it working, but there are some software compatibility issues being worked out on the American and Contour websites the companies hope to resolve soon.