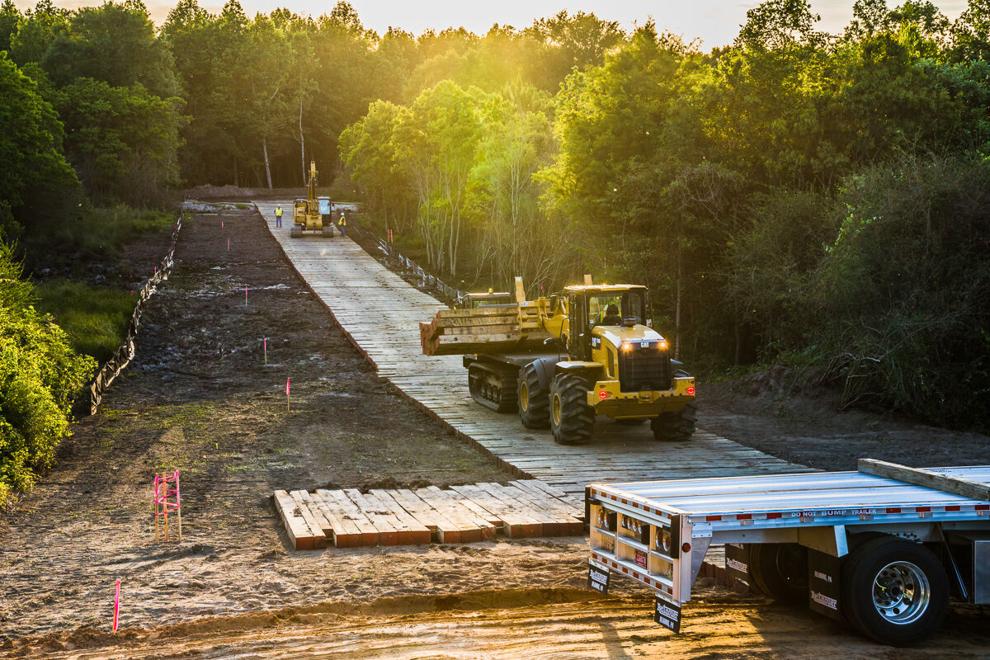 'Light-switch' move creates uncertain future for oil industry
The Keystone XL pipeline is dead, or so so it seems.
On his first day in office, Jan. 20, President Joe Biden, by executive order, shelved the controversial 1,200-mile pipeline that was to carry crude from the oil sands of Alberta, Canada and tying into the existing Keystone Pipeline, which ends at the Texas Gulf Coast.
Though it was not to go through Mississippi, "a pretty big cascading effect" has been felt in the Magnolia State, said Jonathan Duhon, president of Columbia-based Yak Access, which installs temporary roads made of hardwood mats to allow heavy machinery to traverse otherwise inaccessible locales.
The company employs about 200 in Mississippi and 800 to 900 around the country, Duhon said in an interview.
While he could not put a figure on the number of lost jobs and revenue in the state, the swath is wide – including loggers who cut hardwood trees, sawmills that produce the timbers and mats that truckers who haul them to work sites, as well as skilled workers who assemble pipeline sections.
The timing runs counter to efforts for the U.S. economy to dig itself out of a hole created by the shutdowns and restrictions ordered because of the covid-19 pandemic.
John Kerry, named climate czar by Biden, has suggested, upon questioning by reporters, that those in the petroleum-based energy industry find jobs in the renewable-sources industry.
The intent is to blunt global warming, to which, according to the consensus of scientists, human-created pollution is a major contributor to that trend, a potential catastrophe for the environment.
Meantime, members of the U.S. House of Representatives have introduced legislation to reverse Biden's executive order.
TC Energy Corp., formerly TransCanada Corp., has said it would provide "green" power during the construction of the pipeline, and achieve "net zero" greenhouse gas emissions by 2023. It said that would be done by buying the power from renewable-source providers a purchasing carbon offset credits.
Alternatives to using pipelines to transport crude oil and natural gas have their environmental drawbacks, according to research by Scholars Strategy Network.
"Trains emit air pollution at ground level as locomotives run along tracks.... Most of the effects of this type of pollution occur within 60 miles of the rail line. Since rail lines run into and through large urban areas, they expose large numbers of people to this pollution." Trucks have much less capacity and are a distant third in that regard, and several times more expensive.
"Pipelines in particular have advantages in terms of safety, efficiency, and low environmental impacts," according to Strata, a non-profit policy research center located in Logan, Utah.
Rep. Kelly Armstrong (R, N.D.) along with House Republican Leader Kevin McCarthy (R-Calif.), House Republican Whip Steve Scalise (R-La.) and 83 other Republicans have introduced the Keystone XL Pipeline Construction and Jobs Preservation Act.
In a similar case, the U.S. Supreme Court announced Feb. 3 that it would hear the appeal of the PennEast Pipeline Co., which plans to build a 120-mile, 36-inch natural-gas pipeline to provide energy to the Northeast.
Elsewhere in Mississippi, Jones Lumber Co., which produces the hardwood lumber and assembles the mats that Yak Access uses, will be affected.
Arnie Hogue, president of Jones Lumber, said that the company has 150 employees total in its Hazlehurst and Natchez operations. He would not put a number on the impact of the shelving of the project.
He said that Jones Lumber shut down its operation at Bay Springs last May, primarily due to the impact of the covid-19 pandemic-caused slowdown of the economy, which prompted large oil companies to cutback on their expenditures.
Hogue said that the outlook as concerns mats production for the second half of 2021 is "not promising."
Getting permits through the U.S. Army Corps of Engineers, for example, may become more difficult across the board, Hogue said.
"We're more concerned about the next one to four years rather than just the Keystone pipeline," he said.
Biden has vowed a "transition" from fossil fuel-powered energy to "green" alternatives.
But Duhon said the first-day-in-office order was more of a "light switch" move.
Hogue said that if the demand for mats falls significantly, the mills will have to find a replacement product and reconfigure the mills, which is a "challenge."
"We can make other products, but mats are our core," he said.