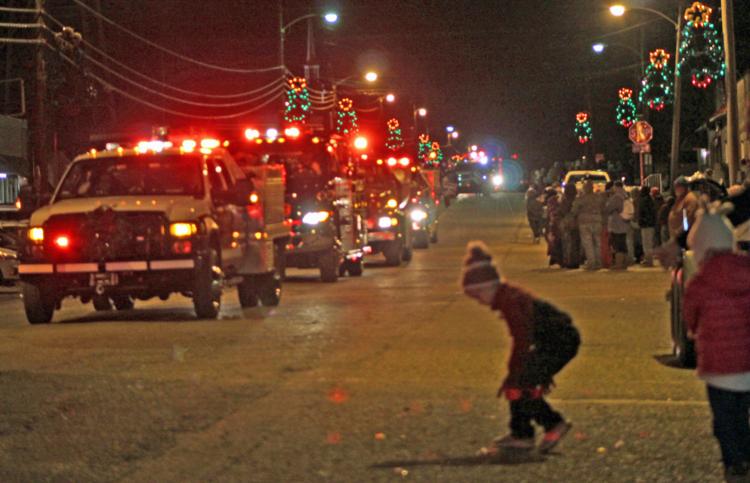 Monroe County towns will host their annual Christmas parades next week, giving attendees opportunities to hear marching bands, see organizations' creativity through floats and even lay eyes on Santa Claus himself.
Amory will kick off the festivities Dec. 2 at 6:30 p.m. Lineup begins at 5:30 p.m. behind Country Boy's Hamburgers, and the route will stretch south on Main Street.
Aberdeen's parade is Dec. 3 at 6:30 p.m. Lineup begins at 5:30 p.m. in front of the Post Office, and the parade will continue through downtown on Commerce Street.
The Monroe County Chamber of Commerce sponsors both the Amory and Aberdeen Christmas parades.
"We'll have Santa and Mrs. Claus, characters from 'Frozen,' the pink Power Ranger and Iron Man. If you come a little early, you can have your picture taken with them," said Kim Schafer, Monroe County Chamber of Commerce resource director.
This year is the first time a student art contest has been affiliated with the parades. Hamilton Elementary School fifth-grader Alina Pugh placed first, and her artwork was used for the commemorative T-shirt, which is available for sale on the chamber's website. Proceeds benefit the chamber's Industry Insider WAE program.
Hatley Elementary School fifth-grader Emily Harlow placed second, and her design will be featured on the parades' banner.
For the second year in a row, the chamber has partnered with the Monroe County Career and Technical Center for students to build Santa's float. Local industries have also entered floats.
"The Christmas parades are a great way to kick off the magical month of December. It is one of our goals to help recapture one of the favorite things about the holidays, and that is the Christmas parades," Schafer said.
Registration for the Amory parade is $15, and the fee for Aberdeen is $10. The combined rate to be in both parades is $20. People may register online at www.gomonroe.org and for more information, call Schafer at 369-6488.
First-place winners from both parades get $300, second-place gets $200, and third-place gets $100. Winners will be notified the day after each parade.
Nettleton's Christmas parade, being held Dec. 5 at 7 p.m., is sponsored by the Friends of the Dorothy J. Lowe Library and the Nettleton Volunteer Fire Department.
It begins at Nettleton High School and will continue past City Hall, ending in front of Tiffany's School of Dance.
There is a $10 entry fee, and prizes will be given for the top three floats. The first-place winner is $300, second-place is $200, and third-place is $100.
For more information, call city clerk Dana Burcham at 963-2605 or 523-0290.
Smithville's Christmas parade will be Dec. 7 at 4 p.m. with lineup at Industrial Road. The parade route will continue north on Highway 25 to Pine Street.
Smithville High School graduate Jared Johnson, who is a member of the Atlanta Braves organization, will be grand marshal. The Smithville High School band, floats, horses, show cars and Santa Claus will be among the participants.
Entry fee for judging is $10, and the deadline to register is Dec. 5. For more information, call Kim Johnson at Town Hall at 651-4411.
Immediately after the parade, there will be a tree lighting ceremony at Memorial Park, and the winners will be announced.