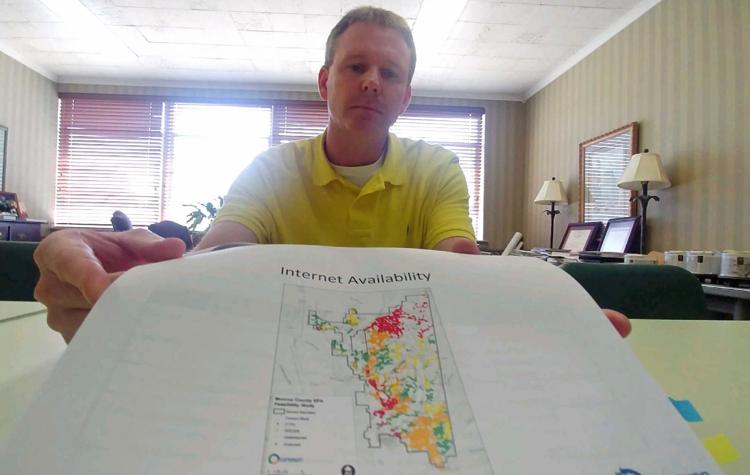 Northern District Public Service Commissioner Brandon Presley has been rallying support for rural broadband service for customers throughout his district for more than a year, and a bill passed by the Mississippi Legislature allowing electric power associations to offer broadband was a huge win for the cause.
Monroe County is served by three such electric cooperatives – Monroe County, Tombigbee Electric and 4-County EPAs. Although the legislation applied to electric cooperatives exclusively, there was an attempt for local-private legislation to allow the City of Okolona Electric Department, which covers a significant area of western Monroe County, to be able to provide broadband. However, it died in committee during this year's legislative session.
The question now on many of the EPAs' customers' minds is what's the latest update.
"While feasibility studies are moving forward elsewhere in the region, Monroe County Electric Power Association remains fairly silent," Presley said. "Nearby cooperatives such as Tombigbee Electric EPA are moving forward with a second feasibility study with funding supplied by the Megapop Foundation in Tupelo."
Monroe County EPA General Manager Barry Rowland said the entity is asking for data from its first feasibility study to be tweaked to reflect actual households served. He anticipates his cooperative will also have a second feasibility study completed. Its board of directors has not taken action to move forward with implementing broadband.
The first study, completed by Conexon, took into account all 12,500 customers on the system, but there are approximately 10,000 residential customers. The study used existing data from the Federal Communications Commission rather than surveys by the customers.
Providing availability to all of its customers would require 1,500 miles of new line.
"In their model, they say the fiber, itself, is a little more than $25 million, and the equipment the subsidiary would have to buy would be about $3.3 million," Rowland said. "TVA regulates us, so we can't use electric money to do broadband, but with the electric side I think we could get TVA approval to loan money to subsidiaries. We'd have to put our entire electric plan up and we've been in business 83 years, and our electric plan is at right about $40 million; that is what it's worth. So basically, we'd be putting our electric system up for collateral to borrow the money to do the broadband."
Rowland, who recognizes the need for rural broadband, said there are internet, cable and fiber providers throughout parts of Monroe County EPA's service area. According to the feasibility study, 2,090 customers have fiber to their homes already, cable companies serve 4,291 customers for internet, 1,170 customers have DSL, and 2,518 customers have internet service less than 10 megabytes per second.
"They're saying in two years that where people don't have good service, we'll only get 42 percent signing up. On the ones that have 10 to 24 megabytes per second, or have DSL, they'll say we'll have 32 percent of those customers in a two-year period. For the ones that have cable, they're saying we'll probably pick up 25 percent in a two-year period. And the ones that have fiber, they're saying we'll pick up 20 percent of those customers," Rowland said.
The study suggested including not just providing broadband but also video and voice services as well.
"I'm not saying it's a good or a bad decision, but what concerns me is 3,000 out of 10,000 customers that we will have in a two-year period if it was fully deployed," Rowland said. "It's something we've got to study. Before we go in too deep, we want to visit the other cooperatives to see how it's been done."
Based on a two-year rollout, it would cost Monroe County EPA $15 million per year, but Rowland said a more conservative approach would be a four- to five-year rollout, if it's ultimately approved.
"They're showing if we did internet, video and voice that we wouldn't have a positive income until the eighth year. We would be losing money til the eighth year. That's based on their assumptions that we get 3,000 [people signing up]," Rowland said.
According to the study, there would be a $40.3 million combined debt balance in year six, which is the highest debt point.
"Our community needs it. Our members need it, not only for school or working from home. There's no doubt we need it, it's just the problem of how do we pay for it?," Rowland said.
As for now, relocating to Monroe County EPA's new headquarters in Becker, which is expected later this year, is the top priority.
"If we do it, we're putting our whole system up for collateral, so our board isn't taking this lightly and they haven't said, 'No,' to it by any means but they know we can't do anything until we get into the building and we'll look at it in further details at that point," Rowland said.
Presley said Tombigbee Electric Cooperative in Hamilton, Alabama, which started its own subsidiary for broadband service, serves as a model for the other 107 co-ops nationwide presently placing infrastructure to provide rural high-speed internet. He said there is another co-op in north Mississippi set to launch its service in the next couple of months.
Residents in southwest Monroe County are served by 4-County EPA, which supplies electricity to more than 48,000 customers in parts of five counties in eastern Mississippi.
According to 4-County spokesman P.J. Hughes, the EPA is yet to be sold on the viability of the broadband project.
"A recent survey of our membership shows that a majority of our members have internet access, although many are not happy with what they currently have," he said. "The survey also shows that many people may not be willing to pay enough for broadband to make investment worthwhile."
Twenty four different cooperatives across Mississippi are currently conducting feasibility studies for rural broadband, according to Michael Callahan, executive vice president of the Electric Cooperatives of Mississippi.
"It's expensive. Often the costs are greater than the cooperatives are worth. We're beginning to hear stories of problems," Callahan said. "Lenders are telling cooperatives that this is the riskiest investment that they have ever financed. The cooperatives are subject to continuous auditing. If the venture goes bad, the members are responsible."
Callahan said that most cooperatives pursuing broadband are moving at a deliberately slow pace.
"The numbers are tough. One hundred million is not chunk change," he said.