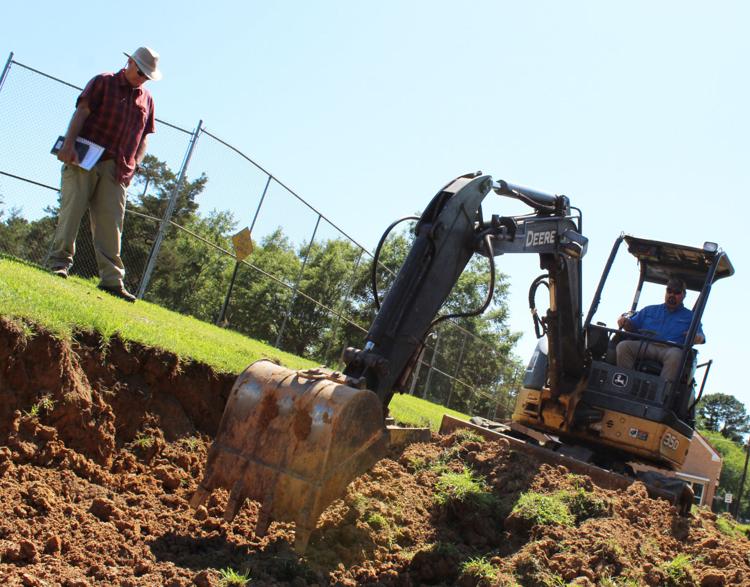 ABERDEEN – Work is underway for improvements to streets and sidewalks throughout town thanks to two separate funding sources, and the completion should be later this summer.
Last October, the board of aldermen approved a $995,000 improvement bond, which will address mainly street and sidewalk issues. Additionally, the city was awarded Mississippi Department of Transportation funding for sidewalk improvements near Belle-Shivers Middle School's gymnasium and alongside Franklin Street.
"This bond is utilizing every aspect to save the citizens' tax money. They're pinching every penny and stretching every dollar for the citizens to get the most bang for their buck," said city clerk Jackie Benson.
The payout for the bond will be rolled into property taxes through 2028 for the needed improvements.
According to Dabbs Corporation Engineer Dustin Dabbs, every street in the city was inspected through a ranking system to determine the core group of streets addressed through the bond.
Some of the planned streets include sections of Meridian, Canal, Cole, Marshall, Franklin, Long and Railroad streets and Vinewood Lane. There will be street improvements in all five wards.
"You try to do a mix of traffic flow, safety and traffic volume. Also you don't want to do all bad streets because all of your money is absorbed in just two or three streets as opposed to mixing in some mid-range projects where the money goes further because you don't have to do as many repairs," Dabbs said. "We ranked every street but didn't say we're doing the 10 worst because that would've taken all of our money. By doing some of the streets with deficiencies at a critical stage before they really go off into the lost category, we can go ahead and mill and overlay now and not suffer any loss in quality of the pavement structure."
According to the report, the majority of Aberdeen's streets are in the top three categories – moderate, which has 26 streets; good, which has 57 streets; and excellent, which has 68 streets. Of the 18 substandard streets, 11 are paved, and 19 streets are listed in poor condition.
Ward 2 Alderman Doug Stone said the board of aldermen has discussed developing a plan to designate a certain amount of money each year for road preservation.
"Collectively, the city is not in a dire situation. If we start implementing some of the things Doug is talking about, we can make sure we've got good roads for a long time," Dabbs said. "There are not a lot of cities that have such a comprehensive review of their streets. Each year after we get done with our paving, we'll update this list, and a lot of these streets will fall back into the good category, then next year we can pick one or two of these and do a microseal or a preservation and pick the ones we want to start working on for next year."
He said a pavement preservation program will add years to streets' lives.
Last week, Dabbs said milling work could begin as early as this week, and paving is expected to be complete in July.
Benson said the last time the city paved a street was in April 2011.
As far as sidewalk improvements, the bond has already provided for improvements in front of St. Francis of Assisi Catholic Church, First Christian Church, First Presbyterian Church and next to the Monroe County Chancery Building. Benson said there will be more sidewalk improvements near the chancery building and the Post Office.