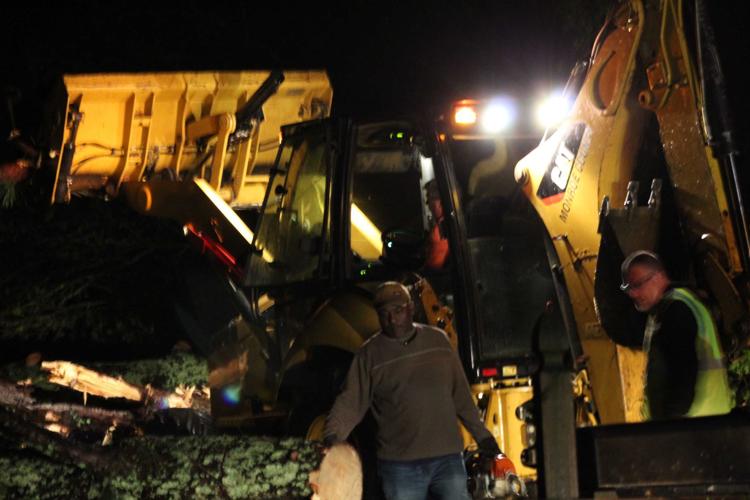 ABERDEEN – After reading off a long list of expenses related to mid-April's severe weather outbreak, county road manager Sonny Clay told the board of supervisors April 26 he is confident there will be federal aid.
"We'll be in an event that includes Yazoo County, Oktibbeha County and Warren County," Clay said. "Our number reached the state threshold just in itself. The question isn't if we'll get the federal declaration but when."
After the other counties submit their reports to the Mississippi Emergency Management Agency, all the data will be submitted to the Federal Emergency Management Agency.
Last week, President Donald Trump signed a public assistance federal disaster declaration including Lowndes County for the Feb. 23 tornado.
After the board of supervisors meeting, Monroe County Emergency Management Agency Director Donna Sanderson said public assistance deals with roads, bridges and public places such as libraries and community centers. She said the only public building impacted by the late February weather event was the Bigbee Community Center.
Individual assistance declarations deal with homes and personal property, and she is still requesting such assistance from the February floods that impacted Monroe County. She added she is still pushing for public and individual assistance related to the April severe weather event.
Other counties impacted by weather-related disasters are still awaiting federal declarations.
Through Monroe County Electric Power Association and Okolona and Amory's electric departments, there was $475,000 in damage incurred. The county road department has spent $16,000 in overtime and $60,000 just to reopen roads after the storm.
Numerous other expenses include damage suffered through the Quincy and Hamilton water districts and the Hamilton Volunteer Fire Department, among other public losses.
"It's a process, and we're pushing as hard as we can. I don't think we can push any harder," Clay said of the process to receive aid.
Board president Billy Kirkpatrick was in Washington, D.C. last week and met with representatives with Sen. Cindy Hyde-Smith and Sen. Roger Wicker's offices to request help.
"They seemed very receptive, and I tried to carry the message that time is crucial to us," Kirkpatrick said.
Clay said the Mississippi Department of Environmental Quality is considering allowing counties to burn debris. Representatives from the agency were scheduled to assess two potential burn sites Tuesday in the north part of the county and in Hamilton.
By potentially being allowed to burn debris as opposed to chipping it, the county will save money. There is an estimated 110,000 cubic yards of debris from the storm to be moved countywide.
Researching foreign trade zone status
Board attorney David Houston said he and county tax assessor Mitzi Presley were approached by United Furniture Industries about potential foreign trade zone status.
"It really allows a larger exemption for tangible personal property such as inventory that is being brought into the state and being exported out of state, inventory that is built up in the state but might be exported out of the state," Houston said.
He said there are several foreign trade zones set up throughout the state, include Lee and Desoto counties and the Jackson and coastal areas.
Houston said United Furniture Industries has ordinary 10-year exemptions and free port warehouse exemption. It's unsure what the dollar amount associated with this potential tax exemption is.
The foreign trade zone status could potentially expand exemption to school and road and bridge taxes as well.
"It's a big incentive for companies to get this status, and that's why you see some of these areas because they have to be competitive to attract industry," Houston said. "We want to make sure the board, before you do anything, is aware of exactly how many dollars that are going to be involved – the dollars on the actual value of inventory, which translates to dollars that might by lost by way of ad valorem tax exemptions."
He said the upside of offering it would be potentially attracting new industries to the county.
A foreign trade zone area could be as small as the perimeter of an industry, Houston said.
"I'm not against industry in any way, form or fashion. I don't want anyone to take that away from here. Another concern is if they get it, then somebody else is going to ask for it," Presley said. "I know we've got to stay competitive, but we need to know what are losses could be as well."
The board approved for Houston to research the possibility more before any decision is made.
Following an insurance report by Galloway-Chandler-McKinney Insurance agent Mike Manning, county administrator Bob Prisock said a problem several county employees have experienced regards money taken out of their first monthly payroll checks for retirement and insurance.
"It puts a big burden on a lot of employees trying to get by to the 15th," he said. "What reason do we not have to split it up into two?"
Chancery clerk Ronnie Boozer said it's less work for reports.
"I've asked this question twice already," said District 3 Supervisor Chip Chism.
Manning asked if it would be more feasible to have insurance taken out on the second payroll check of the month.