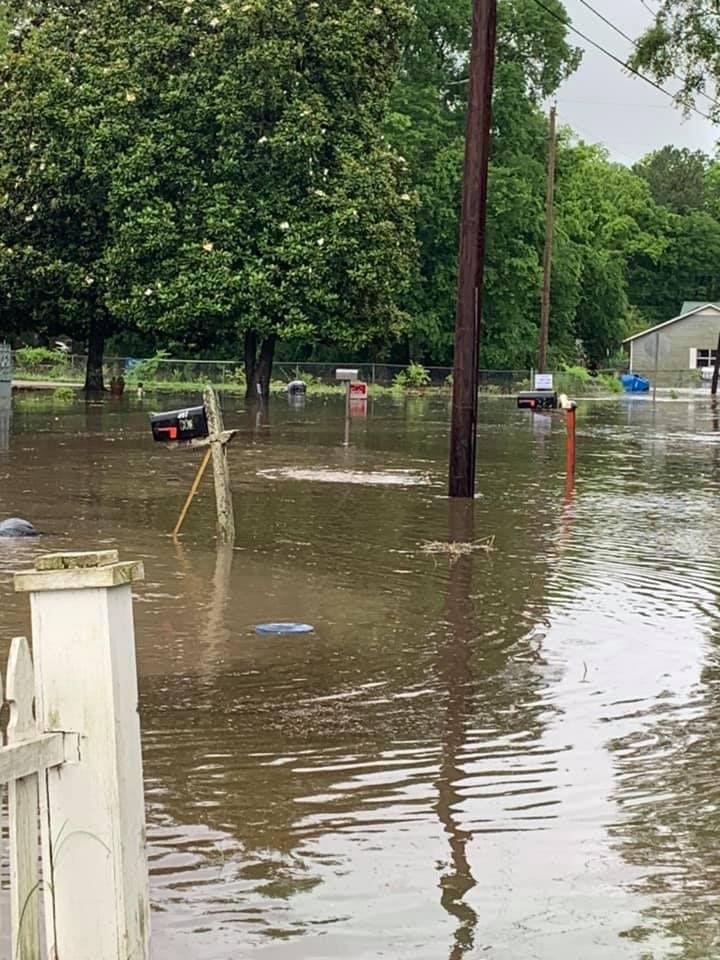 ABERDEEN – City drainage couldn't keep up with torrential rains mid-afternoon May 11, causing water to rise on numerous roads and yards throughout Aberdeen. The flooding issues were a repeat of what happened in parts of downtown during April 13 and 14's severe weather outbreak.
"One of the problems we have is old drainage. A lot of pipes haven't been converted or changed. As far as a usual situation, I don't care how many ditches you clean, that's not going to stop the rain," said Aberdeen Public Works Director Richard Boone. "I understand the frustration of the people, but you can't do anything about Mother Nature, especially with the rains we've been having."
Effected areas reported to Monroe County Emergency Management Agency Director Donna Sanderson were parts of North Meridian, Chestnut, Alice, Commerce, High, High Extension and Matubba streets; Glendale Circle; and Highway 145.
Other areas in town, including sections of Commerce and Canal streets, experienced issues as well.
"I've spent $3,000 and more, and I'm going to have to spend more money on a car I don't even have a tag for yet. I can't keep doing this," said Latoya Loyd, who lives on James Street.
During April's storms, her 2014 Kia Optima, which she had for 10 months, was flooded. She paid the $500 insurance deductible for that claim and $2,500 down on a 2016 Volkswagen Passat, which had floodwater come up in the floorboard during Saturday's rains.
Loyd headed up relief efforts in April through the Home Depot Foundation for flood victims in Aberdeen and tornado victims in Hamilton.
Sanderson, who said no one reported issues to her about water coming in their homes, said the rains were part of a pop-up storm that tracked part of the same path as the April 13 tornado over Dobbs Circle onto Greenwood Springs. She said Aberdeen was the only area experiencing flooding, and there was no other damage reported from the storm.
Aberdeen City Clerk Jackie Benson said city crews have been working since April's floods to clean the city's drainage ditches.
"The city is being vigilant to get ditches cleaned to help alleviate flooding issues," she said.
Boone said he wants to plan to include a crew focusing on ditches and drainage areas for next year's budget. He said an overall plan with city officials and department heads will take time to completely work out.
During its April 16 meeting, the Aberdeen Board of Aldermen were approached by numerous residents impacted by that flooding event. Benson said during last week's board of aldermen meeting claims were filed with the Federal Emergency Management Agency.
She added earlier this week several claims were sent to the city's insurance provider related to the April floods.
During the Monroe County Board of Supervisors meeting, held the day before the latest floods, District 4 Supervisor Fulton Ware requested a resolution for cleanup on Aberdeen's downtown city ditch. The ditch was cleaned out from Meridian Street to Darracott Access Road several years ago.
"I had one elderly lady who is 80 years old say she had water in her house," Ware said of the April floods.
Supervisors approved the resolution, and board attorney David Houston will research details.
Unrelated to Saturday's storm, the city's water department had to flush the lines after someone had an accident involving a fire hydrant, which caused murky water for customers.