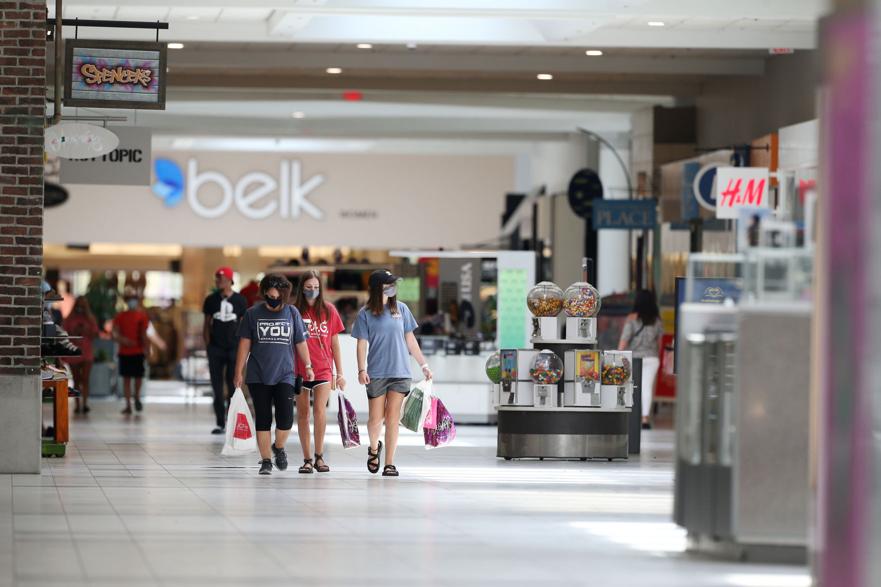 TUPELO • Thirty years ago this past spring, The Mall at Barnes Crossing opened. It seemed an unlikely proposition then – building a regional shopping center in a former dairy pasture with nothing else around – but three decades later, the mall anchors the largest retail corridor in the All-America City, contributing more than $20 million annually in sales tax revenue.
Net retail sales in Lee County topped $4 billion last year, fourth-highest in the state. Sales tax diversions back to the city have totaled more than $104 million during the past five fiscal years.
Retailing is a vital component of the economy in Tupelo and Lee County, and the continued success of the mall is paramount to the area's growth. Without a strong retail market – which includes the mall, downtown, midtown, and points between, the city's coffers would be much lighter.
But it's the Barnes Crossing District, anchored by the mall, that drives much of the city's retailing.
"The Mall at Barnes Crossing and the Barnes Crossing Business district are vital components of Tupelo and North Mississippi's economy as well as quality of life," said Tupelo Mayor Jason Shelton. "We are proud to partner with and support the Mall at Barnes Crossing."
However, today, the mall faces a different and changing landscape – a retail environment battered by the coronavirus and changing consumer buying habits.
Some 40 retailers nationwide have declared bankruptcy in this year alone, affecting hundreds of stores and thousands of employees nationwide.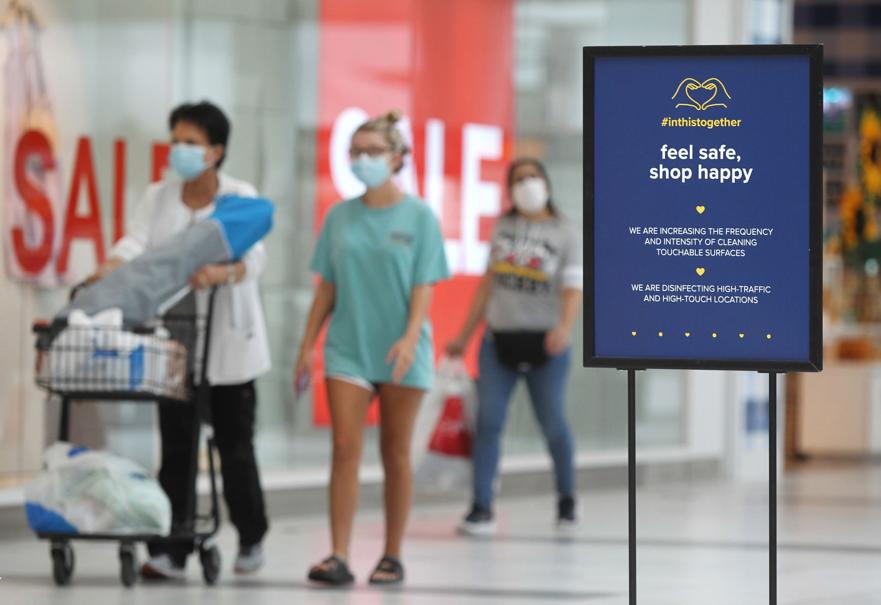 Tupelo, as the retail hub of Northeast Mississippi, has held out better than most in recent years. But the city's retail offerings haven't been immune to distress and closures.
Just recently, teen retailer Justice and the parent company of Loft announced nationwide closures, which included locations at the mall.
Mall at Barnes Crossing general manager Jeff Snyder, though, said the stores had performed well in Tupelo, but unfortunately were caught up in the Chapter 11 proceedings.
He said the mall remains a strong and viable retail center. It still attracts more than 10 million visitors a year, attracting customers from three states. Sales-per-square-foot put it consistently among the highest in the state. And while there are some vacant spaces, its 83 stores still represent an occupancy rate of 90%.
Mall officials aren't sitting still either, Snyder said.
"We are constantly monitoring the ever-changing retail landscape and listening to our customers and retailers," he said. "We continue to look for ways to improve our customer experience and are in the process of our completing our future plans that impact that experience."
Kelly Cofer, president of The Retail Coach, a Tupelo-based retail consulting and recruitment firm, agrees with Snyder's sentiment. Cofer travels around the country visiting communities of all sizes. 
"We're working in a lot of communities that have the same situation as Tupelo and the mall – some in a better a situation and some a little worse," he said. "In Tupelo's situation, it's still a great, dynamic situation with the mall's location."
At 833,000 square feet, The Mall at Barnes Crossing is one of five large indoor malls in the state. Edgewater Mall in Biloxi and Turtle Creek Mall in Hattiesburg are roughly the same size, while Northpark Mall in Ridgeland is about 120,000 square-feet larger – about the size of a Walmart Supercenter. Bonita Lakes Mall in Meridian – which is being rebranded as Uptown Meridian – is about 200,000 square feet smaller.
Outdoor "Lifestyle Center" malls, like Dogwood Festival in Flowood and Renaissance at Colony Park in Ridgeland, as well as outlet malls in Pearl and Southaven, measure about a third the size or less of traditional malls.
There are many smaller indoor malls and strip centers as well. Leigh Mall in Columbus, for example, occupies about 308,000 square feet.
Cofer said great minds need to come together about the mall of the future.
"I would say mall developers, along with the communities, need to start having a conversation about what to do in light of the big pressure department stores have been under for a number of years," he said. "Retail is just a different game in 2020 going into 2021. Department stores have become stagnant in terms of merchandising and how to draw consumers to stores. That's why you see the upswing in unique specialty stores that have done well. Empty anchors are a problem, and should not only scare the developers, but also the community because there's no one left to backfill them. There's no other retailers left to fill those dark spaces."
Retailing was already trying to navigate its way in the economy as several companies had already filed for Chapter 11. But the coronavirus pandemic exacerbated their troubles and took the scab off open wounds when retailers had to close stores and consumers flocked to the internet in record numbers.
Retail sales dropped 8.7% in March and a record 16.4% in April. Those numbers have rebounded and are back at pre-pandemic levels, but experts fear that the damage will be long-lasting. Plus, with the economy still a bit shaky with still-high unemployment, and uncertainty over future assistance from the federal government, retailers aren't anywhere close to being out of the woods. 
That's why communities need to begin talking to retailers, Kelly said. Better to be proactive than to be reactive.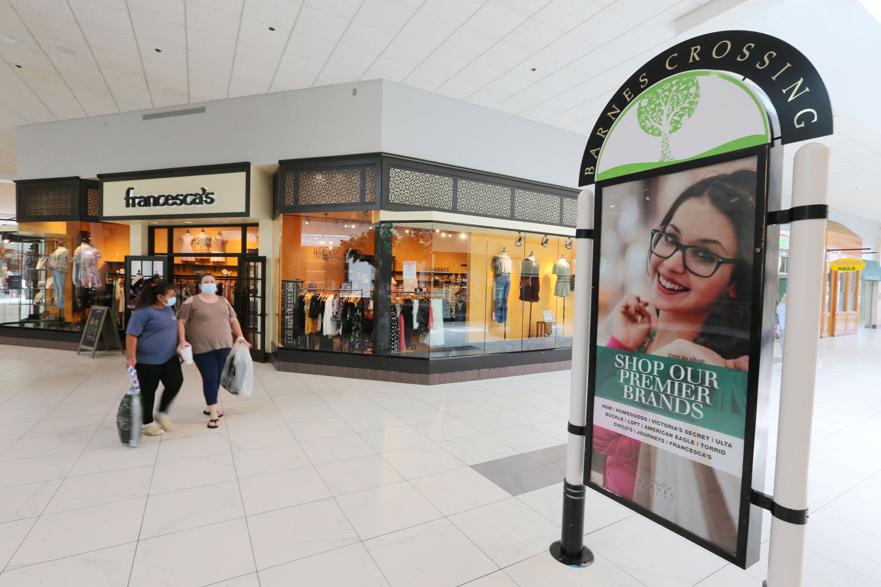 NEW HOURS
Like many businesses, The Mall at Barnes Crossing was closed for nearly two months during the height of the pandemic. 
And like many of them, it has opened to newly adjusted hours. For the mall, it's 11 a.m. to 7 p.m. daily. Pre-pandemic, the mall opened at 10 a.m. Monday through Saturday and closed at 9 p.m. On Sunday, it was open noon until 6 p.m.
Snyder said customers and retailers have responded well to the change.
"We have been very pleased with mall traffic and have received positive comments from our stores," he said. "Though we do not currently have plans to change the hours, we have systems in place to notify our customers and tenants if and when we do."
"Also, our curbside program was very successful during our mandated closure and continues to be a key amenity for our customers."
At J.C. Penney, general manager Heather Ross said she's seen customers return, happy to be able to shop inside a store again.
"With back to school, they're looking for about the same as usual – Nike for the kids, jeans, backpacks, the usual," she said. "We're just excited as our customers to be open again."
The store, like the mall, closed March 18 and reopened June 3.
Holleigh Reynolds was shopping at the mall last week, looking for clothes and shoes for her 7- and 10-year-olds. She said shopping at the mall for back to school has been a tradition she was afraid she wouldn't be able to do this year but was happy to doing what she does best.
"You can only see and do so much online," she said. "Don't get me wrong - I did my fair share. I've got to hold it in my hands and see how it feels. I missed being in the stores, even though I was in Walmart or Dollar General every other day. But there's something about telling somebody, 'I'm going to the mall.' It's still a thing, I think."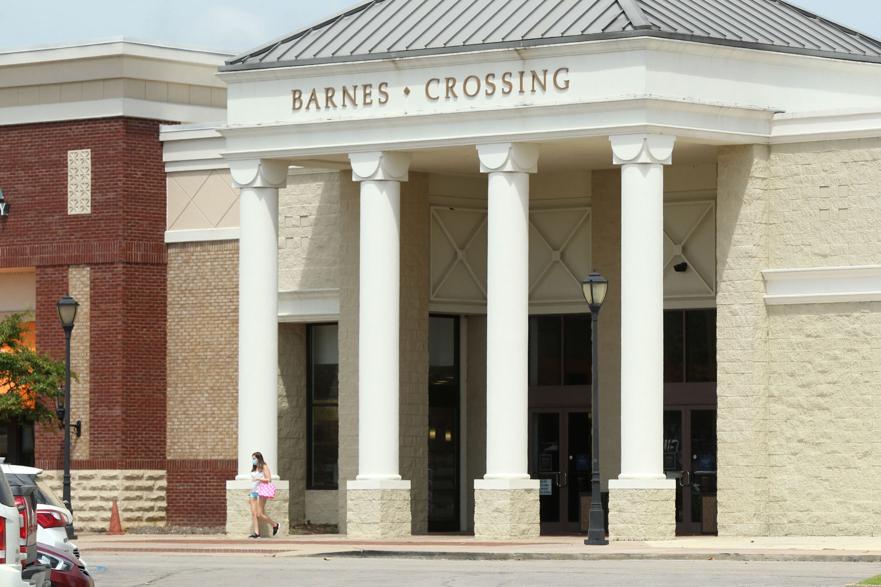 ANCHORS AWAY
Malls are filled with dozens of stores, among them large anchor stores that are typically department stores.
When The Mall at Barnes Crossing opened in 1990, the anchors were Sears, J.C. Penney, Kmart, McRae's and Belk. Kmart closed in 1996 and was sold to McRae's, which moved it's menswear and home goods departments in the space. Belk later closed and became Parisian, but returned in 2005 and acquired McRae's and rebranded both of the mall locations. Parisian was acquired by Belk in 2007, and in 2008 the location became Dick's Sporting Goods.
Barnes and Noble opened the same year and today remains an anchor along with Dick's, Belk and J.C. Penney. Sears closed in February 2019.
Of the five traditional malls in the state, The Mall at Barnes Crossing held on to Sears the longest.
Meanwhile, J.C. Penney filed for Chapter 11 in the spring and said it would close at least 152 stores, including locations in Starkville and Laurel. That leaves the Tupelo store as the only location serving Northeast Mississippi, as locations in Oxford and Corinth shuttered in recent years.
The other malls have three or four anchors as well, with J.C. Penney, Belk and Dillards – one notable retailer that has yet to appear in Tupelo.
Cofer said it's only smart to think about what to do with not only the empty spaces in malls, but the possibility of additional empty spaces. 
"I think the mixed-use approach is obviously what these communities are striving for," he said. "What other uses are you going to bring? These entertainment venues – trampoline parks, for example – have filled many spaces across the country. But you've also got to think beyond that."
In Meridian, the former Sears space, which closed in February, will be home to a 92,000-square foot Hype Indoor Adventure Park. The park, which is expected to open the end of the year, will feature 16 activities including Mississippi's first indoor go-kart track, trampolines, laser tag, batting cages and ax throwing.
Cofer said some mall developers have turned empty space into residential units – apartments. He also noted that the former Gloster Creek Village – at one time the old Tupelo Mall – has been converted to a medical mall and office space.
"You just have to think outside of that retail box," he said. "It's not as convenient anymore to shop inside a mall which is why there's been a proliferation of these outdoor lifestyle centers in recent years, and that's going to continue to drive retail for the foreseeable future. You read about converting retail to entertainment, but you still have to have retail to draw the consumer. That's why the mixed-used is so popular because it drives consumer traffic to multiple uses."
Finding retailers to completely fill an old Sears location is problematic and nearly impossible given today's retail environments. Finding two or three tenants to split the space is more feasible and more likely.
Cofer says that's the right approach.
"Depending on the mall and the design of it, there are applications of what you could do like what Barnes Crossing did with Dick's and Barnes and Noble, where you put a new facade and put it up for multiple users." he said. "But to hold out for a 65,000-square-foot user for a dark anchor position, you're going to sit for a long time. And the longer it sits empty, the more pressure you put on those inside stores and tenants who are paying to support the mall with their rent structure and common area maintenance and things like that.
"It's really difficult for aging malls across the country to come up with something creative to be able to sustain them."
But Cofer was quick to say that The Mall at Barnes Crossing wasn't one of those distressed properties that plague many communities.
"It's far from that," he said. "But you still want to have conversations about what's next, because at the flip of switch, J.C. Penney could be gone."
Snyder is confident that the mall will continue to attract retailers to the shopping hub of the region. He noted that Home Goods has been a recent addition to the mall, and Trails and Treads opened at The Market Center, a nearby mall-owned retail center. 
The mall retiled its floors, added new paint and new lights in recent years and is working to bring shops and boutiques to the mall as it has always done, and quite successfully.
"We continue to work with prospects on a daily basis and despite COVID we have had visits to the market with strong interests in our shopping center," he said. 
Reynolds would be happy to see other stores open as well. She, too, doesn't like to see empty spaces. Dillards would be nice she said, but there's one store that she'd really like to see.
It's a name long been on the wishful thinking list.
"Target would be nice," she said.
The only problem with that, Cofer said, is that Target is very patient in choosing markets.
Plus, "they like to get their land for free. And in today's market, and in Tupelo, that's not likely to happen."