TUPELO • Pizza or tacos ... why not both?
That's the thinking of Adam Morgan, who is be serving up both food favorites at his newest business in the works.
Appropriately named Pizza vs. Tacos, the restaurant opened Oct. 17 in the former Shoney's building, which was most recently home to South.
Morgan has hinted for more than a year that he wanted to bring something different to the Tupelo dining scene. He's already got a hit on his hands with Blue Canoe, which happens to be a bar with a restaurant.
Pizza vs. Tacos "is a restaurant that happens to have a bar," he said, adding that it will be more kid and family oriented.
"I want to keep pushing he boundaries of what's possible in Tupelo," Morgan said,. "We are so fortunate to be in a community that vigorously supports such endeavors."
Noting that restaurants and food trucks in Tupelo were recently named among Mississippi Magazine's Best of Mississippi, Morgan said the city "takes extreme pride its culinary adventures."
And as far as coming up with the notion of serving pizza and tacos?
"I simply wanted to take two very familiar foods and elevate them to another level," he said. "And all I mean by another level is simply a level that's worthy of bragging about to someone from out of town, not to some level that's unfamiliar and unapproachable."
Various appetizers, salads and desserts dot the menu as well, but the menu is evolving.
But one item available is a pizza unique to the area: Detroit-style pizza, which is known for its square, thick-crust, covered with cheese that covers corner to corner and also is very crunchy.
"It's a lighter pan pizza," Morgan said. "And we'll be making our own pizza dough, as well as our own tortillas from scratch. We're going to have upscale, handcrafted tacos. The place I'd compare it to is Babalu, something along those lines."
The bar has creative and flavorful cocktails, as well, he said.
Here's a look at the full menu: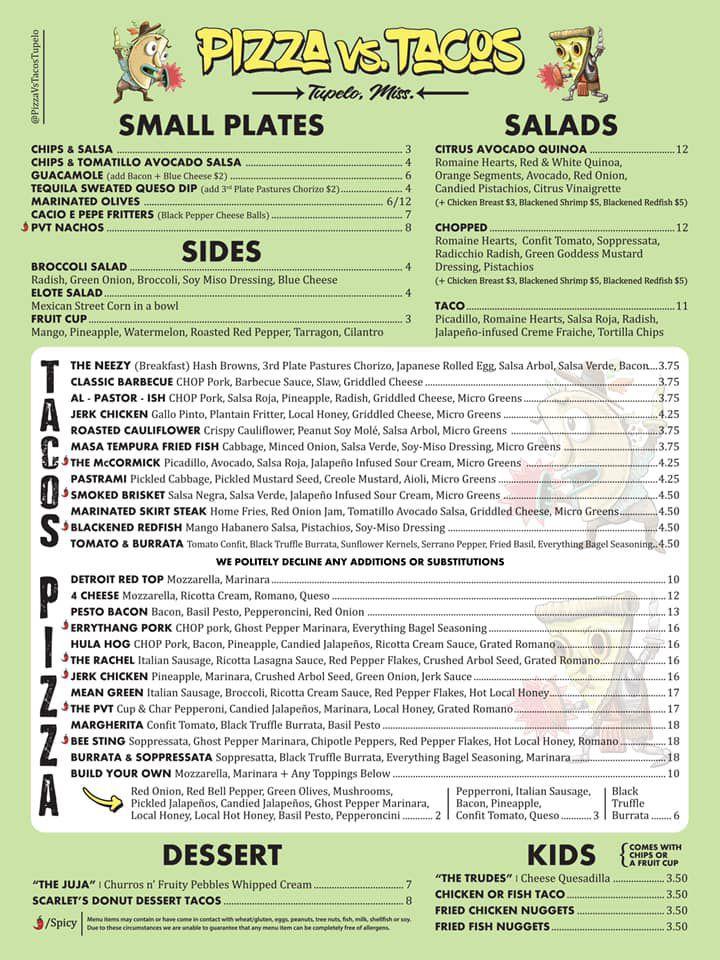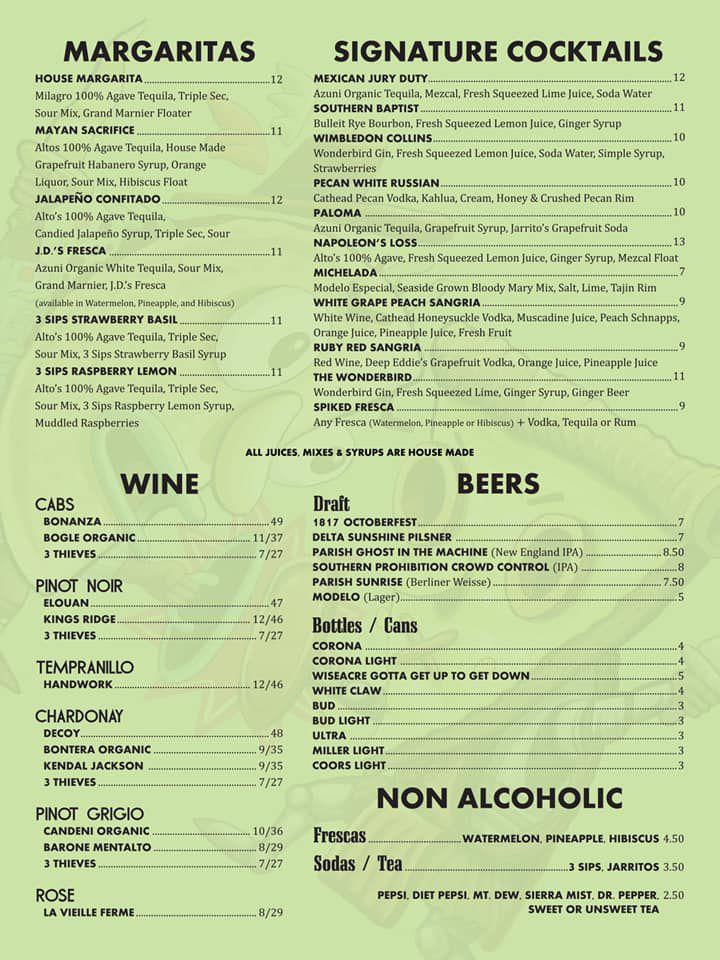 "We're going to have some fun with the place," Morgan said. "I've started to call this area NoGlo; these bigger cities have Soho and what not, so why not call North Gloster NoGlo. But North Gloster has treated Blue Canoe well, and it's easy for folks to get to.
"I've got a great local base, but then you have so many great hotels around here that it's easy for people traveling through Tupelo to get in. Everyday at Blue Canoe is a different crowd. There's a mixture of familiar faces and then people you've never seen before who might be passing through going to the beach or somewhere. I considered having this in some other places, but Tupelo has treated me well."
The restaurant's interior has undergone some renovation, most notably with colorful murals painted by Gulf Coast artist Michael Roy depicting pizzas and tacos humorously battling it out. There are scenes of the two playing chess, wrestling and even sword fighting.
"We wanted to add some personalty and funk to it," Morgan said with a laugh.
Two long wooden community tables have been added, having been built by Michael Gibson of Raw Furniture in Tupelo. Green metal tables with red chairs – the colors playing off the flags of Italy and Mexico – add additional color.
Morgan said coming up with a name for the restaurant was a bit of a struggle, but in the end, it boiled down to sticking to something simple.
"My wife, Rachel, and I wanted to name it Pizza vs. Tacos because we wanted to just say what it was we were serving, adding a dash of humor, and not beating around the bush," he said "Folks can bring their whole families in, share lots of things and let their taste buds decide which items won the day.
"We're going to keep it lively and funky and provide another unique atmosphere. We feel like there's a lot of positive momentum going in Tupelo right now and headed in a lot of positive direction as far as eating and activities going on. I think we're in a good place. I thought of doing something else for a long time, and I felt like the coming was just right for this."
Here's what people are saying: