CORINTH • As children stepped off of school buses at Corinth Elementary School on Monday morning with faces covered by masks, they walked single file through the front doors and stood six feet apart on spaces marked by dots while waiting to have their temperature checked with a thermal scanner.
It's part of the "new normal" routine students will follow and slowly grow accustomed to each day as the district returns to traditional in-person instruction.
After the temperature check, all students from Pre-K through fourth grade grabbed a to-go breakfast bag or headed straight to their classroom, where they were greeted by their teacher who they first met last week during a drive-through open house event.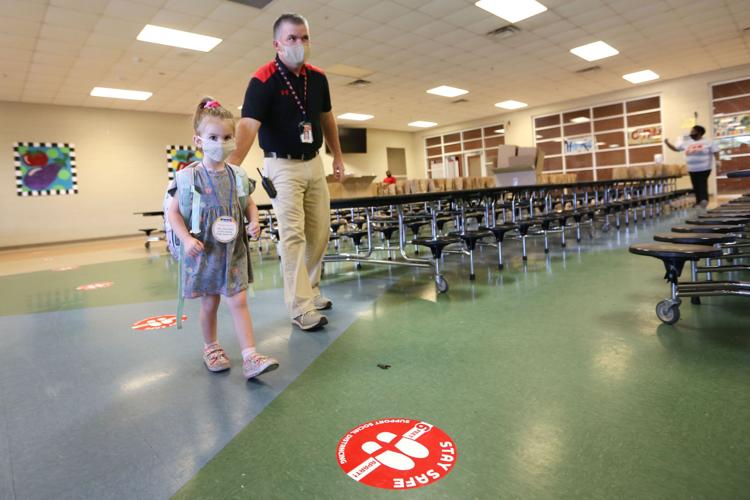 Principal Brian Knippers and other staff members helped to direct students to their classrooms as they made their way inside.
There were the normal first-day tears for some as they parted ways with their parents to return to school for the first time in almost five months, but the vast majority seemed happy to be back.
Alex Crump, a third grade student, said that having to wear a mask is "not fun" but he's excited about making friends and having a new teacher.
"It is different," Alex said of riding the bus to school on Monday. "We didn't get to pick which seat we got to sit in and we couldn't sit in the seat with our buddies."
Sofi Little, another third grade student, said "it's really fun" to be back at school because she missed her friends.
"It's a little weird because we have these dots on the floor and you have to wait," Sofi said, but overall she's excited to be back and meet her new teacher.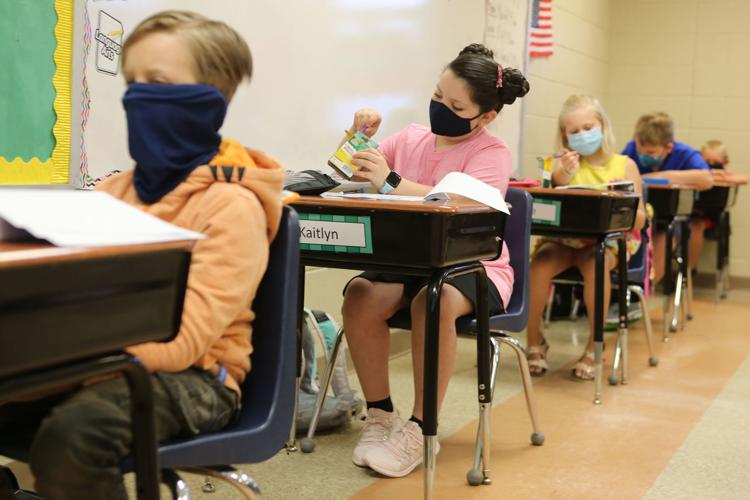 Corinth School District is the first in Mississippi, and one of the first in the entire country, to resume in-person instruction five days per week for the 2020-21 school year.
CSD operates on a modified school calendar which begins during the last week of July and incorporates a three-week break at the end of September. It includes the traditional Thanksgiving and Christmas breaks along with a two-week break in mid-March.
Lunches were served in classrooms across the district on Monday rather than in cafeterias. At Corinth Middle School, lunches were delivered to the roughly 60% of fifth through eighth grade students who choose to eat school lunches, which required coordination from school staff and administrators.
CSD Food Service Director Kristie Studdard, CMS Principal Nathan Hall, cafeteria staff, the school's two social workers and two custodians pitched in to deliver meals from the cafeteria across campus to each classroom.
Studdard said delivering meals to students creates a new set of challenges "because you're both prepping, cooking and then instead of them coming through and being the delivery person to their table, you're now the delivery person to the room."
She hopes to get students back into the cafeteria at some point when regulations and guidance from the CDC and Mississippi State Department of Health are lifted, but the district anticipates having lunch in the classroom for at least the first month.
An Zhen Cornelius, an eighth grade student, said she was ready to come back to school.
"It went smoothly," she said of getting inside and going to class on Monday. "I thought it would've been harder, but it was a lot easier than I expected it to be."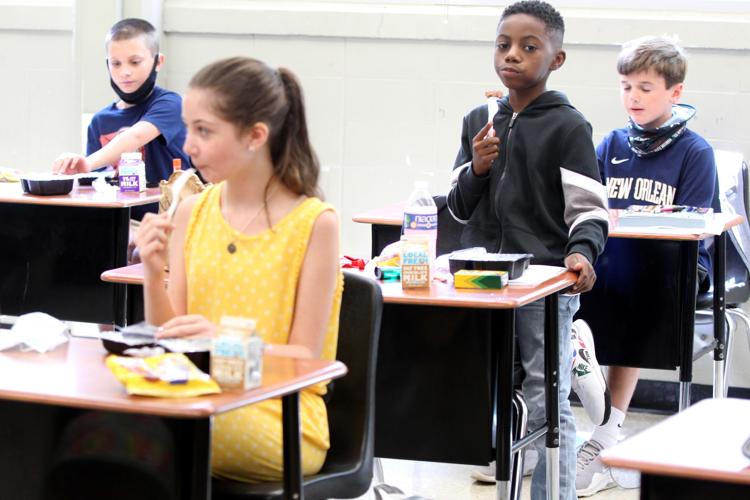 Anne-Conner Wilson, a sixth grade teacher, said that all of the students came prepared and knew what they needed to do, like wearing a mask and social distancing.
"Honestly, today has alleviated a lot of stress," Wilson said. "We even had our virtual kids join in for about an hour and that was exciting because the students here got to see the ones at home and we all did an activity together. We got to do assignments together so we have a little bit of wholeness as well."
In addition to traditional classes, CSD provided students with a virtual learning option, which around 13-15% of the district's 2,700 students district-wide chose, according to Superintendent Dr. Lee Childress.
"Before today I was nervous, a little bit skeptical about how it was going to work, but now I'm just happy to be here and I think the kids are too," Wilson said.
At Corinth High School, students talked and mingled in the hallways as they walk over floor signs in lanes outlined by traffic cones on Monday afternoon.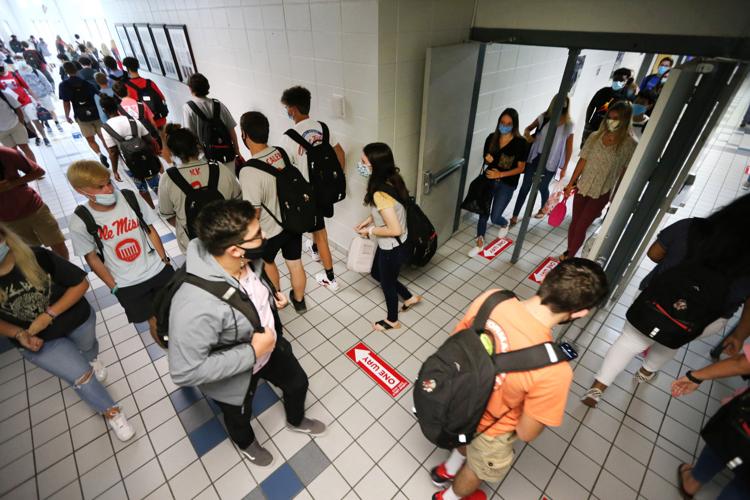 Robert Draper, an eleventh grade student, said it was strange following COVID-19 guidelines on the first day.
"It's pretty different," Draper said. "We can't necessarily borrow pens, ask teachers for notebook paper, we have to walk on certain sides of the hall."
Sydney Baldos, a CHS senior, said she's excited to be back and not have to spend her senior year learning online.
"The hardest part will be adjusting to the new normal," Baldos said. "Because we have to think 'This is going to be our normal for a while.' Even though it's hard following the guidelines, it's just we have to if we want things to get better."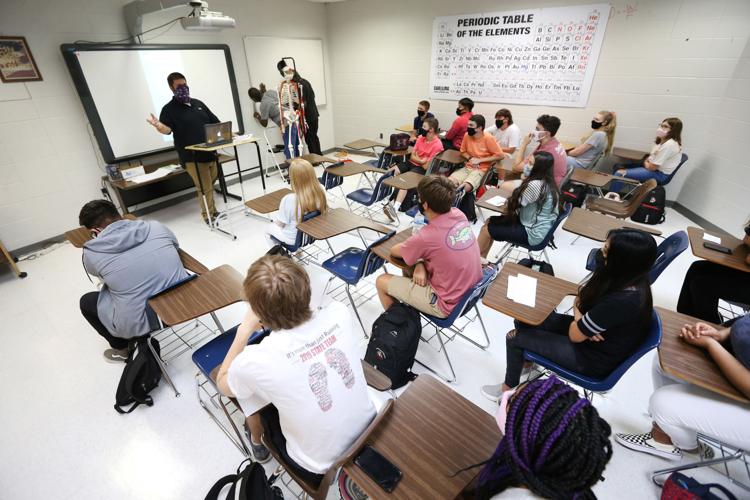 Polly Johnson, a ninth and tenth grade English teacher, and Rachel McCord, a ninth through twelfth grade English teacher, said Monday went great and was not unlike the typical first day.
"We're back as close to normal as we possibly can be in this day and time," McCord said. "We definitely work for a district that is very understanding of all of that. It's been great, it's been easy."
Johnson said CSD has supplied each student with two masks and a lanyard and provided hand sanitizer, wipes and other cleaning products for each classroom.
"Nothing has come out of our pocket," McCord said. "And there's not many districts that can say that."
"Corinth does school differently, but we do it together," she added.