TUPELO • On the first Wednesday in November, Valerie Weivoda loaded up a shopping cart at Sam's Club in Tupelo with 200 servings each of Home Pride hamburger buns and loaves of Wonder Bread.
Guntown Middle School had run out of bread Tuesday and wouldn't be receiving more with its next food delivery. But with deli sandwiches and cheeseburgers on the menu for Thursday and Friday, Weivoda, Lee County School District's Director of Child Nutrition, had to take action.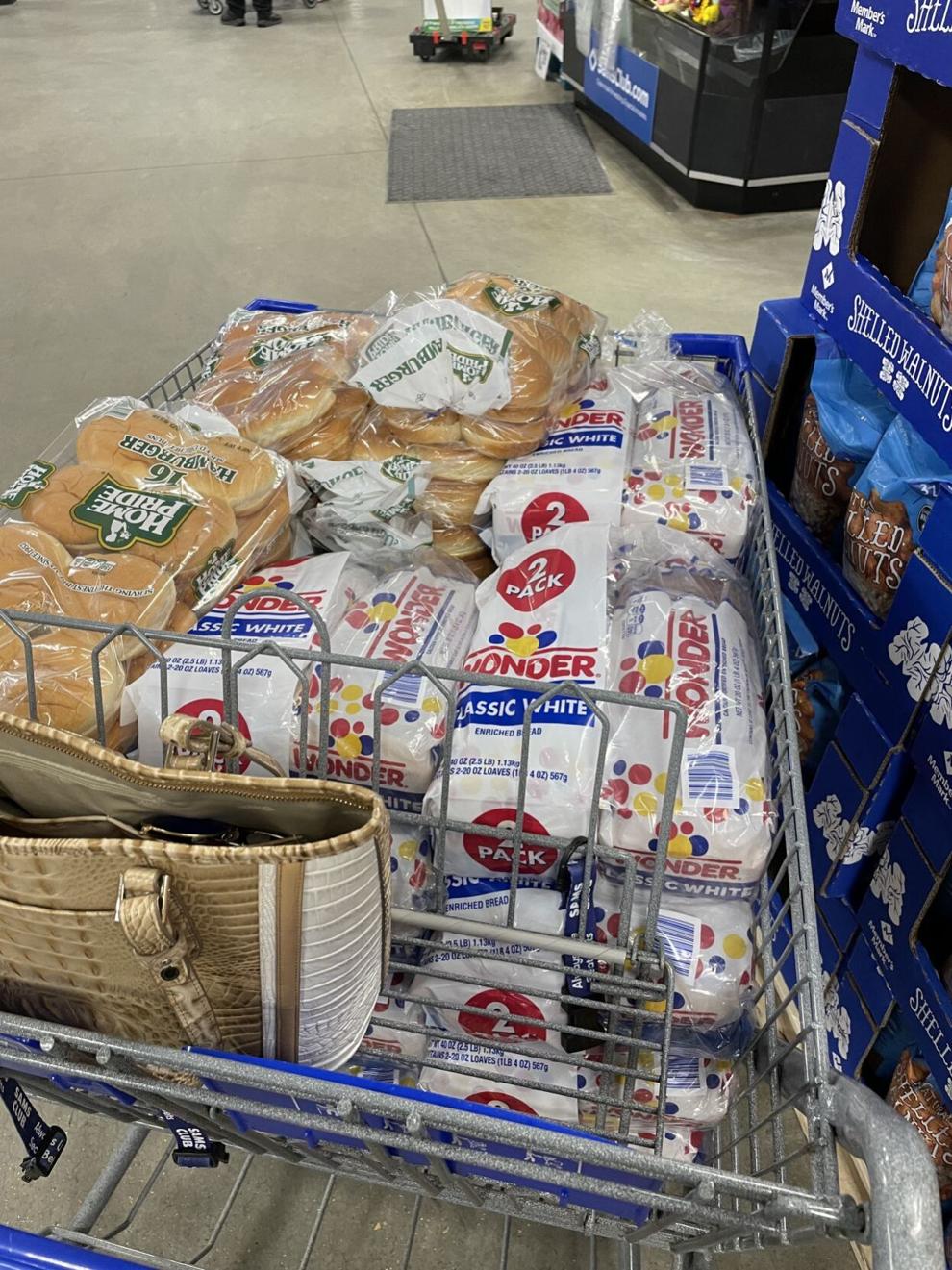 This wasn't the first trip to Sam's for Lee County Schools this year. Just two weeks ago, the district purchased all of the garlic power and onion powder the store had on its shelves because its cafeterias were running low and there was no indication they'd be receiving more in the near future.
It's a problem that's been plaguing schools lunchrooms throughout Northeast Mississippi — and nationwide — since the beginning of the school year. Supply chain issues and labor shortages have left cafeteria workers scrambling to find ingredients, dealing with dramatically increased expenses and having to get creative to ensure every student has a healthy meal each day.
'We don't really know what we're going to get'
Although last-minute changes to menus have occurred on a near-daily basis this school year, most parents, students — even their teachers — may not realize the work going on behind the scenes to ensure children have food on their trays.
Normally, the school district would put out a menu up to a month in advance and serve exactly what that menu called for each day. But not this year.
When certain products aren't available or simply don't get delivered, cafeteria workers have to improvise. Lunches still meet National School Lunch Program meal pattern requirements, but what's served may not always be what was planned for the menu on any given day.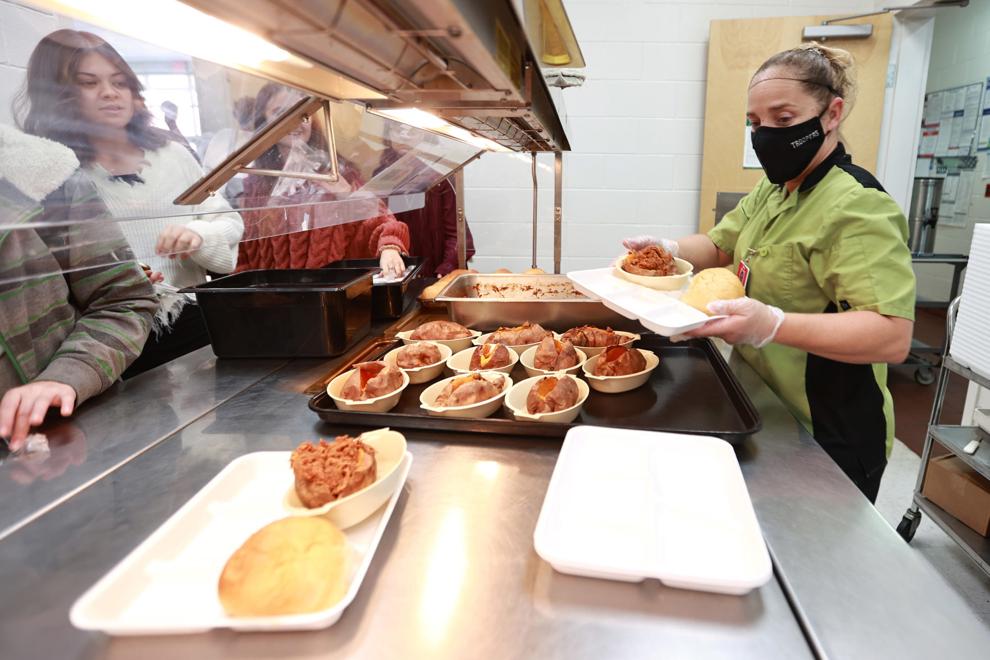 "It's becoming strictly based off of what we get on the truck that day," Weivoda said. "Our distributors don't always know exactly what they're going to get from the manufacturers. So they may order something from the manufacturers based on what all their districts need, but the manufacturer may not send everything that the distributor needs to send out to the schools.
"We don't really know what we're going to get until that truck opens its back door and unloads," she added.
The situation is the same for Tupelo Public School District, according to Lynne Rogers, Director of Nutrition Services for the district.
"We're still having quite a few outages, and we're having to find substitutions," Rogers said. "That affects our students in not knowing ahead of time what the menu change is going to be."
Last-minute menu changes are announced at schools because they often happen with such short notice that menus can't be updated and there's no time to notify parents.
Both districts have sought local vendors to fill gaps left open by manufacturers not shipping products to their distributors. Weivoda and Rogers have each shopped at Sam's Club and other local grocery stores, and they've purchased fresh produce from Cockrell Banana Co. when canned fruits and vegetables are unavailable.
Grocery store substitutions that typically wouldn't meet stringent United States Department of Agriculture (USDA) nutrition standards were made possible by a waiver in August 2021 that eases typical requirements, like requiring that all grains offered be whole-grain rich, through June 2022.
Labor shortages lead to supply and distribution issues
Ongoing supply chain issues are the result of a domino effect of labor shortages — from cargo ships circling ports to trailers full of products waiting to be transported or unloaded.
Plastic forks and Styrofoam trays have been hard to come by, along with a range of food items like sausage patties and bacon to pizza or canned fruits and vegetables.
"There's been times that we have been marked out of buns, sliced bread, biscuits — you name it," Rogers said. "We don't know until a truck comes what items are going to be outed on the truck, which makes it hard to make a substitution because you don't know when a truck is coming."
For nearly 30 years now, Mississippi school lunch purchasing and distribution has been centralized. In 1992, the Mississippi Department of Education and Child Nutrition Programs at local schools created a statewide purchasing program where bids for food and supplies are issued by MDE.
Through this program, local schools order products from an approved bid list at a fixed price, and foods are delivered by contract distributors, with the actual cost of food and delivery being paid by districts to the assigned distributor, according to MDE.
Briggs Food Service, based in Corinth, is the distributor for the Northwest Mississippi and Northeast Mississippi regions, servicing approximately 270 school cafeterias.
The company, founded in 1955 and now led by Larry Briggs, sorts and delivers food products from dozens of suppliers.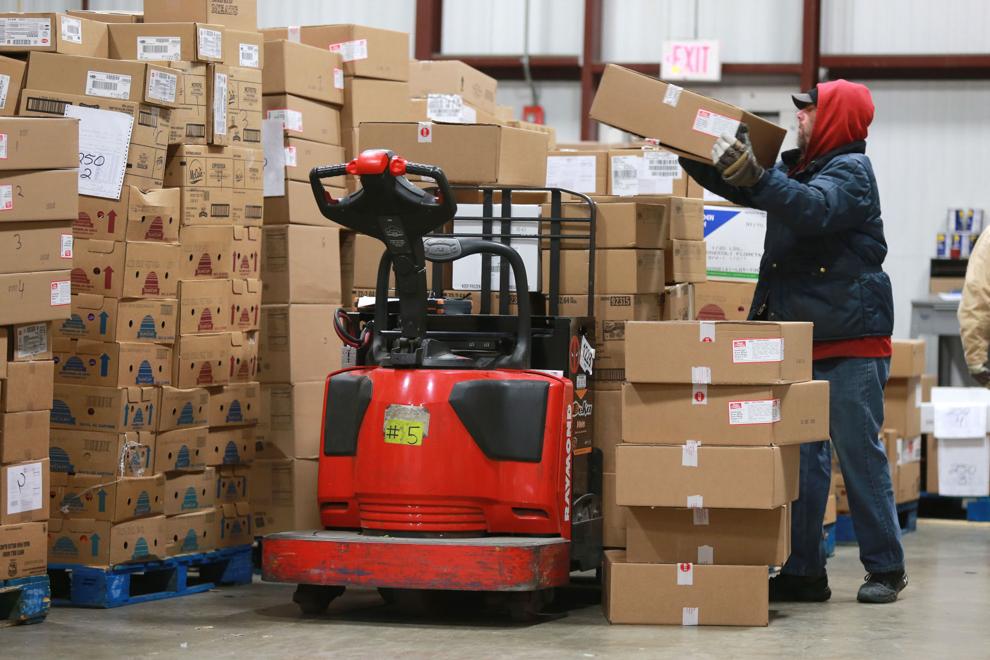 With each individual company facing their own labor shortages, the subsequent supply chain issues trickle down to local school cafeterias.
Labor shortages have greatly affected supply coming from some large vendors, including Tyson Foods and General Mills.
"Everyone we talk to, our suppliers who are the actual packers or manufacturers of the product, take it back to a labor shortage," Briggs said. "The situation with some of our vendors has gotten some better, plus the fact that in working with the purchasing director for the state of Mississippi, we have been able to obtain alternate products."
When Briggs Food Service was unable to obtain Pillsbury biscuits, which are produced by General Mills, they sought out an alternative source and purchased biscuits from them.
"We've been able to come up with alternate products to cover schools' needs," Briggs said. "They are getting plenty of food at this point. Our biggest problem right now is the local labor shortage."
Inside the company's 30,000-square-foot refrigerated and frozen warehouse, where the refrigerated section is kept at 38 degrees and the freezer section is between minus 6 and minus 8 degrees, there has been a tremendous problem hiring workers.
There are currently only 10 to 12 workers on hand each day. The ideal number of workers at Briggs' Tate Street location would be at least 18.
When the warehouse is shorthanded, the company finds solutions like temporarily moving an employee from its other warehouse, having a truck driver work a shift sorting products or even having Briggs himself pitch in on the warehouse floor.
The distributor's fulfillment rate for frozen foods is currently around 92%. That number should be at 99%, Briggs said, but the fulfillment rate has improved considerably from earlier this year.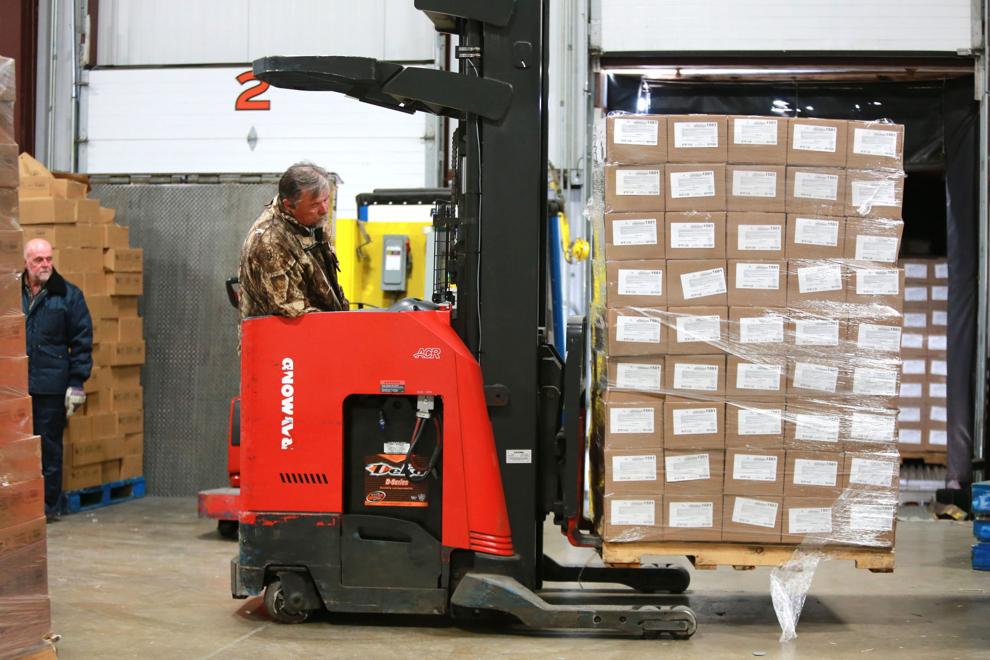 The largest problem is the availability of truck drivers.
"At one point, when a trucker would call to make an appointment, if we didn't have an opening for a truck, we would say, 'We don't have anything open today. We need to reschedule for a different day.'" Briggs said. "We don't do that anymore. If they can get a truck in to us, we take it. Because we know that if we don't, it may be another week before we can get the product."
There has been a "substantial increase" in the cost of products, and that extra expense is passed on to local schools. And while product prices have increased, they're not the only cost that's up for Briggs. Nearly every expense associated with operating a food distribution business — insurance, fuel, labor — has increased across the board.
In an effort compete for laborers with other local businesses, pay for Briggs warehouse workers has increased by at least 25% and by 35% for truck drivers.
Worker shortages have been a problem for nearly a year and have gotten worse in the last six to eight months, Briggs said, but it's certainly not only a local problem.
"It's not just our city or our state or our school district," Briggs said. "It's nationwide. Every school district in the nation is having problems with this, whether it be a shortage of products or late deliveries, every state in the nation is having that same problem.
"And as I read and talk to other distributors and suppliers, it's not only nationwide," Briggs added. "It's global."
'Astronomical' cost increases
Supply chain issues that began soon after the COVID-19 pandemic have only worsened during the 2021-22 school year — and not just because of labor shortages.
When COVID-19 hit and school districts switched predominantly to virtual learning, school districts like Lee County weren't feeding as many kids, Weivoda said. So cafeterias didn't need as much labor day in and day out and didn't order as much food. 
Now that schools are fully reopened to in-person learning, school lunchrooms nationwide are vying for supplies.
"Every school district across the country is competing for these food resources, every vendor is marking their product up," Weivoda said. "So now it's coming down to basically what you can afford."
When schools fully reopened, there wasn't enough product in the market to meet the demand, and now there's not enough labor to catch up. Costs have increased for essential products at both Tupelo and Lee County Schools.
"Just like everybody is seeing in the supermarket, we're also experiencing that as a school district because food is going up," Rogers said.
Meanwhile, Weivoda has seen "astronomical" markups on product prices anywhere from 40 to 400%.
"Foam, paper and plastic products have skyrocketed in price on top of being extremely hard to find," Weivoda said. "Gloves for preparing food, serving cups and plates, spoons and forks are all being cut from our orders."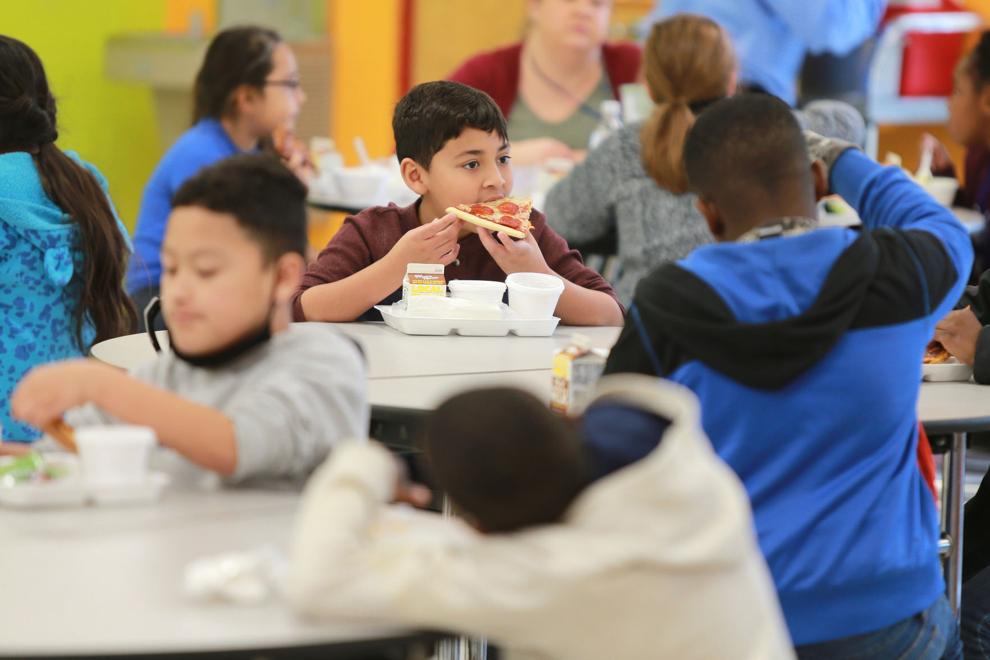 One example of an item that's experienced price inflation is Styrofoam trays.
When the COVID-19 pandemic began, Lee County Schools converted exclusively to throwaway five-compartment trays for cafeteria lunches. Pre-COVID, those trays cost the district $19.50 for a case of 500. Now, they're anywhere from $40 to $80 per case.
"In the Lee County School District, we feed roughly 6,000 students per day," Weivoda said. "So, if you think about how many trays we need on a 20-school day month, we're spending $19,000 a month on school trays when pre-COVID we would've only spent $4,500."
The price of gasoline and diesel fuel have also increased — another cost that's passed on to schools.
Weivoda said distributors have begun charging a $4 fuel surcharge per delivery, per school site. With 11 school sites in the district receiving at least two deliveries per week, the additional fees stack up.
And with deliveries being delayed up to two weeks, school kitchens are "basically using up every little bit of food we have in the kitchen right before another delivery comes," Weivoda said.
"There's no overstock anymore," she added.
Quality meals continue
Rogers, who has served as a nutrition director for Tupelo Schools since 1995, said she's never experienced the current volume of food and supply outages before. 
"We've always had plenty of food supplies to the schools," she said. "This is totally a new experience for everyone."
But she wants parents and students to know that good, quality meals will continue to be served every day, and that cafeteria workers are doing their best to ensure that happens.
"We know what our families in our community are expecting and we just want to always meet their expectation and exceed it in quality," Rogers said.
All students are eating school lunches for free this year, thanks to a USDA waiver, and Tupelo Schools are serving more children than they have in a long time.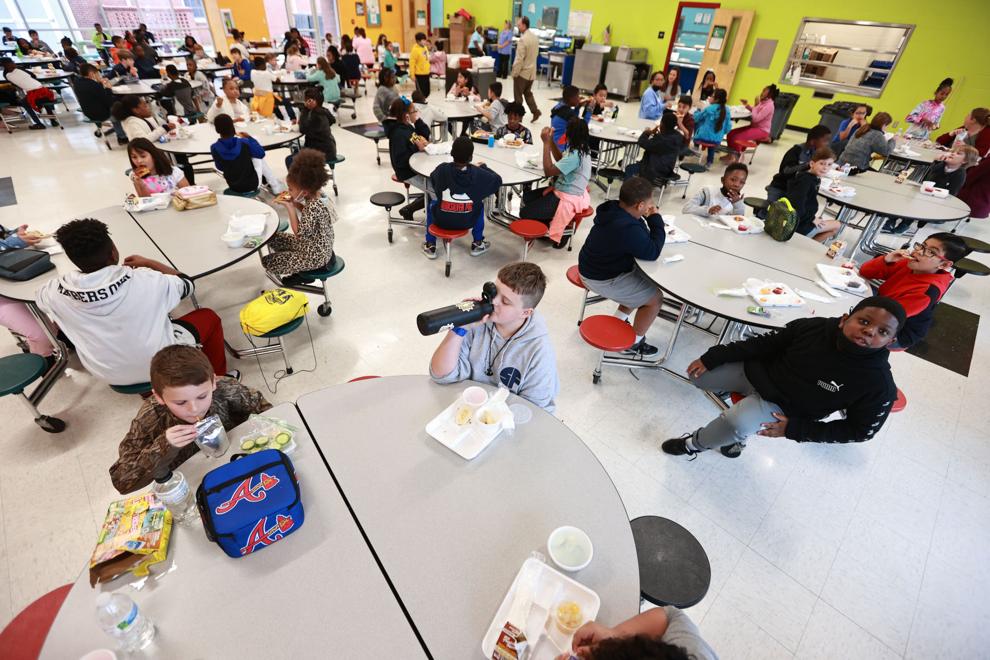 Amidst the chaos of figuring out which food will be served, nutrition departments are getting creative as cafeteria employees experiment with recipes and figure out new and fun foods to serve students.
"It's been fun because we've been exposing the kids to a lot of new things we may not have served in a regular year if we had been able to purchase our regular products," Weivoda said. "We've been trying to make the best of the situation, exposing our children to new fruits and vegetables, having our managers and our kitchen staff experiment with different recipes."
When the most popular items aren't available, she said, managers create something they know the students will love.
"Everyone is working hard to get food on the table for our kids every day no matter if it's what was on the menu or not," Weivoda said.