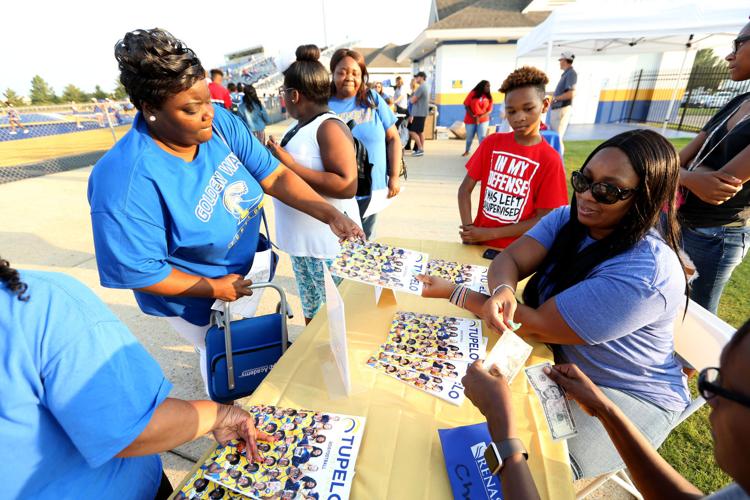 PONTOTOC – On the first high school football Friday night of the year, the parking spots along Main Street in Pontotoc were filled an hour before kickoff.
By the time the Warriors took the field against Houston, the line at the home gate was still a dozen people deep as the cash box pushed capacity.
Earlier that evening, a few hundred Tupelo High parents and students drove 150 miles south for the Golden Wave's season-opener against Meridian. More than 2,200 fans stayed home and watched a live stream of the game brought to them by local banks and doctor's offices.
The night before in New Albany, 450 people were at BNA Bank Park to watch Myrtle play its first varsity football game at its home away from home. The Hawks do not yet have a stadium on campus.
At schools of all sizes across Northeast Mississippi, football attracts hundreds and sometimes thousands of fans to high schools each week. Five home games are community celebrations and one of the state's strongest traditions.
With creative marketing and support from local businesses, those five Friday night home dates are also a revenue source with the potential to boost a high school's entire athletic program.
"Football is the moneymaker," Pontotoc Athletic Director Josh Dowdy said. "More than any other sport, it's going to attract the most fans and bring in the most money. That's always been the case. Especially in Mississippi."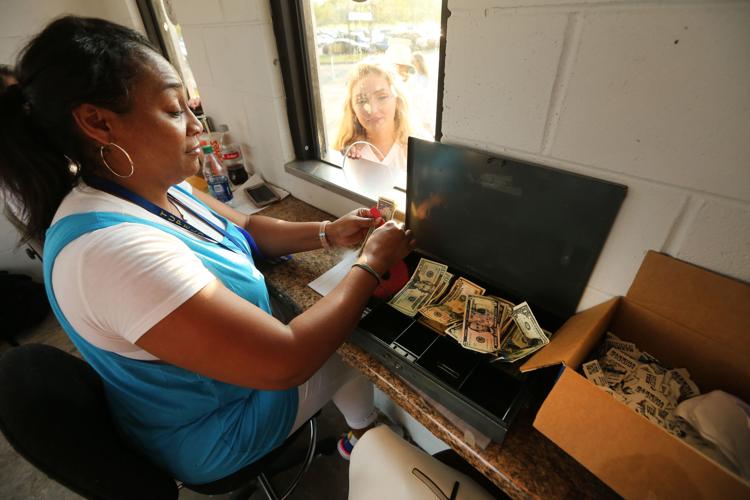 Friday night revenue
Dowdy estimates that between $20,000 and $25,000 of his $140,000 athletic program budget goes toward the football team. With helmets, pads, cleats and jerseys, it costs around $900 to buy equipment for one of Pontotoc's 65 varsity football players.
In order to function, high school athletic departments need to raise money beyond the budget provided by the school district. Pontotoc averages between 1,300 and 1,500 paying customers at home football games. At $6 a ticket, the athletic department makes between $7,800 and $9,000 on those Friday nights. Dowdy estimates that 70 percent of the athletic department's revenue across 15 varsity sports comes from football ticket sales.
And Pontotoc isn't alone. Every high school athletic department with a football team relies on the ticket sales from its five home football games. Tickets for Tupelo's home varsity football games are $7 at the door. With good weather, Athletic Director Eddie Moore estimates between 2,500 and 3,000 people attend each home game.
On really bad nights, the athletic department can make around $7,000 in revenue from ticket sales at the gate. At crowded games like the home opener against Corinth, that number rises to between $15,000 and $18,000 and has been as high as $20,000. Moore also estimates that season ticket passes raise another $30,000 each year.
Over the past two years at Tupelo High, revenue from ticket sales at football games was over 60 percent of all revenue from the athletic department's 24 varsity sports. At both Pontotc and Tupelo, the revenue from football ticket sales goes into the broader athletic budget to benefit all sports with facility and equipment upgrades.
"Our community support is growing, but we have to continue growing. Marketing is very important," Moore said. "Every time we increase revenue, we can increase the budget of not just football but the entire athletic program."
Boosters
Beyond on-site sales on Friday nights, booster clubs sell advertisements, order merchandise and organize fundraisers to support football teams with necessary items, like the industrial-sized dryer at Tupelo High that broke earlier this year. The money boosters raise typically supports one sport instead of an entire athletic program.
Shortly after last football season ended, Tupelo football booster club president Gary Sparkman started making calls to local businesses.
"We try to let businesses know that our football budget from the state isn't adequate to support a team of our size. That's kind of our pitch," Sparkman said. "We emphasize the importance of how we need the help of local business to support our local team. High school football is a reflection of the community. We need that support."
Advertisements around the field cost $500. BankPlus paid $5,000 for its advertisement next to the play clock this season. Renasant bank is paying $140,000 over 10 years for the right to name Tupelo's blue turf field "Renasant field."
"As a marketer, you're always looking for ways to reach your target audiences. For community banks like us, high school football Friday nights are where that audience is," Renasant Bank director of marketing John Oxford said. "High school football is a big part of a community's culture. As a brand that wants to be part of that culture, you absolutely have to be involved with high school football in some way."
Tupelo's boosters also support the live stream of its games. Last season, an average of 1,529 people watched each Tupelo High football game online. The season opener against Meridian drew 2,263 viewers. Week two against Corinth drew 2,558. Advertisers paid $1,500 this year to have their commercial read a handful of times during each broadcast.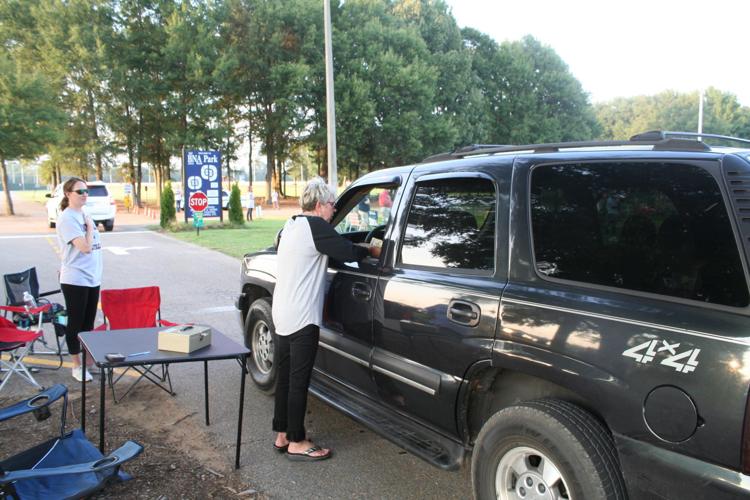 Starting up
At Myrtle Attendance Center, the high school football team is not yet making enough money to support the rest of the athletic program. At its inaugural varsity football game, 450 customers paid $5 watched Myrtle play about 9 miles from its campus at B&A Park in New Albany. About 375 showed up the next week.
Instead of adding to the budget of the entire athletic program, all 4,125 of that gate revenue will go back into the football program as the Hawks work toward constructing a home field of their own. At Tupelo and Pontotoc, the band manages the concession stands to raise money. Myrtle doesn't have that revenue source as B&A park sells its own concessions.
Strong community support has been evident as the Hawks have largely relied on donations to outfit their football team in the early going. Around 150 people showed up to a public meeting in 2015 to urge the school board to approve the creation of the football team. Earlier this season, the program received donations of $200,000, $50,000 and $65,000 towards a home field. In 2014, Tupelo spent $1.3 million to install its turf and track.
If Myrtle can play at home instead of New Albany, the school is hopeful that increased Friday night revenue from tickets and concessions will help improve the entire athletic program.
"We have to have a field. Basketball has always been the ring leader in Union County to foot the bill for a lot of other things. With our football program, we hope to start generating money," Myrtle Head Coach Justin Hollis said. "We've relied on basketball forever, but football can be a different animal. As long as we can fill the stands up."